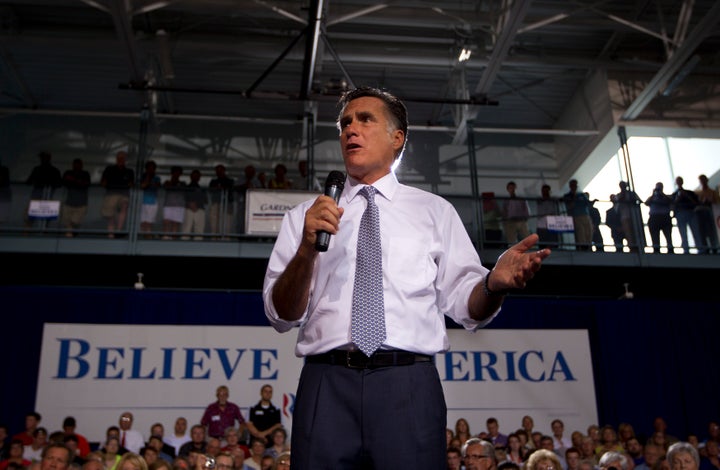 WASHINGTON -- When Mitt Romney transitioned from working full-time at Bain Capital to running the Salt Lake Organizing Committee, he did not fully leave the private equity firm. That's not just because he continued to sign documents and take a salary, or because he described himself as Bain's CEO on the Olympics' website, but because he brought with him Bain's personnel, ethos and, most importantly, its clients.

Romney leaned heavily on Bain to turn the 2002 Olympic committee into a success. Several officials who worked with him said his extensive business network proved critical. But the continued Bain ties came with a price, as Romney opened himself up to criticism that he used the Olympics to assist colleagues and build a foundation for a future political career.
In his book on the Olympics, "Turnaround," Romney portrayed himself as a reluctant savior of the games. He initially thought the idea of taking over the SLOC was "preposterous." He had no background in sports administration, had a family in Massachusetts and was enjoying a lucrative business career.
"How could I walk away from the golden goose?" he asked.
He brought the golden goose with him. Camping in Utah, and confiding to colleagues that his future political career was on the line, Romney opened his Bain rolodex.
Sealy Mattress, a company in which Bain had majority ownership -- earning $2 million in yearly management fees -- signed on as a supplier of 5,000 mattresses for Olympic athletes.
Marriott Corp., the hotel franchise where Romney served as a board member, became a sponsor of the games as well, ponying up $4 million to be the official lodging supplier.
Sometimes Romney cleared hurdles to get Bain-affiliated companies involved. He promised Tom Stremberg, the CEO of Staples, that the company's sponsorship would cost as much as the sales it made in the Salt Lake City market during the Olympics -- guaranteeing it wouldn't lose a cent. He then said he'd lobby "SLOC board members and other corporate contacts to switch their office supply contracts to Staples."
Staples, on whose board Romney served, ended up agreeing to spend $1 million more than the other potential supplier, Office Depot. But by then, Office Depot had already signed on the dotted line. Romney tried once more, offering Office Depot $1 million to back out of the deal. The company declined.
Perhaps one of the most oft-told examples of Romney's belt tightening involved him canceling the organizers' budget busting free lunches. Instead, he brought in Domino's Pizza and made board members pay $1 a slice. Domino's was a Bain company.
Andrea Saul, a spokesperson for Romney's presidential campaign, said that he showed "exceptional skills at leadership."
"Mitt Romney took over the Olympics at a time of scandal and red ink," she emailed. "He restored public confidence, balanced the budget and staged one of the most successful games ever held on U.S. soil."
Romney himself addressed charges that he engaged in favoritism in a 2007 Boston Globe profile.
"It is not a conflict of interest for the Olympics for its chief executive to be soliciting sponsorships from anyone I could find," Romney said. "That was my job -- to use every personal association I had to raise money."
Members of the 2002 Olympics' board confirmed that the games largely benefited because of Romney's contacts. "Oh sure" they helped, said Robert Garff, former chairman of the board of the SLOC. "It's obvious that he has connections in all kinds of ways. That was a very, very important ingredient."
"I recall that a couple of sponsors came from the Bain community and were important," Anita DeFranza, a member of the International Olympic Committee, told The Huffington Post.
Others weren't willing to rule out the possibility that certain companies made out better than others because of their proximity to Bain or Romney. Wayne McCormack, a University of Utah professor who coordinated all the involvement between the Olympics and the school, a major staging location, said that in all of his dealings with management he sensed a commitment to transparency and an aversion to secret deals.
"Now did they follow through on that? I can't guarantee it," he said. "Did someone make a deal with a buddy in a less than transparent fashion? I'm sure it happened."
Sydney Fonnesbeck, a former Salt Lake City councilmember who served on several Olympic organizing committees, including one with budget oversight, told HuffPost that the SLOC became less transparent under Romney. "He closed ranks," she said. "I certainly didn't see a budget after Mitt came in."
For McCormack, Romney's tenure remains a major improvement over the prior SLOC administration, which was bedeviled by accounts of bribery. But several reporters who've covered Romney's Olympics record -- David Bernstein of the Boston Phoenix chief among them -- have noted that companies that agreed to help with the Olympics did, on occasion, enjoy beneficial relationships with either Bain or Romney after the fact.
Bombardier, an aerospace and transportation company that worked on prior Olympics, became the 2002 games' official supplier of snowmobiles and other winter recreational vehicles. A year after the games, it sold off its recreational vehicle division to a group of buyers that included Bain.
Jon M. Huntsman, who had criticized the Olympics and was quoted in a Salt Lake Tribune article dinging Romney for bringing "one of his cronies to be the COO" -- Romney hired former Bain executive Fraser Bullock for the role -- ended up giving a $1 million donation to the games in January 2000. Roughly one year later, Bain announced it would buy a $600 million stake in the Huntsman Corporation. The deal, which Huntsman Corp. officials said was done without Romney's involvement, fell apart.
By then, Romney's attention had expanded beyond the Olympics. He had confided to David D'Alessandro, president of John Hancock Mutual Life Insurance, his concerns that he wouldn't "be anything anymore in public life" if the games flopped. John Hancock, which had threatened to leave the games as a sponsor over the bribery scandal, was eventually persuaded to stay involved.
"Mitt went back to visit them the minute he came in and restored their sponsorship," recalled Garff.
In the fall of 1999, Romney signed the Provo-based nutritional supplements company Nu Skin to be a sponsor of the games. A Nu Skin subsidiary, Pharmanex, also inked a deal to dispense dietary supplements to the athletes and carry the Olympic rings on its products. The International Olympic Committee raised red flags -- Nu Skin had settled several lawsuits and a Federal Trade Commission case over false advertising and claims that the company operated a pyramid scheme -- and advised athletes not to take the supplements "because of concerns that they may be adulterated with steroids," Mother Jones reported in 2011.
Romney insisted Nu Skin's pills were clean. The company's employees and bigwigs later returned the favor, donating tens of thousands of dollars to his campaigns. Two shell corporations with ties to Nu Skin gave $1 million each to the Romney-backing super PAC Restore Our Future.
Several Olympic executives who worked with Romney supported his run for governor of Massachusetts in 2002. Those contributing the maximum donation of $500 included Garff, Finance Director Gordon Crabtree, and Head of Marketing Donald Stirling. But no connection to the Olympics proved more fruitful than the one Romney forged with Spencer Zwick, who went on to become known as Romney's "sixth son" and currently serves as national finance chairman for his presidential campaign. Zwick was Romney's driver during the Olympics.
Officials who worked alongside Romney argue that there was nothing unusual or untoward about the oversized role that his business network played at the Olympics and in his campaigns. Romney, after all, was brought to Salt Lake to infuse the games with the so-called "Bain way." Boardrooms were part of his DNA, and many of the companies he secured as sponsors were mainstream.
"Certainly I had the sense that he had a lot of great contacts in his fundraising efforts and then in terms of his operational mode," said Rocky Anderson, the Democratic mayor of Salt Lake City at the time of the Olympics and a member of the SLOC board. "It was pretty clear to me he was a very efficient manager and knew how to build an extremely competent and loyal team."
Still, an "efficient manager" is several notches below how Romney would describe his role. In a 2012 campaign video titled "Leader," Romney declared that he "worked at one company, Bain, for 25 years" before leaving "to go off and help save the Olympic games."
Fonnesbeck quibbled with that description.
"I have no complaints except for his attitude that he had come to save us," she said. "My problem came when he just insisted on taking all the credit, and his attitude towards us in Salt Lake was 'Oh you poor people, here I am.'"

Indeed, of the half-dozen Olympic officials interviewed for this article, none said that the games would have been a failure if not for Romney's intervention. David Wallechinsky, a commentator for NBC's Olympic coverage and the author of several Olympic reference books, said that Romney played an important role in budget and PR matters. But beyond that, "his involvement is greatly exaggerated."
"A lot of people could have stepped in and made it work," he told The Huffington Post. "Not to say he did anything wrong. He did what he had to do. What he did was fine. The way he portrays it, however, is absurd ... The Olympic movement had survived two world wars, a terrorist attack, and boycotts. It could have survived a bribery scandal."
Before You Go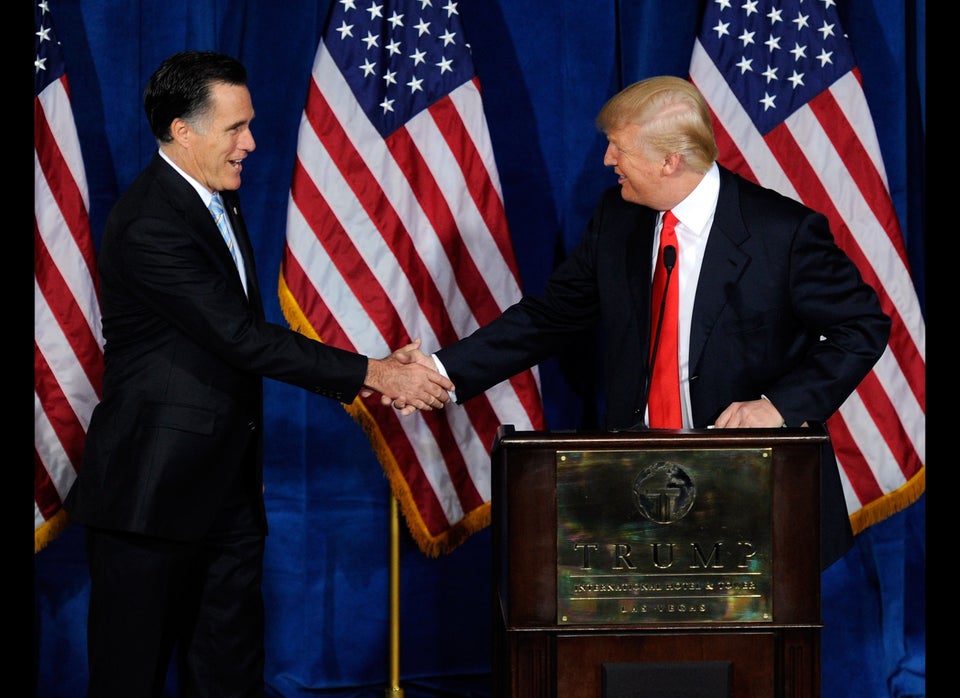 Mitt Romney's Greatest Hits
Popular in the Community