 WASHINGTON -- Between 1999 and 2001, Mitt Romney, then the CEO of Bain Capital, signed at least six documents that the private equity firm filed with the Securities and Exchange Commission. The documents run in direct contradiction to a claim that Romney has made repeatedly: that he had nothing to do with Bain, and therefore no responsibility for Bain investments, during that period.
It's also a claim he made in August 2011 on the federal disclosure form he filed as part of his presidential bid. Romney didn't leave any wiggle room: "Mr. Romney retired from Bain Capital on February 11, 1999 to head the Salt Lake Organizing Committee [for the 2002 Winter Olympics]. Since February 11, 1999, Mr. Romney has not had any active role with any Bain Capital entity and has not been involved in the operations of any Bain Capital entity in any way."
SEC files include at least six instances of Romney signing documents after February 1999, proving -- unless the signatures were forged -- that his claim to not have "been involved in the operations of any Bain Capital entity in any way" is wrong.
Most of the documents reference Romney as the "reporting person." Most of the filings were first reported by Glenn Kessler of the Washington Post, although he noted them in an opinion column otherwise dedicated to demonstrating that Kessler was correct weeks ago when he wrote that Romney had parted ways with Bain in 1999.
For instance, in April 1999, Romney signed documents related to a Bain deal with Pirod Holdings.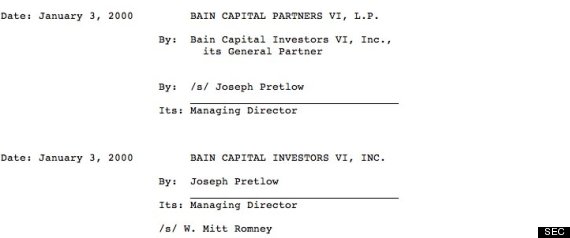 In November of that year, his signature appears on documents connected to a deal with Stericycle.
In January 2000, he signed paperwork for a deal with VMM Merger Corp.
His John Hancock appears on ChipPAC Inc. documents in February 2001.
That same month, Romney's signature can be found on paperwork connected to a Bain deal with Integrated Circuit Systems Inc.
In February 2000, he signed documents related to a deal with Wesley Jessen Visioncare Inc.
"There's no contradiction here," a Romney spokesperson told HuffPost in a statement. "He did not participate in the investment or management decisions on any of these or any other investments during this period, as has been said repeatedly by Bain Capital and as was unanimously determined by the bipartisan Massachusetts ballot commission in 2002."
That's not entirely true, either.
As HuffPost reported Thursday, Romney sat in on the board meetings of at least one Bain investment. And the SEC filings back up Romney's own earlier statements involving Bain. In February 1999, the Boston Herald reported that "Romney said he will stay on as a part-timer with Bain, providing input on investments and key personnel decisions. But he will leave running day-to-day operations to Bain's executive committee."
Romney later said that he became too busy organizing the Winter Olympics and couldn't fulfill even the basic responsibilities he had outlined to the Herald. Yet in a 2002 hearing in a dispute over whether he was a Massachusetts resident eligible to run for governor, he testified that he still attended board meetings for at least one Bain-affiliated company.
Also in that hearing, he claimed to have taken a temporary leave of absence from Bain to helm the Salt Lake City Olympics.
As part of running for governor, Romney was required to submit personal financial disclosure statements to Massachusetts' State Ethics Commission under threat of perjury. In his 2001 disclosure statement, he listed himself as "Former Executive" for both Bain Capital Inc. and Bain Capital LLC, with a gross income of more than $100,000. But in his 2002 disclosure statement, he provided a different answer, listing himself as "Executive" of Bain Capital Inc. and Bain Capital LLC, with a gross income of more than $100,000. The latter may be one instance in which Romney and the SEC filings agree on his role.

"It is beyond belief that three years went by and this was some sort of clerical mistake," said Charlie Baker, a Democratic political operative who worked on the residency case against Romney.
The Massachusetts Democratic Party is jumping on these latest Bain revelations. "Clearly Mitt Romney isn't telling the truth about when he left Bain Capital. It's clear he's either lying to the American People or lied to the SEC," said Kevin Franck, the state party's communications director, in an email.
Perjury before the Massachusetts ethics commission can lead to civil penalties, although the bar for proving perjury is high and, in Romney's case, the statute of limitations has passed.
These latest twists in the Bain narrative look like vindication for Democrat Shannon O'Brien, who lost to Romney in the 2002 governor's race. The former state treasurer had made Romney's role in Bain an issue in the campaign. But at the time, Romney deflected her attacks by denying any involvement in the firm once he joined the Olympic planning effort in Utah, much as he is doing today, with less success.
"Ten years ago, when I ran against Mitt Romney for Governor, my campaign was attacked for misstating the truth about Romney's tenure at Bain Capital. Massachusetts voters were told that Romney was absolutely not the leader of Bain at a time when bankruptcies and layoffs were devastating workers at companies in their portfolio," O'Brien told HuffPost in an email. "Recent news stories now present clear evidence that Mitt Romney didn't tell the truth to Massachusetts when he ran for Governor in 2002 and he's not telling the truth to the American people today."
O'Brien continued, pushing for the presumptive GOP presidential nominee to release his tax returns and settle issues over his finances now.
"I released my tax returns when I ran for Governor in 2002, and encouraged Mitt Romney to do so as well, but he refused to comply," she wrote. "He should follow the inspiration of his father, George Romney, and other presidential candidates and release 12 years of tax returns so that the American voters have a chance to learn more about the background and ethics of the man who wants to be their president."
Before You Go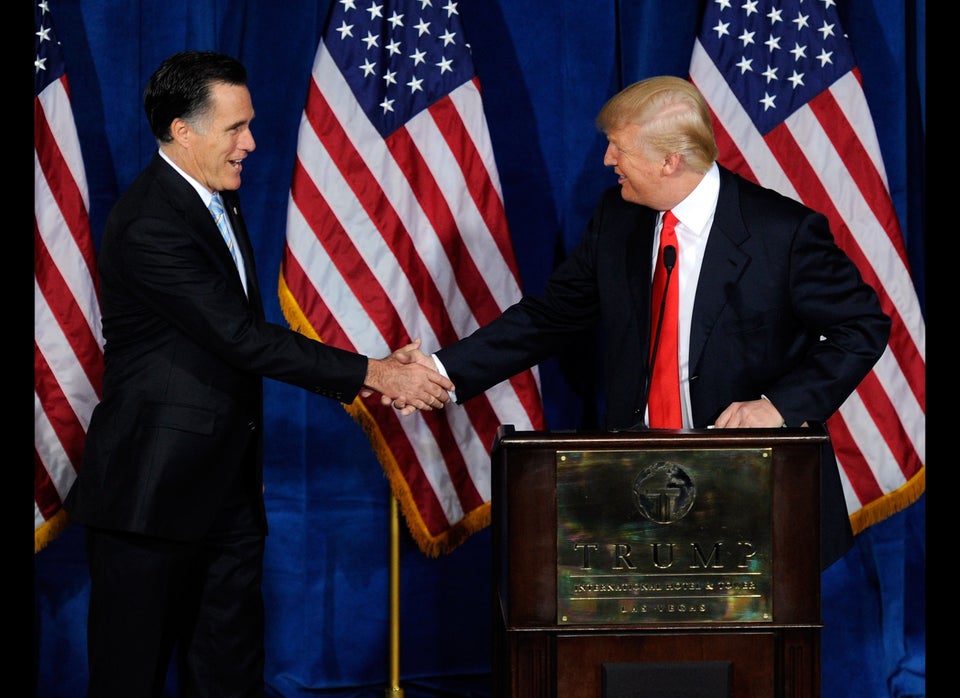 Mitt Romney's Greatest Hits
Popular in the Community