 WASHINGTON -- President Obama never directly answered the questions posed to him Tuesday night about the death of a U.S. ambassador in Benghazi. He didn't have to.
Mitt Romney, Obama's Republican opponent, bungled his line of attack on the issue. And then Candy Crowley, the debate moderator, spoke for the president by stating that Obama had called the Benghazi attacks an "act of terror" the day following.
But with the third and final debate on Monday night focused on foreign policy, Obama is sure to be pressed on at least two key outstanding questions. One, why did his White House have so many different answers about the Sept. 11 attack on the U.S. consulate in Benghazi, in which U.S. Ambassador J. Christopher Stevens and three other Americans were killed? And two, who is responsible for denying a request for added security at the embassy in Tripoli?
"Please proceed," Obama told Romney when his foe pressed him on whether he called the Sept. 11 attack on the U.S. consulate in Benghazi an "act of terror" the next day.
"Is that what you're saying?" Romney pressed Obama.
"Please proceed, governor," Obama said.
Obama's response could have been a sign that he knew Romney was floundering and didn't want to get in his way. Alternatively, Obama might have seen the road Romney was trying to take him down to discuss the shifting answers from the White House, and didn't want to follow.
Romney appeared to think he had caught Obama in a blatant falsehood, because he said: "I want to make sure we get that for the record, because it took the president 14 days before he called the attack in Benghazi an act of terror."
At that point, Obama made a lawyerly objection: "Get the transcript," he said.
And then Crowley stepped in.
"He did in fact, sir," Crowley said to Romney.
Obama appeared happy to have someone else making the argument for him.
"Can you say that a little louder, Candy?" he said.
Crowley, who said later on CNN that she felt the president staring at her as if he wanted her to counter Romney, repeated, "He did call it an act of terror."
The debate over what Obama called the attacks the day after they occurred is complicated and legalistic. He referred to "acts of terror" in a Rose Garden response to the attacks on Sept. 12, and the following day as well in Colorado. As The Huffington Post's Joshua Hersh wrote Wednesday, "There is some lingering debate about whether Obama meant to apply the phrase directly to the Benghazi attacks, but in both cases he used it in a context that indicates he did."
"Did the president say this was an act of terror? The president did not say ... He said 'these acts of terror,'" Crowley said. "But he was in the Rose Garden to talk about Benghazi so I don't think that's a leap."
The reason this matters is because if Obama used "acts of terror" to mean a terrorist attack, then it adds intrigue to Romney's question of why the White House for days afterward primarily placed blame on a YouTube video insulting the Muslim religion.
But Romney's bungled attack on Tuesday night was ultimately the reason Obama got out of the hot seat on the issue. Romney did not appear as well briefed as he should have been. If Romney had been fully prepared, he would have been aware of Obama's "acts of terror" comments, and would have moved past that to focus more fully on where the White House had placed the blamed for the attack.
Adding to the confusion of the moment was Crowley's jumbled follow up to her statement on the "acts of terror" comments.

"It did as well take two weeks or so for the whole idea of there being a riot out there about this tape to come out. You are correct about that," she told Romney.
Talk of a riot in response to the YouTube video was instantaneous after the Benghazi attacks, based in part on the fact that riots at the U.S. Embassy in Cairo, widely attributed to the video as well, preceded the attack in Benghazi. It took several weeks for the State Department to formally state there was not a protest about the video earlier in the night of the attack.
Crowley said after the debate that Romney was "right in the main" in his broader point, in which he said, "it took the president 14 days before he called the attack in Benghazi an act of terror."
"I just think he picked the wrong kind of way to go about talking about it," Crowley said.
Obama did express readiness to move on from the topic, replying to Crowley's "I want you to move on," with, "OK, I'm happy to do that too."
As for who is responsible for denying added security to Tripoli, Obama on Tuesday night said he is ultimately responsible, but did not give details, saying only that he is "interested in finding out exactly what happened."
Romney did not even mention Benghazi in his first appearance on the campaign trail Wednesday after the debate, a rally in Chesapeake, Va. His message of the day was that Obama has not laid out a plan for his second term.
But look for CBS News' Bob Schieffer, the moderator of the third debate, to bring up Benghazi on Monday night. Romney will have time to craft a more effective line of attack. But Obama will have several days to prepare a defense.
Before You Go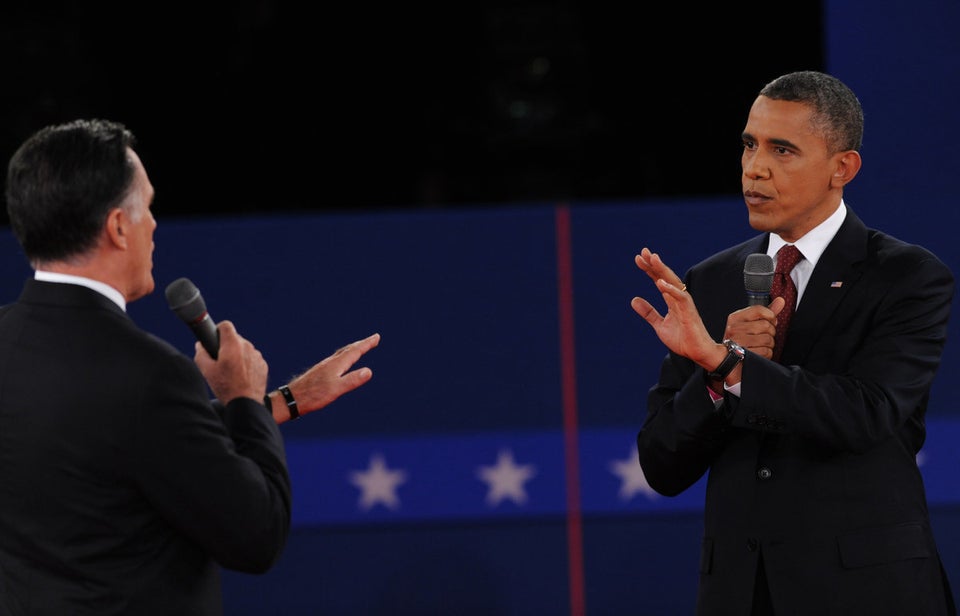 Obama, Romney Get Intense At 2nd Debate
Popular in the Community