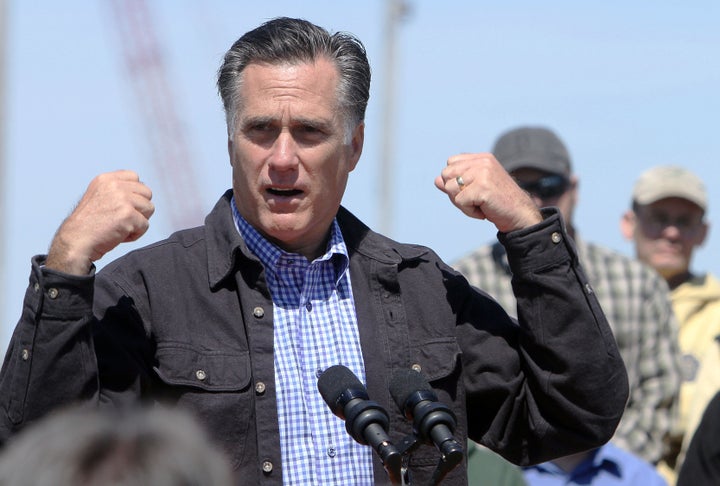 WASHINGTON -- Just hours after the Washington Post published a piece on Mitt Romney's prep school pranks -- which included forcibly cutting the hair of a student who stood out for his nonconformity and his perceived homosexuality -- the presumptive Republican presidential nominee had already apologized in a radio interview, saying he was sorry for any "dumb things" he might have done "a long time ago."
Presumably, by the time Romney was elected governor of Massachusetts in 2002, he had moved on from verbal taunts and physical take-downs. But gay-rights advocates argue that his policies toward the LGBT community as governor were just as troubling.
"It's very clear that Mr. Romney doesn't get it," said Eliza Byard, executive director of the Gay, Lesbian and Straight Education Network (GLSEN), which focuses on supporting LGBT youth. "Bullying, harassment and assault in schools are serious issues. His own behavior was deeply troubling when he was a student, and his actions as governor of Massachusetts were also an assault on the LGBT students that the state had set out to protect."
"Just looking at his current behavior, he's so politically opportunistic in his willingness to score political points on the backs of LGBT people -- if that's not the definition of a bully, I don't know what is," said Kara Suffredini, executive director of the pro-gay rights group MassEquality.
The Romney campaign did not return a request for comment.
Most memorable for Suffredini and Byard were Romney's battles with a commission meant to help LGBT youth, as it became clearer that these students were targets of harassment and discrimination in schools. The Governor's Commission on Gay and Lesbian Youth was first set up in 1992 by then-governor William Weld, a Republican. On May 12, 2006, the Boston Globe described what happened:
Angered that his name appeared on a press release touting a gay pride parade, Governor Mitt Romney moved yesterday to curtail the activities of a 14-year-old advisory commission on gay and lesbian youth.

The commission chairwoman, Kathleen M. Henry, said she was called yesterday by Beth Myers, the governor's chief of staff, who told her that the governor planned to issue an executive order ''revoking our existence" and creating another youth commission whose purview would be all of the state's youth, not just gays and lesbians. The commission would have all new members, she said.
A few hours later, however, Romney had changed his mind. His spokesman, Eric Fehrnstrom, said at the time that the governor had decided the original proposal was "too harsh." Instead, he opted to put restrictions on the way the commission could use the approximately $1.2 million it received in state funds.
State Rep. Liz Malia (D-Brighton), a defender of the commission, told the Globe at the time that she had met with Fehrnstrom about the issue. He had told her that he wanted to take it in a direction that focused on "all youth, and not gay and lesbian youth," she said.
The governor's restrictions alarmed LGBT activists and allies, who sought to make the commission independent. The legislature passed a bill establishing a separate, independent commission comprised of the same members a couple of months later. Romney vetoed that bill, but the legislature overrode him. As a response, he disbanded the governor's commission in an executive order, since it had essentially become a duplicate. The commission continues today, distinct from the governor's office.
Byard told The Huffington Post that GLSEN's Massachusetts chapter was consistently frustrated with Romney's cuts to funding for programs that assisted LGBT youth.
As research by the Democratic group American Bridge 21st Century shows, many of these areas did see their funding cut under Romney. On Nov. 15, 2006, for example, the Boston Herald noted that Romney had cut funds for "HIV/AIDS prevention, matching grants for groups like the YMCA and Boys & Girls Clubs and domestic violence prevention in the gay community." It was part of the governor's $425 million emergency state spending freeze.
Earlier in the year, Romney had vetoed $158,000 in funding for "intervention services and crisis housing for sexual violence in the gay, lesbian, bisexual and transgender community." As the Patriot Ledger reported on July 22, 2006, the Democratic-controlled state legislature overrode his veto.
In both 2003 and 2004, he vetoed funding for a "statewide and community based suicide prevention, intervention, postvention and surveillance activities and the implementation of a statewide suicide prevention plan," according to government documents. Romney said the funding was not consistent with his recommendation to the legislature. The state House and Senate eventually overrode that veto as well.
Byard said she found Romney's apology on Wednesday insufficient. In a radio interview with Fox News host Brian Kilmeade, Romney stated that he didn't realize one of the classmates he picked on was gay. According to the Washington Post article, Romney would say "Atta girl!" when the student would try to speak in English class.
"Whether or not Mr. Romney knew or thought he knew this other person was actually gay -- which it turned out he was -- is pretty beside the point," said Byard. "It was troubling behavior then. His actions as governor, and his actions as a candidate today in apologizing, all seem pretty clearly part of a troubling pattern of disregard for the seriousness of this issue and the kinds of behaviors that he himself is accused of carrying out."
In the past few years, there have been a rash of suicides by teenagers who have been bullied for being gay or perceived as gay. In 2009, GLSEN surveyed 7,261 middle and high school students and "found that at school nearly 9 out of 10 LGBT students experienced harassment at school in the past year and nearly two-thirds felt unsafe because of their sexual orientation. Nearly a third of LGBT students skipped at least one day of school in the past month because of safety concerns."
Popular in the Community