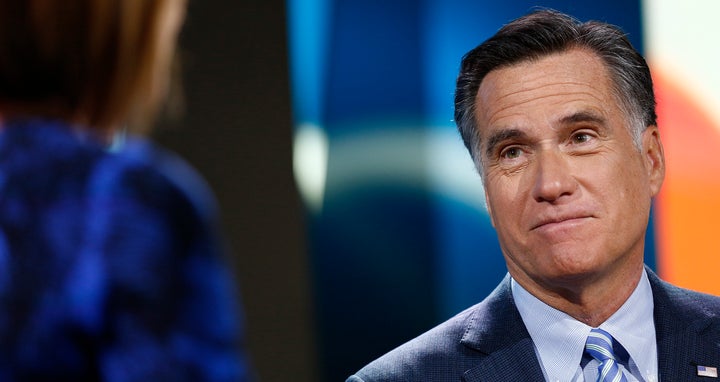 WASHINGTON -- Former Republican presidential nominee Mitt Romney called for campaign finance reform in the wake of the explosion of super PACs, which can receive unlimited sums of money from corporations, unions and individuals.
"We've really got a mess in the financial system with regard to campaigns right now," the 2012 nominee said Wednesday in an interview at The Atlantic's Washington Ideas Forum.
"We've gotta rethink campaign finance," he added.
The former Massachusetts governor said it is a problem that shadowy super PACs can take "unlimited amounts of money," while candidates themselves are "very strictly limited" in the amount of funding they are able to raise.
Super PACs have proliferated since the Supreme Court legalized unlimited contributions in its 2010 Citizens United decision and have played a prominent role among 2016 GOP campaigns. Fundraising for almost every Republican candidate has been eclipsed by the super PACs meant to support them.
Further, many candidates have actively flouted rules meant to prohibit coordination between the two. Former Florida Gov. Jeb Bush (R), for example, amassed a $100 million war chest for his super PAC before he officially announced his candidacy.
On the Democratic side, Sen. Bernie Sanders (I-Vt.) has made campaign finance reform one of the central planks of his presidential campaign. While others in Congress have also called for reform, efforts have stalled largely because of Republican opposition.
Romney on Wednesday also weighed in on the state of the 2016 race, making it clear he isn't particularly enthused by current front-runner Donald Trump.
"I will support the Republican nominee. I don't think that's going to be Donald Trump," he said.
The governor reflected on his failed 2012 presidential bid, lamenting that he and his party weren't able to effectively communicate the conservative message to minorities.
"Darn it, I wish I could do that properly," he said. 
PHOTO GALLERY
Declared 2016 Presidential Candidates
Calling all HuffPost superfans!
Sign up for membership to become a founding member and help shape HuffPost's next chapter