 WASHINGTON — With momentum on President Barack Obama's side, Mitt Romney sought Monday to explain to voters more clearly what he would do as president as he looked to right his struggling campaign and ease worries in Republican circles about its state seven weeks before Election Day.
"My plan is to help the middle class," the Republican nominee says in a new TV ad in which he promises to cut the deficit, balance the budget, reduce spending and help small business. Also, he adds: "We'll add 12 million new jobs in four years."
It was one of two new commercials he was launching in the most competitive states – the other assails Obama as bad for middle-class families – while also re-focusing his campaign appearances on his previously released five-point economic plan and starting a new effort to try to narrow Obama's advantage with Hispanic voters.
In addition, Romney was preparing to make a series of speeches aimed at offering voters a more concrete outline of his plans for the country and he's spending a significant amount of time preparing for next months' series of debates, mindful that the face-to-face meetings may be his last best hope of overtaking Obama.
The emphasis on Romney's plans for the future comes after a week in which Republican veterans of presidential campaigns publicly implored the GOP nominee to give voters a clearer sense of how he would govern, saying that simply castigating Obama wouldn't be enough to win. The new effort also follows a series of polls that show Obama with an edge nationally and in key states, and amid reports of infighting at Romney's Boston-based campaign.
With griping in GOP circles mounting, Romney and his advisers spent the weekend in Boston hashing out a plan to try to shift the dynamics of the race before the first debate on Oct. 3.
After a turbulent week that saw Romney stumbling to respond to an ongoing crisis in the Middle East, Romney chose to try to return to his comfort zone – the economy – and his argument that only he can solve stubbornly high unemployment given his decades of work in the private sector.
Wisconsin Rep. Paul Ryan, Romney's running mate, was to emphasize that pitch this week in appearances while also zeroing in on the debt and deficit.
Romney, for his part, was starting the week with a speech Monday to the U.S. Hispanic Chamber of Commerce in Los Angeles, as he looks to narrow Obama's advantage with these Democratic-leaning voters in key battleground states.
The campaign also was working to counter the notion of a campaign in disarray after a Sunday story on the Politico website detailed infighting among Romney's senior staffers. Campaign advisers worked to downplay those tensions and insisted the campaign is still on track.
"Obama's entire foreign policy is in flames. The economy is terrible. Let's get a little distance from the convention," top strategist Stuart Stevens wrote in an email Sunday morning, seeking to counter the notion of a campaign in a downward spiral.
According to ABC News, Stuart confirmed that "speeches go through lots of processes and editing" after Politico reported that there were multiple versions of Romney's convention speech.
It's been a tough few weeks for Romney.
Trouble began with Clint Eastwood's rambling conversation with a chair on the final night of the Republican convention, right before Romney's keynote address omitted the war in Afghanistan or a thanks to the troops serving there.
The intervening weeks have been scattered. Romney ducked battleground states as he hunkered down in Vermont for debate preparation, then spent days defending his decision to omit war from the speech. Polls showed the Democratic convention gave Obama a boost.
Then violence erupted in Egypt and Libya, prompting Romney to issue a statement criticizing the Obama administration before it was known that an American ambassador had died in Libya. Romney doubled down on his criticism in a news conference the next day.
That drew criticism from both Democrats and Republicans alike.
Romney's team sought last week to try to shift the tide by working harder and spending more on TV. The campaign released a flight of ads for different states during the week of the Democratic convention, but later replaced almost all of them with the same ad attacking Obama's record on China.
That was just last week. The new pair of ads were rolled out Monday.
Before You Go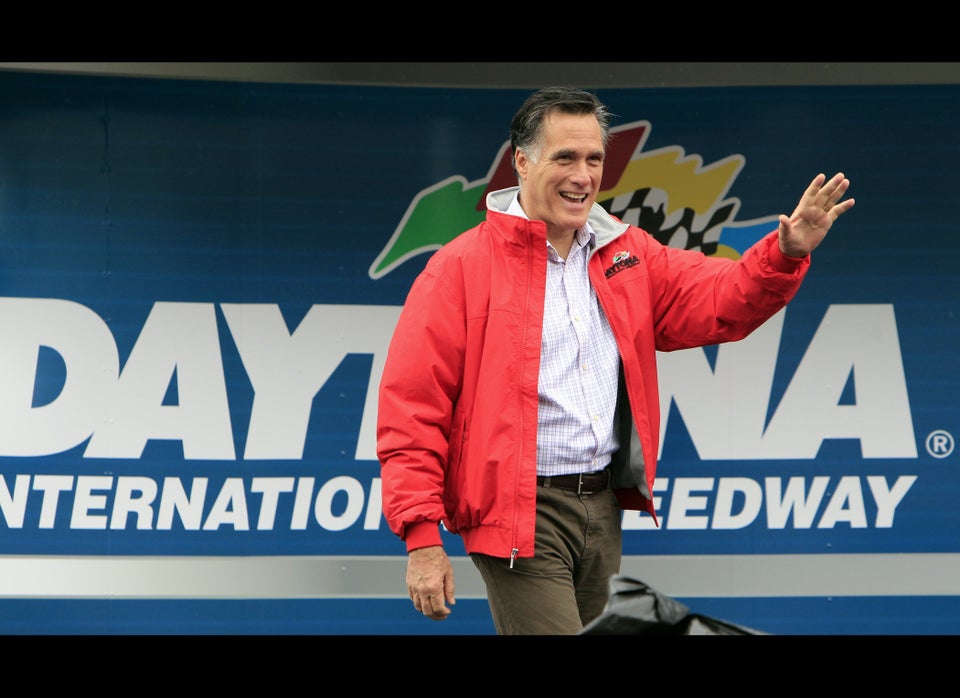 Awkward Mitt Romney
Popular in the Community