WASHINGTON -- GOP presidential nominee Mitt Romney condemned the Chicago Teachers Union for the high-profile strike it launched Monday, accusing it of betraying the city's children.
"I am disappointed by the decision of the Chicago Teachers Union to turn its back on not only a city negotiating in good faith but also the hundreds of thousands of children relying on the city's public schools to provide them a safe place to receive a strong education," Romney said in a statement. "Teachers unions have too often made plain that their interests conflict with those of our children, and today we are seeing one of the clearest examples yet."
Romney went a step further in the statement, assuming that President Barack Obama was standing with the union on the strike, even though neither the White House nor the Obama campaign has taken a position on the stoppage.
"President Obama has chosen his side in this fight, sending his Vice President last year to assure the nation's largest teachers union that 'you should have no doubt about my affection for you and the President's commitment to you,'" Romney said. "I choose to side with the parents and students depending on public schools to give them the skills to succeed, and my plan for education reform will do exactly that."
In a response via email, Obama campaign spokesman Ben LaBolt criticized Romney for his education policies and took a shot at the campaign for playing politics with a local dispute, though he didn't address the merits of the strike itself.
"President Obama's leadership has led to groundbreaking reforms in our schools, earning wide bipartisan cooperation and praise," LaBolt said. "In contrast, Gov. Romney has said class size isn't a problem and he would cut taxes for millionaires by gutting education funding, leading to fewer teachers. Playing political games with local disputes won't help educate our kids, nor will fewer teachers. But President Obama's plans will lift our schools and our students."
White House Press Secretary Jay Carney said Monday that Obama's "principal concern is for the students and the families," adding that he hadn't discussed the strike with the president. "We hope that both sides are able to come together to settle this quickly and in the best interest of Chicago's students," Carney said.
The union and Chicago Mayor Rahm Emanuel, a Democrat, have failed to agree on a contract after weeks of negotiations, leading to the first Chicago teachers strike in a generation. Some of the main sticking points are teachers' pay, health benefits and job security under a new performance evaluation system. There were no classes in the city's public schools as of Monday morning, with the union's 26,000 members out in protest.
The union has laid out the goals for its strike here, arguing that the city needs to address class size, improve staffing levels and offer teachers better salaries.
The strike could become a headache for the Obama campaign, depending on how long it lasts. Not only does the president have strong Chicago ties, but his former chief of staff, Emanuel, is now butting heads with a labor union generally seen as an ally of Democrats.
Before You Go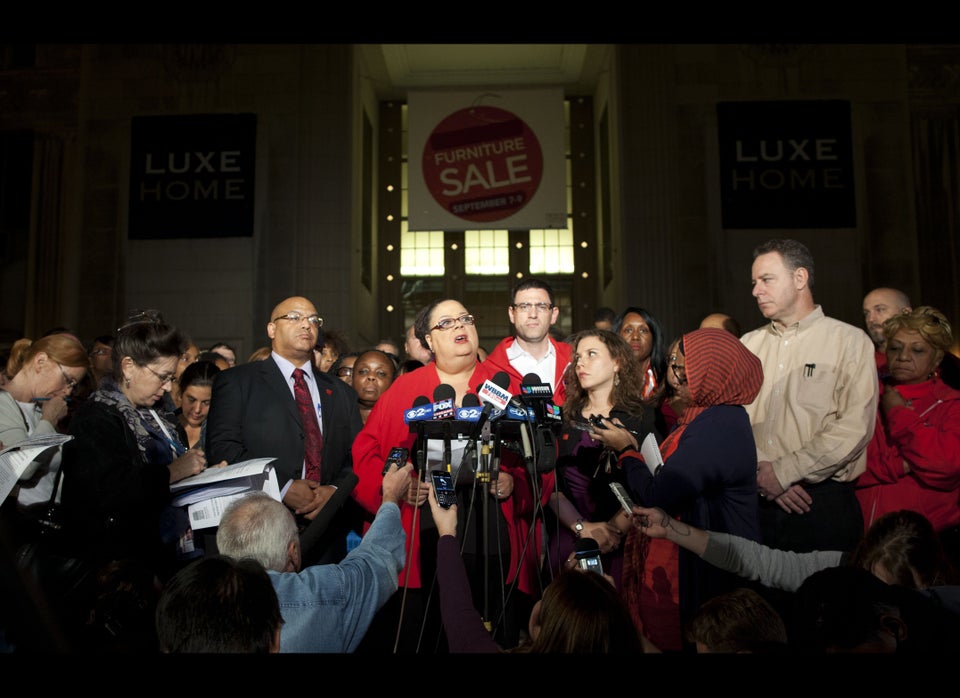 The Battle Over Chicago's Schools
Popular in the Community