* Democrats target Republican's "shocking comment"
* Republican sees comments as "one- or two-day story"
WASHINGTON, Sept 18 (Reuters) - Two Republican U.S. Senate candidates in close races disowned Mitt Romney's "47 percent" comments on Tuesday, signaling concern about the impact of his words on Republican fortunes beyond the presidential race.
Democrats, sensing a new opportunity to influence congressional contests, were busy trying to link Republicans generally with Romney's remarks. The Democratic Congressional Campaign Committee showered dozens of districts with news releases tying specific Republican candidates to Romney's "shocking comment."
Linda McMahon, Republican Senate candidate in Connecticut, was worried enough to issue a statement criticizing Romney.
"I disagree with Governor Romney's insinuation that 47 percent of Americans believe they are victims who must depend on the government for their care. I know that the vast majority of those who rely on government are not in that situation because they want to be," her statement said.
McMahon, who lost a 2010 Senate bid in Connecticut, is in a close race against former U.S. Representative Chris Murphy.
Massachusetts Senator Scott Brown, running a tight race against Harvard Law professor Elizabeth Warren to retain his seat in a traditionally Democratic state, sounded a similar theme.
In statement to The Hill, a publication specializing in Congress, he said of Romney's views: "That's not the way I view the world. As someone who grew up in tough circumstances, I know that being on public assistance is not a spot that anyone wants to be in. Too many people today who want to work are being forced into public assistance for lack of jobs."
In the video, the first part of which was published on Monday by the liberal Mother Jones magazine, Romney told donors that 47 percent of Americans would back Obama no matter what and "my job is not to worry about those people."
In theory, at least, Romney's comments had the potential to offend millions of voters directly.
About 46 percent of U.S. households paid no federal income tax in 2011, according to the bipartisan Tax Policy Center, although almost two-thirds of those paid an employment tax to support the Social Security and Medicare programs.

It is axiomatic that a strong presidential nominee can boost the chances for other party candidates, particularly those in close U.S. Senate races.
But the presidential candidate can also hurt those farther down the ticket.
While a single comment might not alter particular races, a lagging campaign could.
Republican Representative Steven LaTourette of Ohio, who is retiring from Congress, defended Romney's remarks, but said they "don't help i n swing districts like mine."
"People were ready to throw Obama over, like dumping a boyfriend, and were ready to be courted by a new boyfriend," he said. "But now they're having second thoughts," LaTourette said.
Republican Representative Tom Cole of Oklahoma called Romney's remarks "an unfortunate choice of words," but predicted the comments would be "a one- or two-day story."
"The election is going to turn on the economy," Cole said.
University of Virginia political scientist Larry Sabato, whose "Crystal Ball" blog closely tracks congressional races, said Romney's performance would be particularly influential in Senate races in Virginia, Connecticut, Montana, North Dakota and Florida.
"Scott Brown can't survive much more undertow in Massachusetts," he said.
George Allen, the Republican Senate contender in Virginia, "depends on a Romney win," Sabato added.
"As I go through the states, I'd say Romney's performance will help to determine most of the close Senate contests," he said in an email interview.
"It's going to be very difficult for Republicans to take over the Senate if Romney doesn't capture the White House. That's a different evaluation than a year ago when the GOP looked to be a good bet to grab the Senate."

Before You Go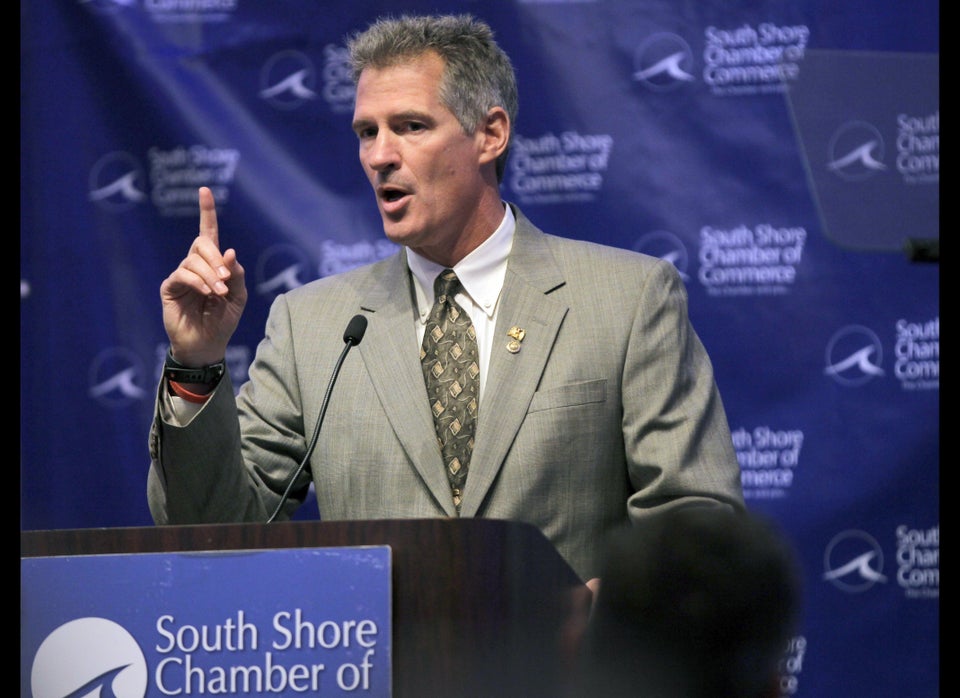 Conservatives React To Leaked Romney Video
Popular in the Community