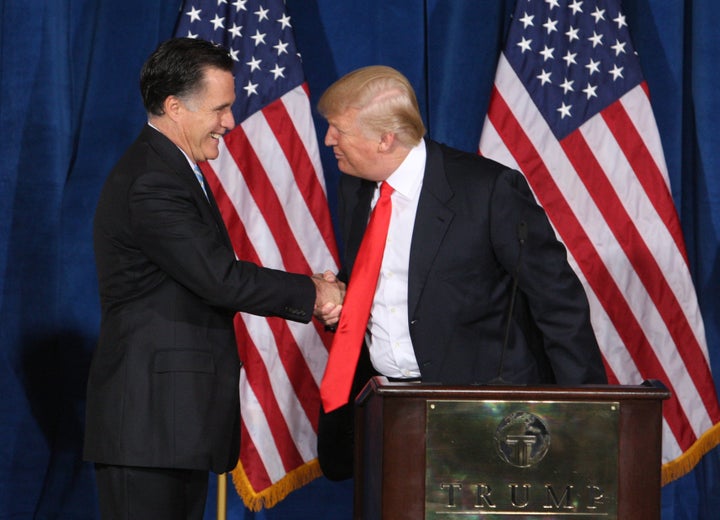 CONCORD, N.H. -- The last man standing in the way of Donald Trump's increasingly viable path to the Republican presidential nomination may not be one of his 2016 rivals, but rather a reassuring face from the GOP's recent past: Mitt Romney.
No, there is no longer any serious discussion of the 2012 Republican nominee making a late entry into the current contest as a white knight embarking on one last quest to derail a singularly dangerous foe or sideline the caustic front-runner's ideologically similar GOP competitors. That window, which has long been closed, is now welded shut by a secure fusion of filing deadlines and logistical realities.  
But even from the sidelines, Romney holds serious leverage over the direction of the Republican primary -- more sway than many of the candidates themselves. And that's especially true in the first-in-the-nation primary state of New Hampshire, where he remains particularly popular among the GOP rank and file.
"If Romney were to get involved in the last month before the [New Hampshire] primary and say, 'Listen, there are a lot of great people in this race, but Candidate X is the person I'm going to stand with, I think the earned media would be tremendous," said one high-level New Hampshire Republican strategist, who, like other sources in this story, requested anonymity in order to speak more candidly. "And if he decided not only to go in to endorse, but also hit the road with that candidate, it could be determinative."
"He would be, more than anyone else, the game-changer on the ground in New Hampshire," the strategist added.
The GOP race in New Hampshire, where all of the establishment-backed candidates are making their do-or-die stands has become -- for now, at least -- a battle for second place among a half-dozen contenders left in the front-runner's dust. Trump has held a comfortable and consistent lead in New Hampshire since July. But a Suffolk poll last month showed that if Romney himself were a candidate, he would have a 2-to-1 lead over Trump in New Hampshire -- where the former Massachusetts governor maintains a lakeside home and cruised to an easy victory in the 2012 primary.
If Romney were to take that goodwill and back one of the establishment-friendly GOP contenders, Republican powerbrokers agree, it would upend the race's dynamic and, in turn, reverberate far beyond the Granite State.
But it's less clear which candidate Romney would be inclined to get behind.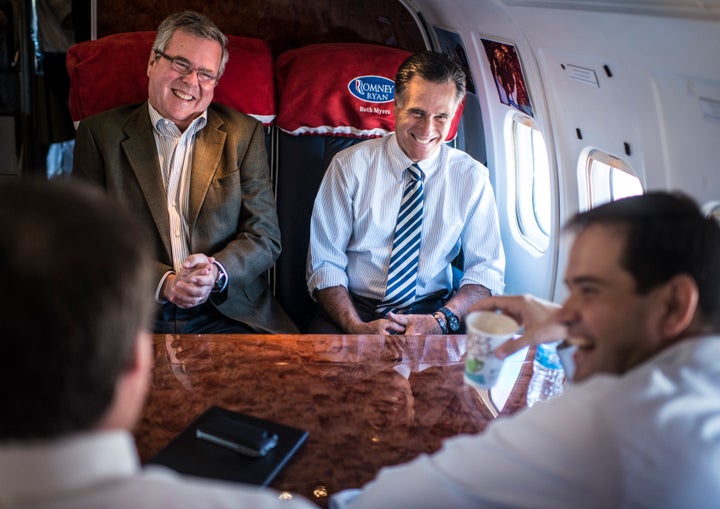 Romney has long expressed public and private admiration for Sen. Marco Rubio (R-Fla.) and New Jersey Gov. Chris Christie (R) -- both of whom visited Romney's Wolfeboro, New Hampshire, home for an intrigue-filled sleepover party last 4th of July weekend. Romney also exchanges emails from time to time with former Florida Gov. Jeb Bush and maintains a personal relationship with several other candidates.
With an unusually large percentage of key Republican donors still on the sidelines, Romney's financial network could help shape the race into a binary choice by elevating one GOP contender as the consensus alternative to Trump, even before any voting begins. In the aftermath of Trump's recent inflammatory comments calling for a ban on Muslims traveling to the United States, operatives from several campaigns are laying out the case quietly for why the Massachusetts Republican to do just that.
"I think there's a world that exists where he sees how the environment looks in January and endorses then, before New Hampshire," said one high-level operative to a candidate who has been seeking Romney's support.
Former Romney aides and other party strategists told The Huffington Post that the 2012 GOP nominee is receptive to concerns about how a divided GOP field is helping Trump -- whose standing in the national and New Hampshire polls has topped out in the 30 percent range. But Romney isn't sure how to best respond.
"Mitt is reluctant, as nothing seems to touch this guy," said one person who is close to Romney. 
While the data-obsessed Romney is hesitant by nature to act impulsively, the consensus among those who know him is that he won't hold stubbornly to a preconceived timeline about when to make a move if he determines that Trump's potential to wreck the party's chances in 2016 demands haste.
"He probably won't endorse right away," said one former top Romney campaign official. "But I could see him feeling a moral obligation to do so if Trump still is around." 
Romney "would be, more than anyone else, the game-changer on the ground in New Hampshire."
Among the factors weighing on Romney's mind, his associates say, is the mild sense of disappointment he harbors with the GOP field for allowing the race to get to a point where a gleefully deceitful reality TV star could be so far ahead with just two months to go until the New Hampshire primary.
As Romney sees it, the best strategy would have been for a GOP candidate to have adopted an overtly anti-Trump strategy some time ago. One former senior aide pointed to the way Romney successfully attacked former Gov. Rick Perry (R-Tex.) on Social Security and immigration as soon as the Texas Republican entered the 2012 primary; or how his super PAC promptly upended Newt Gingrich in Florida on the heels of the former House speaker's South Carolina primary victory.
In that vein, most people close to Romney do not believe that he is currently inclined to offer an endorsement prior to the New Hampshire primary. Better to have an anti-Trump candidate emerge on his own merit, the thinking goes, than to play kingmaker for one. And plus, the grind of the primary campaign -- even one pulled to these nativist depths -- builds political character that will be useful to the eventual nominee in the general election, assuming it's not Trump.
"He recognizes from the candidate's standpoint, the campaigns and candidates have put themselves on the line, they are doing the hard work and putting in the 20-hour days right now," said Kevin Madden, a former Romney adviser. "When you do that and have outside observers who don't have stakes in the game making grand projections about the race -- it annoyed him when he was in the race, and I think he is sensitive to doing it now."
Yet by all accounts, Romney is moved by the drama of the moment. He cares about the Republican brand and is acutely aware of the damage that a vitriolic, demagogue-driven primary can inflict, having watched his own presidential bid suffer from rhetorical and policy shifts rightward.
And when it comes to grand gestures to help block the party from digging itself into an even bigger hole, Romney can draw from personal history.
His father, George Romney, famously protested the nomination of Sen. Barry Goldwater (R-Ariz.) in 1964. Lore has it that the elder Romney walked out of the convention hall when Goldwater was nominated, though some have called that tale into question. Regardless, the image of a conscience-driven son following in the footsteps of his beloved father -- staging a dramatic protest against an unsupportable potential nominee -- isn't difficult to conjure.
"Remember, his father wouldn't endorse Goldwater," said Rep. Tom Davis (R-Va.). "It is important what the establishment figures do to a nominee if the candidate is too far to the right."
PHOTO GALLERY
Mitt Romney, Regular Guy
Calling all HuffPost superfans!
Sign up for membership to become a founding member and help shape HuffPost's next chapter