DENVER -- There was no one defining moment on Wednesday night, no knockout punch, as President Obama and his Republican challenger Mitt Romney met for the first of three debates this month.
But from the start, Romney and the president were a contrast in styles. Romney was energetic, engaging, in command of the facts, and ready to pounce on Obama. The president, on the other hand, was often listless, his answers more a meandering stroll than the straight lines that Romney was drawing.
"He didn't seem in command of his own budget or his own programs," Glenn Hubbard, a Romney economic adviser, said of Obama.
Romney plowed through bullet points on each issue, whether it was energy or health care, education or tax reform. It was the positive aspect of Romney's oft-remarked upon lack of human touch. He was part cyborg, part management consultant, pulling down drop down menus from his viewfinder and ticking off each point one by one.
The look on Obama's face for the second half of the debate made it clear: he knows he will have to perform better in the second and third debates, on Oct. 16 and Oct. 22. And Hubbard emphasized that the Romney campaign knows one good debate is worth little if Romney does not do well in the next two, and in the campaign's last month.
"He's a very serious debater and a smart man," Hubbard said of the president. "I think Governor Romney clearly did well tonight but there are going to be several debates."
Here are a few key moments or themes from the 90-minute session, which was moderated by PBS Newshour's Jim Lehrer.
Romney set the tone for how he would shape the night in his first answer after Obama's opening remarks, in response to a question from Lehrer on how each would create more jobs in the U.S.
Romney did three things. He began to chip away at the image many hold of Romney, as a man who does not care for Americans who are not wealthy or successful, or who are in the middle class; he aggressively pushed back on Obama's characterizations of his policies; and he laid out why he thinks Obama has failed as president.
Romney's first words about jobs were, "This is a tender topic." He went on to tell the story of a woman who had "grabbed my arm and said, 'I've been out of work since May. Can you help me?'" He talked of how a woman with a baby in her arms came up to his wife, Ann Romney, and spoke of her husband's trouble finding work.
"The answer is, yes, we can help, but it's going to take a different path," Romney said, "not the one the president describes as a top down, cut taxes for the rich. That's not what I'm going to do."
He then launched into his five-point plan for reviving the economy, touching on energy, trade, education, balancing the budget and promoting small business. He ended by characterizing Obama's approach as "trickle-down government," which he described as "bigger government, spending more, taxing more, regulating more."
Obama tried not to engage, pivoting back to what he would do for education. But when he talked about Romney's tax plan as a $5 trillion tax cut, Romney hit back hard, as he would throughout the night.
"I don't have a $5 trillion tax cut. I don't have a tax cut of the scale that you're talking about. My view is that we ought to provide tax relief to people in the middle class. But I'm not going to reduce the share of taxes paid by high-income people," Romney said.
Romney said that the wealthy will "do fine whether you're president or I am."
"The people who are having the hard time right now are middle-income Americans. Under the president's policies middle-income Americans have been buried," Romney said, using the term that Vice President Joe Biden used this week to describe the middle class during the last four years.
As Romney used the "buried" term, a small shadow passed across Obama's face. He did not look happy.
And in fact, the president looked unhappy for most of the night. There were moments of levity where he cracked a one-liner that got some laughs, and he flashed his megawatt smile.
"I had 5 seconds before you interrupted me," Obama said at one point to Lehrer, with a sly smile.
But for most of the night, the president had a very hard time concealing his irritation with the fact that Romney was challenging and criticizing him. Obama could barely bring himself to look at Romney for large chunks of time while Romney spoke, either looking down or looking at Lehrer with an expression that suggested he wanted the moderator to cut Romney off and end his answer. And while Obama spoke, he usually looked at Lehrer or at the camera.
Romney, on the other hand, looked directly at Obama while he prosecuted his case. Throughout the night, Obama's expression became more and more dour.
Obama's top political adviser in the White House, David Plouffe, told reporters that Romney's body language would not come across well on TV.
"You guys all seem to think that Romney was aggressive. My sense is you're going to find some people at home that thought he was quite testy," Plouffe said.
"Sometimes in these debates, particularly with Twitter, everybody, 'Oh look at this, Romney's being aggressive.' This president's going to be on their smart phones, in their living room, on their TV screen," Plouffe said, speaking of voters.
"The president's performance was not one of theatrical aggression. It was to calmly lay out for the American people the differences these two candidates have," he said.
Romney's Hit On Green Jobs
About 35 minutes into the debate, during a conversation about how to reform the tax code in a way that increases economic growth and does not increase the deficit, Obama began to hit Romney as a champion for tax breaks for oil and gas companies.
"I've identified areas where we can, right away, make a change that I believe would actually help the economy," Obama said. "The oil industry gets $4 billion a year in corporate welfare. Basically, they get deductions that those small businesses that Governor Romney refers to, they don't get. Now, does anybody think that ExxonMobil needs some extra money when they're making money every time you go to the pump? Why wouldn't we want to eliminate that?"
"First of all, the Department of Energy has said the tax break for oil companies is $2.8 billion a year. And it's actually an accounting treatment, as you know, that's been in place for a hundred years."
"It's time to end it," Obama said, cutting in.
"And in one year, you provided $90 billion in breaks to the green energy world. Now, I like green energy as well, but that's about 50 years' worth of what oil and gas receives," Romney said. He added: "And you say Exxon and Mobil. Actually, this $2.8 billion goes largely to small companies, to drilling operators and so forth."
Romney then added that under his tax reform plan, if he is successful in getting the corporate tax rate lowered, the $2.8 billion oil subsidy is "probably not going to survive."
"But don't forget, you put $90 billion -- like 50 years worth of breaks -- into solar and wind," Romney said, continuing that some of those investments were total failures, like Solyndra.
The Obama Campaign's Response
Obama's top advisers have been readying themselves for a turn in the narrative arc of the campaign after Romney's terrible September. They told The Huffington Post as much last week during interviews at their campaign headquarters in Chicago.
What was not clear was whether they expected their candidate to turn in the kind of performance that he did on Wednesday night.
"I'm not going to critique his performance," said top Obama adviser David Axelrod.
He began playing down any poll surge that Romney might see after his strong performance on Wednesday night.
"I've said repeatedly that the challenger generally gets some kind of bounce. It wouldn't shock me if he got some kind of bounce," Axelrod said. "Do I think it's changed the basic dynamics of the race? Absolutely not."
Plouffe, who said at one point in the spin room that Romney "was on defense all night long," laid out a specific metric for gauging whether the debate had moved the needle.
"If they think they did so well," Plouffe said, "then you show me, by next week, that Ohio's tied, and Iowa's tied, and Nevada's tied, if not taken the lead."
Before You Go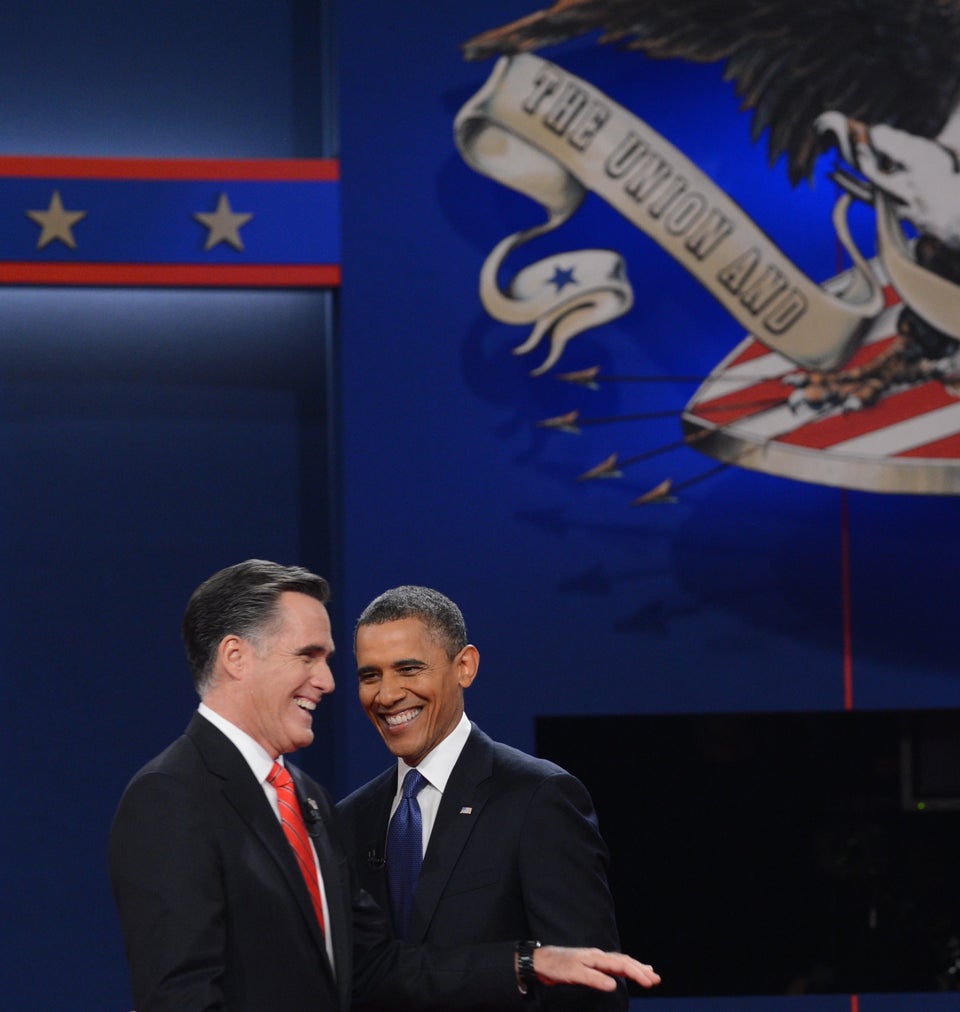 Presidential Debate
Popular in the Community