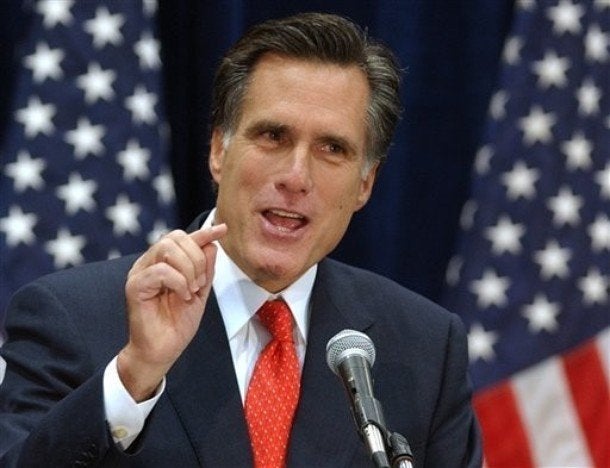 For continuous updates on the Conservative Political Action Conference, click here.
Former Massachusetts Gov. Mitt Romney (R) became the first speaker at CPAC to utter the words "President Bush" on Thursday when he offered a forceful defense of the previous administration.
Speaking to throngs of conservative onlookers, the likely 2012 presidential candidate accused the Obama White House of using its predecessor as a crutch and scapegoat. More to the point, he declared that the Bush record wasn't all that bad compared to the current president's.
"When it comes to shifting responsibility for failure, however, no one is a more frequent object of President Obama's reproach than President Bush," said Romney. "It's wearing so thin that even the late night shows make fun of it. I am convinced that history will judge President Bush far more kindly -- he pulled us from a deepening recession following the attack of 9-11, he overcame teachers unions to test school children and evaluate schools, he took down the Taliban, waged a war against the jihadists and was not afraid to call it what it is -- a war. And he kept us safe."
The crowd was quite pleased with the Bush defense and even more so when Romney praised former vice president Dick Cheney.
"I respect [Bush's] silence even in the face of the assaults on his record that come from this administration," said the Massachusetts Republican. "But at the same time, I also respect the loyalty and indefatigable defense of truth that comes from our 'I don't give a damn' Vice President Dick Cheney!"
But it says something to the legacy of the 43rd president that it's now newsworthy when he is defended in a die-hard conservative crowd. Indeed, if anything, Republicans have spent the last few months criticizing the Bush years as much as Obama -- casting it as a time of run-away spending and ideological laziness. But for the purposes of the speech, Romney looked the other way.
"I'm afraid that after all the finger-pointing is finished, it has become clear who is responsible for President Obama's lost year, the 10 percent unemployment year -- President Obama and his fellow Democrats, he said. "So when it comes to pinning blame, pin the tail on the donkeys."
Calling all HuffPost superfans!
Sign up for membership to become a founding member and help shape HuffPost's next chapter