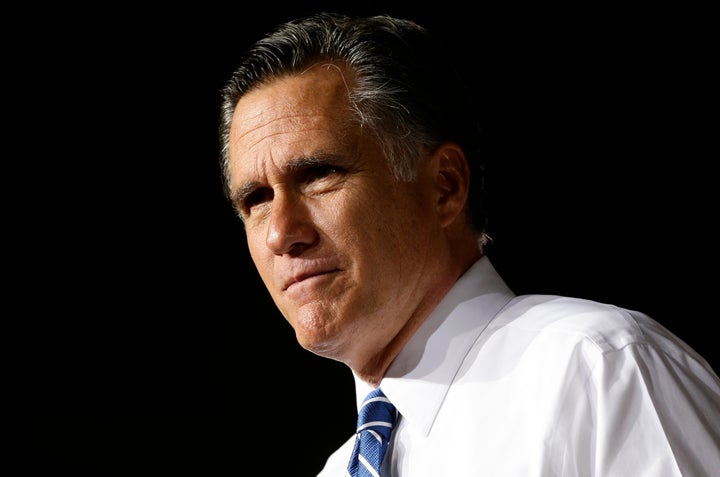 DENVER, Colo. -- Republican immigration hawks were quiet on Tuesday after GOP nominee Mitt Romney said he would honor deferred action granted by the Obama administration for some undocumented young people -- a policy they have decried as amnesty and a massive overreach of executive power.
Put in the uncomfortable position of either criticizing their party's presidential nominee or softening their condemnation of deferred action, Republicans so far have said nothing. Kansas Secretary of State Kris Kobach, the hardliner behind Arizona immigration law SB 1070, declined to comment. So did House Judiciary Chairman Lamar Smith (R-Texas). Rep. Steve King (R-Iowa), who threatened to sue President Barack Obama, did not return a request for comment. Arizona Gov. Jan Brewer (R), another top critic of Obama on immigration, and Texas senatorial candidate Ted Cruz, who said Romney should end the policy, also failed to return calls.
Even those who were somewhat supportive of Obama's reprieve to undocumented young people, although not the manner in which the president issued the order, were quiet. Sen. Marco Rubio (R-Fla.), who planned earlier this year to author a bill to do something similar to Obama's action, ignored a request for comment, as did Sen. John McCain (R-Ariz.), who previously pushed for comprehensive immigration reform.
The issue of deferred action demonstrates Romney's awkward predicament as he attempts to woo Latino voters he alienated during the primary. A CNN poll released on Tuesday put him 44 percentage points behind Obama among Latino voters, who ranked immigration as the second-highest priority issue -- although most said the economy was more important -- and said Obama could better handle immigration concerns. Republicans, though, have to contend with a prominent contingent of their party that opposes anything they can define as "amnesty," a movement that killed ex-President George W. Bush's effort at immigration reform and led to numerous state bills aimed at driving undocumented immigrants from the U.S. Romney seemed to be playing to that GOP wing in the primary. Now, though, he seems to be trying to move back.
Obama's deferred action directive is popular among Latino voters, a majority of whom also support the Dream Act, a bill that would help some of the same undocumented young people legally stay in the U.S. Romney said he would veto the Dream Act, but has insisted he does not need to say whether he would end deferred action because he will quickly enact immigration reform.
Romney finally gave an answer -- at least a partial one -- on the question of deferred action in a Monday interview with The Denver Post.
"The people who have received the special visa that the president has put in place, which is a two-year visa, should expect that the visa would continue to be valid," Romney said. "I'm not going to take something that they've purchased. Before those visas have expired, we will have the full immigration reform plan that I've proposed."
The Romney campaign ignored questions from HuffPost to clarify what would happen to undocumented young people who applied for deferred action and were not yet accepted, or whether people could still apply if Romney wins the election and becomes president. They told the Boston Globe that no one would be allowed deferred action unless they were accepted under Obama's presidency. That means Romney would continue a reprieve from deportation for only a tiny number of people.
The Department of Homeland Security said it expects the average wait time for the deferral to be from four months to six months, an official there said on the condition of anonymity in order to discuss internal matters. DHS approved just 29 applications in the first month. Many of the 82,361 applications received by Sept. 13 will not receive an answer before the end of January.
The Obama campaign responded to Romney's comments by pointing out the issues he failed to address, such as how he would deal with undocumented immigrants already in the country.
"I appreciate that more than 100 days later we finally have a substantive comment from the governor, but in all honesty I think his comment raises more questions than it answers," Obama senior campaign adviser Robert Gibbs told HuffPost. "Maybe he'll get a chance to talk about that tomorrow in the debate."

Calling all HuffPost superfans!
Sign up for membership to become a founding member and help shape HuffPost's next chapter
BEFORE YOU GO
PHOTO GALLERY
Polls: Obama vs. Romney