 WASHINGTON -- Republican presidential hopeful Mitt Romney argues that federal disaster response should be handled at the state level, but when disaster struck Massachusetts, he was missing in action, according to some of the state's local politicians.
On Oct. 9, 2005, heavy rain storms caused the Green River to rise to historic levels and begin flooding into Greenfield, Mass. The flooding destroyed a trailer park and demolished swaths of low-income housing. Roads were impassable. The flood waters submerged the town's water treatment plant.
As the rain fell and the Green River rose, Greenfield's then-Mayor Christine Forgey tells The Huffington Post that she did not hear from Romney. About 75 people, including many retirees, lost their homes in the trailer park, she says. Still many more were displaced. Forgey says a resident opened up the high school and used it as a crisis shelter. A radio station launched a food and clothing drive and the Red Cross provided services.
New Hampshire had faced the same flooding. It's damage was worse. Gov. John Lynch, a Democrat, called up the National Guard and cut short a trip to Europe to return to his state so he could oversee the flood response.
Forgey, according to press accounts, tried to get Romney on the phone, but she only got as far as a the Lieutenant Governor's chief of staff. She and others started complaining to the press in the hopes of getting the governor's attention.
The town could handle distributing donated shirts and juice. But Greenfield, with its population of 18,000, couldn't repair this level of loss, which had been estimated to exceed $1 million. Forgey said she needed the state government to respond and for Romney to declare an emergency. But for days, Greenfield residents were on their own, with limited outside help. "We really didn't get the response we were looking for," she says. "I had to declare a state of emergency ... We really needed help desperately, desperately."
On the first day, Forgey says she did not hear from Romney. Nor the second day. Nor the third.
Romney wasn't in Massachusetts when the flood hit, and the emergency did not alter his plans. The Associated Press reported at the time that the governor had been scheduled to speak to an economic club in North Carolina. "If the governor thought for one second he was needed here today, he would be there," a spokesperson told the AP.
Seven years later, Forgey still brings up Lynch's leadership as an example that Romney should have followed. "You can imagine the level of frustration as a mayor on a local level and people are saying please help us and your hands are tied," she said. "I wished that Governor Romney had taken a page from Governor Lynch's book and basically paid attention to what was happening in Western Massachusetts. Government is here to help people, especially in disasters."
Even after returning to Boston, Romney still hadn't talked to Forgey or visited the flood-affected areas. "The governor's office hasn't even acknowledged that it's rained," Democratic state Rep. Christopher Donelan complained to the Boston Globe.
It would be three days since the rains began and only after heavy criticism from the local press -- which began to make comparisons to the Hurricane Katrina disaster response -- before the governor ventured to Greenfield to the shake the hands of the flood victims.
But even his visit proved a disappointment. Forgey says she never met with Romney, as his visit was unannounced. They only spoke on the phone.
Romney defended his inaction to the Associated Press. "The floods weren't of a nature of such significance on Monday, based upon the reports, that suggested that my being in Western Mass would have made any difference whatsoever." He went on to add: "There will always be occasion for people to say why didn't you do it this way or that way. You do the best you can, based on the information you have."
But once in Greenfield to survey the damage, Romney seemed ignorant of even the most basic geography, according to John Barrett, then-Mayor of North Adams. He said the governor called him while he was driving through Greenfield to say he was in the area. "I said, 'that's the next county,'" Barrett recalls telling Romney. "You're an hour away."
"I don't think he understood that was part of the job ... that part of it was dealing with catastrophic storms," Barrett, a frequent and early critic of Romney, says. "He just didn't pay too much attention to it."
Even after seeing the damaged town and displaced residents, Romney still did not act immediately. Forgey says he waited until another part of the state had flood problems before declaring a state of emergency, which was necessary before the affected areas could receive federal assistance. Before declaring the emergency, Romney had said if the state didn't qualify for federal aid, he would make sure the damages were covered via the state legislature.
Dan Bosley, a former Democratic state representative in Western Mass, echoes Forgey's criticisms. His district had severe flooding that closed roads and bridges. He says Romney waited too long to seek money from the Federal Emergency Management Agency and that when it finally came, it wasn't enough. Some damage had to wait for a second disaster, and a new administration, to get fixed. "We were the 47 percent out here," he says. "He just couldn't be bothered. He was out of state. He just ignored us and I just found that very frustrating."
A year later, horrible floods hit on Mothers Day 2006 in Melrose. The floods displaced 8,000 of the area's 30,000 residents, including hundreds of elderly tenants. Their entire public works building was under water. Rob Dolan, the town's mayor, says Sen. Ted Kennedy had been one of the first to call to offer assistance. The next day, FEMA representatives were on the ground.
Dolan says the state's response was exceptional. But the idea that the state could do the kind of recovery and damage assessments on their own as, Romney has recently suggested, is troubling to Dolan, who broke with his party and voted for Romney when he ran for governor in 2002.
Federal grants, Dolan says, helped pay for new drainage systems to prevent future floods. The feds also cracked down on businesses who were jacking up prices on mold removal and tree cutting after the flood in 2006. "The federal government was on them like white on rice," he says. "We called the feds on those people and it just ended, you know? That's a big issue."
Melrose was just five miles from Romney's office and three miles from his house. Dolan says he never got a call from Romney. Maybe he drove through, Dolan thinks. "I'm not sure if he did," he says. "They did say he was going to drive through."
The Romney campaign did not respond to a request for comment.
Before You Go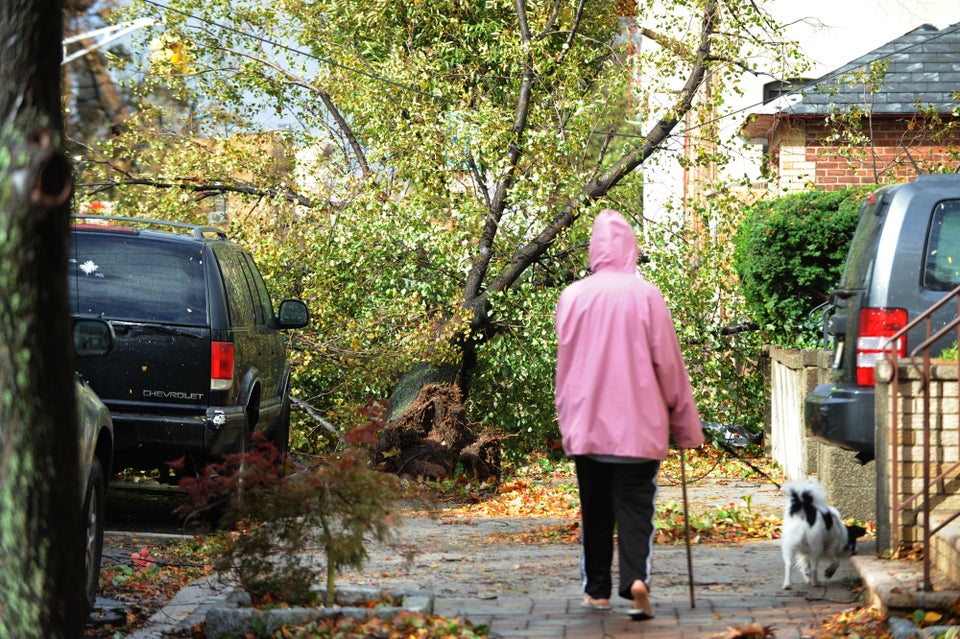 New York City Gets Hammered By Superstorm Sandy
Popular in the Community