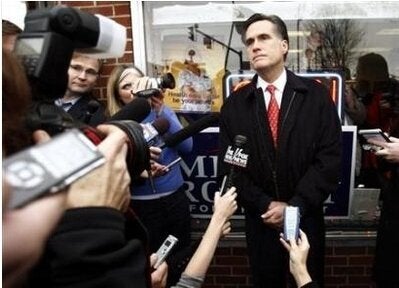 Mitt Romney, who a month ago believed his victories in Iowa and New Hampshire were bought and paid for, is now scrambling to remain competitive in both states, continuing to outspend his adversaries by a wide margin, saturating the Iowa and New Hampshire airwaves with anti-Huckabee and anti-McCain commercials.
From a purely business point of view the past four weeks have marked an extraordinary setback for the Romney campaign.
Since January 1, 2007, the former Massachusetts governor has spent well in excess of $80 million, including at least $17.4 million of his own money, paying media fees in excess of $30 million, salaries of roughly $16 million, and consulting payments of more than $15 million.
Among Romney's costly innovations this year has been putting more than 80 local conservative leaders in key states on his campaign payroll, in what amounts to a 21st Century revival of "walk-around money."
For a long time - through the summer and well into November -- the Romney "early state" strategy aimed at winning Iowa and New Hampshire looked as if it had paid off in spades.
From August 26 to November 27, Romney led in 26 straight polls in Iowa, sometimes by as much as 23 points. In New Hampshire, Romney saw his advantage grow to 15 points in mid-December.
Since those halcyon days, however, Romney has fallen into second place in Iowa, running roughly four points behind former Arkansas Governor Mike Huckabee. In New Hampshire, Romney's double digit lead has steadily eroded, while John McCain, who was trailing by 11 to 18 points at the start of December, has surged to within 3.5 percentage points.
Romney, in the assessment of most political analysts, can still pull it out. But even after accommodating social issue conservatives by abandoning his formerly moderate stance on such cultural/moral matters as gay rights and abortion, Romney finds himself struggling to convince voters that he is a legitimate conservative while simultaneously ripping into the ideological credentials of his competitors.
Romney's biggest setback was a devastating December 26 editorial in the Union Leader, a conservative Republican newspaper with the widest circulation of any publication in New Hampshire.
"Granite Staters want a candidate who will look them in the eye and tell them the truth....Mitt Romney has not," the editorial declared. "The more Mitt Romney speaks, the less believable he becomes.... Mitt Romney has spent a year trying to convince Granite Staters that he is [trustworthy]. It looks like they aren't buying it. And for good reason."
The Union Leader denunciation was preceded by an even more hostile assessment of Romney in the Concord, N.H., Monitor - "We talk about our ability to....see through the baloney. If a candidate is a phony, we assure ourselves and the rest of the world, we'll know it. Mitt Romney is such a candidate."
While Romney has not responded to the Union Leader editorial, his campaign has sought to attribute the Monitor editorial to that paper's liberal orientation: "MITT ROMNEY'S IN GOOD COMPANY: The Concord Monitor Attacked Ronald Reagan, George Bush In 1980," headlined Romney's press release on the subject.
Strategically, the problem for the relatively bland Romney created by both editorials is that they feed into one of his key weaknesses, a sense among voters that they do not know what he stands for.
Earlier this month, the Los Angeles Times asked Republican voters, "Regardless of your choice for president, who do you think has been best at saying what they believe, rather than saying what they think the voters want to hear: Rudy Giuliani, Mike Huckabee, John McCain, Mitt Romney or Fred Thompson?" Romney, at 8 percent, trailed the field, with Huckabee leading at 20 percent, Giuliani at 18, Thompson at 15 and McCain at 13.
Desperate to regain his advantage, Romney has sent out a mass emailing of a news story from a marginal, conservative web site that described McCain as having "a vicious, out-of-control temper;" Thompson as "sour looking" and as burdened by "a lazy streak;" Mike Huckabee as a politician known for "nastiness...bigotry...serial ethics violations and misuse of funds;" and Giuliani as the man who appointed a police commissioner later "indicted for dealings involving figures with ties to the Mafia."
On television, Romney is sending two different messages to Iowa and New Hampshire.
In Iowa, where Romney's strategy is to knock Huckabee down, he is running a commercial comparing his own and Huckabee's gubernatorial records on crime:
"Romney got tough on drugs like meth. He never pardoned a single criminal. And Mike Huckabee? He granted 1,033 pardons and commutations, including 12 convicted murderers. Huckabee granted more clemencies than the previous three governors combined. Even reduced penalties for manufacturing methamphetamine. On crime. The difference is judgment."
Romney's second Iowa commercial describes his decision to shut down his company, Bain Capital, in the summer of 1996 and to send all personnel to New York to help search the missing daughter of one of the partners.
In New Hampshire, the campaign had been running only one ad that presents Romney as an effective chief executive who could take on Hillary Clinton.
Today, however, in a sign of the dangers Romney faces, he put up a sharply negative ad.
In it, the announcer declares,
"John McCain, an honorable man. But is he the right Republican for the future? McCain opposes repeal of the death tax, and voted against the Bush tax cuts twice. McCain pushed to let every illegal immigrant stay here permanently. Even voted to allow illegals to collect Social Security. And Mitt Romney? Mitt Romney cut taxes and spending as Governor. He opposes amnesty for illegals. Mitt Romney. John McCain. There is a difference."
In a message to supporters sent in the late afternoon on Thursday, Romney claimed to be undeterred and still optimistic:
"In just one week, Iowa voters will kick off the 2008 presidential caucuses and primaries. . . .And in just one week, I'll be on my way to the Republican presidential nomination and to the White House, thanks to your support....P.S. It's a long road and we have asked a lot. I assure you that it will all be worth it when victory is clear."
Despite the candidate's confident tone, staffers in the campaign know that Romney's political future will be determined in the next 11 days, and they are worried. "The question is, do we stand up under the pressure," said one top aide struggling to hang on to his own optimism.
Popular in the Community