NEW YORK -- Former Massachusetts Gov. Mitt Romney suddenly pulled back his hand after hearing that a young college student who greeted him at a New York fundraiser Tuesday night was undocumented, according to DREAM Act activists.
"He extended his hand to shake mine," the young woman told The Huffington Post. "But once I said I was undocumented, he pulled his hand away from me."
The 19-year-old college student, who asked to be identified only as Lucy because of her undocumented status, said she was also booed by Romney supporters as she was escorted out of a New York City fundraiser. One of the supporters told her to "go back to Mexico," and she responded that she was "actually from Peru," according to her account of the event.
The Romney campaign did not immediately respond to a request for comment on the alleged incident.
Lucy was among nearly a dozen young protesters who are advocates of a bill that would provide legal status to some undocumented immigrants who entered the United States as children. Three students, including Lucy, went into the Sheraton New York Hotel and Towers, where the fundraiser was held, to ask the presidential hopeful why he "didn't support their dreams." The other demonstrators waited outside, carrying placards with messages such as, "DREAM ACT NOW. ROMNEY IS NOT A FRIEND TO LATINOS. NY VETOES ROMNEY."
In a video shared with The Huffington Post, the college student taped part of her encounter with the GOP frontrunner on her cell phone, although their hands are not visible on the recording. She can be heard asking Romney if he would support the DREAM Act. The candidate responded that he already said publicly that he would veto the legislation.
Romney was talking when Lucy interjects that she did not come to the country illegally. She told HuffPost later that she was brought to the United States when she was 9 years old on a travel visa by her mother. On the video, Lucy tells the Republican candidate that she had a 4.0 grade point average in college.
"That's wonderful," Romney replied before being ushered away from the young woman by his staffers, one of whom can be seen moving in between the young activist and the candidate.
The young college student said she was on track to graduate with a degree in broadcast journalism in three years. Her mother, who Lucy says brought her to the United States for a better life, works as a housekeeper in New York City. Like other DREAM Act advocates at the protest, Lucy said she worries that she will not be able to work after she graduates from college if she does not have the required papers.
Those in Lucy's position are permitted to return to their home country and apply for legal status, but under current law, many face three or 10-year bans to reentering the country. The long wait times make it difficult, if not impossible, to return, and many young people in Lucy's position do not see returning to their home country to enter the United States legally as a viable option.
Another protester at the Romney fundraiser was Jong Min, a 32-year-old man from South Korea, who said he represents another face of the DREAM Act.
"The DREAM Act is not just a Mexican issue. It's not just a Latino issue. It's an immigrant issue. It's everybody's issue," Min told HuffPost.
After graduating from the University of Tennessee magna cum laude, Min said he was only able to find jobs at grocery stores and in construction work because higher level work mandated documents that he could not provide. He said he was brought to the United States as a one-year-old by his mother, a fact he only discovered when he applied to a residency program at a hospital while he was a student at Stuyvesant High School in New York City.
"My mom told me my whole life I had a green card. I went home that day in search of this mythical, magical green card, and I never found it. I had no clue that I was undocumented until I was 17," Min said.
Min added that he is frustrated he cannot contribute to society because of his immigration status.
"What happens after all that education?" he asked. "I spent all of my life working towards something, and now I can't even use what I have to offer."
Standing outside the hotel during Romney's fundraising event, Jong Min, Lucy and other Dream Act advocates loudly voiced their disapproval of a candidate who said he would veto legislation that would permit them to remain in the U.S.
"Veto Romney! Veto Romney!," they chanted in unison.
The group said that while they cannot vote because of their undocumented status, they do not think Romney would be able to win over Latinos -- an important voting block in many states -- without supporting the DREAM Act.
Some pollsters argue that Latinos, the nation's fastest growing minority group, decided the 2008 election in favor of President Obama in key swing states like Florida. While Obama won 67 percent of the Latino vote in 2008, George W. Bush won nearly half of the Latino vote in 2004.
According to a recent Pew Hispanic Center report, 91 percent of Latinos support the DREAM Act. Ruben Gallego, a state representative in Arizona, said in a teleconference last week that the DREAM Act will be a particularly emotional issue for the community in the 2012 election.
"This is about our kids. Attacking the DREAM Act, and attacking our kids, is really not a wise political move for Republicans," he said.
Tuesday night's protesters echoed Gallego's assertion.
As Romney quickly ducked into his car, the protesters chanted, "Latinos do not support Romney. Latinos do not support Romney."
Before You Go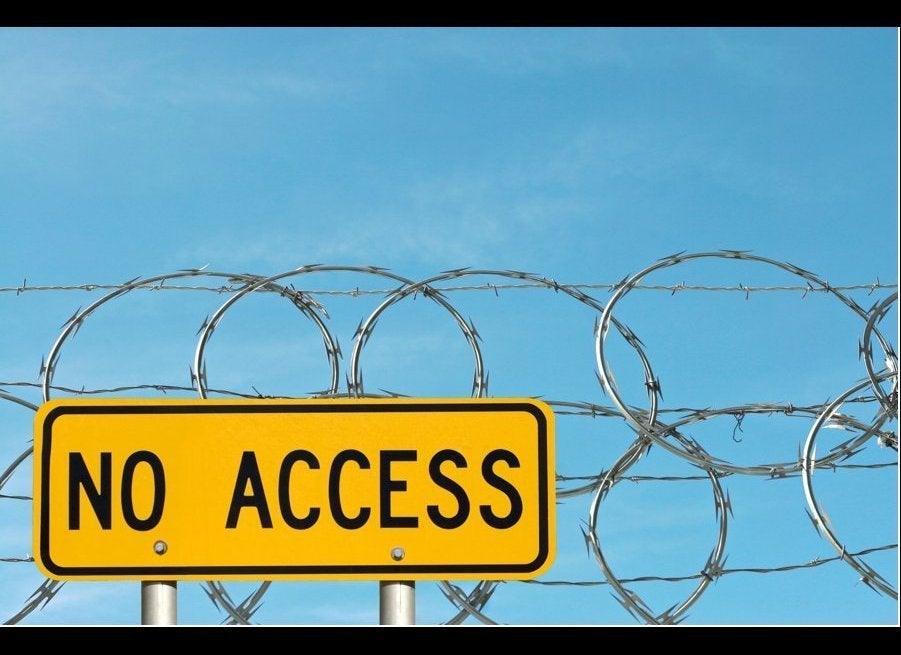 Harsh Immigration Laws
Popular in the Community