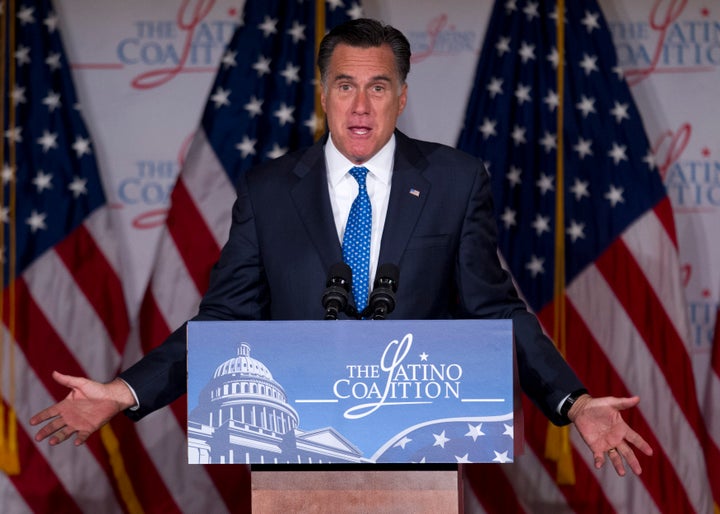 WASHINGTON -- Mitt Romney has said he supports finding a solution for undocumented students. But you wouldn't know it from his Wednesday speech on education to Latino business leaders, where the issue went untouched, leaving some audience members concerned that he simply doesn't have a plan.
Romney's 20-minute speech mentioned higher education, District of Columbia schools and teachers' unions. Even though the address at the U.S. Chamber of Commerce was specifically for members of the Latino Coalition, he barely discussed Hispanic-specific education issues -- other than a quick mention of former Republican Gov. Jeb Bush's efforts to raise reading scores of Hispanic students -- and entirely skipped undocumented students, whom a majority of Latino voters believe should get U.S. help in gaining legal status.
It wasn't for lack of interest from the audience. Ramiro Morganes of the Coalition for Democracy, who attended, said he thought what Romney said was "great." But he added that he was disappointed that the Dream Act, which would provide legal status to some undocumented young people, was not mentioned.
"Romney needs to work on the Dream Act. He didn't say anything about it," Morganes said. "Someone needs to think about the Dream Act."
Romney spent more time talking about K-12 education than on colleges and universities, where undocumented students are affected by laws that often require them to pay out-of-state tuition, even if they are longtime residents of their state. Romney attacked then-candidate and Texas Gov. Rick Perry in 2011 for signing a bill to allow some undocumented students to pay in-state tuition, saying it could serve as a magnet for unauthorized immigration.
Romney has been more open to the idea of other legislation to help undocumented students. He said in January that he would veto the current version of the Dream Act, which passed the House and was narrowly defeated by the Senate in 2010. That bill would allow some undocumented young people to obtain legal status if they entered the U.S. as children and either join the military or attend college.
Romney also has said he could support other efforts to help those young people, including a bill proposed by Republican Sen. Marco Rubio (Fla.) with the same broad stroke, but no path to citizenship for the students.
"I'm taking a look at his proposal; it has many features to commend it, but it's something that we're studying," Romney told reporters in April.
Rubio talked about the need for his bill during an appearance at the Chamber of Commerce conference later in the day in an vice presidential-audition-esque speech that ranged from the economy to immigration. He said politicians should be addressing the plight of undocumented youth.
"Hundreds of thousands of young people who are growing up among us who find themselves in undocumented status through no fault of their own and who now desire to contribute to America's future, and yet because of partisan politics we haven't been able to figure out how to accommodate them," he said.
Romney's failure to mention the Dream Act, or similar legislative efforts, wasn't the only missed opportunity to discuss education issues important to Latinos. Other than the Jeb Bush anecdote on Hispanic reading scores, Romney did not address the education gap between Latinos and students in general, an issue his campaign and the Republican National Committee have highlighted in outreach efforts.
The Romney campaign did not respond to a request for comment on why the candidate's speech skipped those issues.
Popular in the Community