 WOODBRIDGE, N.J. -- If Mitt Romney gets elected president, you can be sure this promise of his will be revisited.
The former Massachusetts governor and presumptive Republican nominee told supporters here at a Tuesday evening fundraiser that under President Romney, the U.S. economy will make a dramatic turnaround.
"If I become president, you're going to see an economic resurgence: manufacturing resurgence, high-tech, health care. You're going to see this economy take off," Romney said. "And I say that because I know what I'm going to do, and I know what kind of impact it will have."
President Barack Obama's campaign has made one of its core thrusts of late to charge that Romney has not revealed details of what he would do if elected on topics that include closing tax loopholes, upholding or repealing Obama's recent quasi-executive order halting deportation of undocumented immigrant children.
But Romney campaign spokeswoman Andrea Saul responded to those critics in an email Tuesday.
"The focus of this campaign is getting the economy back on track and we've released a 160-page guide for how Gov. Romney would do just that," Saul wrote. "We are still waiting for a single plan or new idea from President Obama that would help the economy."
Romney, at a fundraiser attended by more than 200 supporters in a hotel ballroom (contributors gave $2,500 for admission, $10,000 for a photo with Romney, $25,000 for a VIP reception, and $50,000 for a private dinner), continued to hammer Obama for focusing on health care early in his presidency instead of on turning the economy around.
"This is a tough time, and it didn't have to be this way," Romney said.
He said that if Obama had followed "the first three rules of any enterprise in trouble, whether government, a charity, a family, anything," he could have avoided such a prolonged economic downturn and slow recovery.
"There are three rules that we used to follow in my prior business career, in a turnaround: focus, focus and focus. Focus on the most important thing with all of your energy and passion. And this president came into office and there was one issue that was on everyone's mind: the economy," Romney said. "He turned and focused on entirely different things."
Earlier in the day, the Republican National Committee sent out a memo detailing passages from a recent book on the president's first term that described Obama as setting the economy on the back burner and choosing to pursue a more historic accomplishment than economic stabilization.
It is GOP's the prelude to the Supreme Court's ruling that is expected to be delivered on Thursday morning on Obama's health care law. Romney hit the same theme as the RNC memo.
"They focused on Obamacare, spent two, three years fighting to put in place their idea of a liberal vision for health care. And now the Supreme Court's about to take a look at it. If the Supreme Court lets it stand, well it will make it very clear to the American people they must elect someone who will stop it," Romney said. "If they overturn it, and they say it's unconstitutional as I believe it is, then the first 3.5 years of the Obama administration have been entirely wasted."
Romney also took a shot at Obama for the president's joke to supporters in Massachusetts on Monday about the Boston Red Sox trade of player Kevin Youkilis to the president's hometown team, the Chicago White Sox, which drew some boos from the crowd.
"You saw that President Obama came up to Massachusetts, shows he doesn't really understand the audience terribly well," Romney said. "He went up there and criticized the Boston Red Sox. You know, you don't talk about Kevin Youkilis in a negative tone or you might get yourself booed by your own constituency."
White House press secretary Jay Carney protested to reporters on Tuesday, aboard Air Force One, that most of the boos from the audience were actually chants of Youkilis' name.
"Anyone who knows Boston and knows the Red Sox, and who was in that room, knows that the preponderance of people shouting in response to what the president said about Kevin Youkilis were saying 'Youk,' not 'Booo' for God's sake," Carney said.
Romney was introduced at the fundraiser by New Jersey Gov. Chris Christie, who said Obama has "made America a more pessimistic place" and mocked the president's campaign slogan.
"He doesn't have a coherent message about America's future. All he says on the little sign on the front of his podium is, 'Forward,'" Christie said. "No, what this is is backward."
Christie, considered to be a possible vice presidential pick for Romney, said he is "ready to do whatever he needs me to do to make sure that on January 20 of 2013 a new day starts for America."
Romney joked with the crowd that he was "hoping somebody in here would start to heckle [Christie], so I could watch him go to town.
"Yeah, but you know better don't ya?" Romney joked, to much laughter.
Christie's brother, Todd, made brief remarks earlier, and said the fundraiser was going to "go way over" the $1.6 million that New Jersey Republicans raised for Romney at a December fundraiser. The Romney campaign did not disclose how much it planned to raise Tuesday night.

Before You Go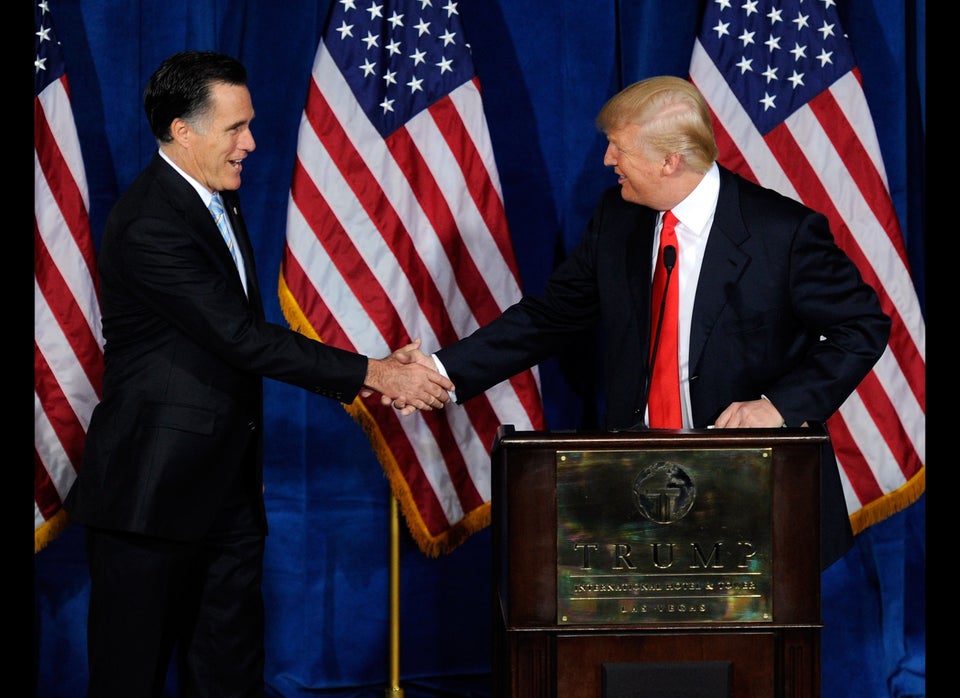 Mitt Romney's Greatest Hits
Popular in the Community