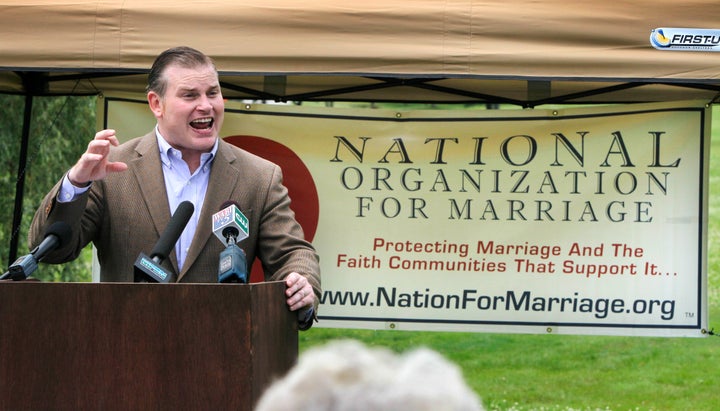 WASHINGTON -- On the same morning that the National Organization for Marriage announced that it was endorsing Mitt Romney, the group dedicated to stopping the marriage equality movement also found its website and social media outlets hacked with a promise to stop dividing Americans.
"We are proud to endorse Mitt Romney for President," said Brian Brown, president of the National Organization for Marriage. "Governor Romney was an early signer of NOM's presidential pledge, which represents his commitment to the nation to take specific actions as president to preserve and protect marriage as the union of one man and one woman."
Romney, Rick Santorum and Newt Gingrich have all signed NOM's pledge, which commits candidates to supporting a federal constitutional amendment that would define marriage as between one man and one woman, among other promises.
While NOM was focused on getting out its statement on Romney Wednesday morning, a hacker was playing around with the group's website, putting up a cheeky statement that the group will "vow to turn things around for the better." NOM spokeswoman Elizabeth Ray confirmed to The Huffington Post that the group was hacked and that they were dealing with the situation.
"In the last couple of weeks you've heard some pretty bad things about this organization. I must admit that we were angered when our in house documents were released but we've since had time to reflect on the strategies we've employed to divide Americans against each other on the issue of marriage," reads the fake statement on NOM's website, referring to newly released documents that show NOM's strategy sought to divide the African-American and LGBT communities.
Fake message on NOM's website (click here for larger version):
The hacker also put up a tweet on NOM's Twitter account, NOMTweets, reading, "Yes, creating a wedge between the black community and #lgbt was wrong. We vow to work on how we address our opponents in the future."
Someone then modified NOM's Twitter account settings, making its profile icon rainbow-colored with the tagline, "We support full civil equality for all LGBT Americans!" It was sending out pro-marriage equality tweets on Wednesday morning. An account called "nationformarria," which has since disappeared, also tweeted on Wednesday morning: "Someone register @nomtweets if you want it. Move quick."
On Facebook, several fake postings went up, including one reading, "We sincerely apologize to anyone we have banned from this page in the past. That is why anyone who was ever banned for simply exercising their right to free speech is now welcome once again to engage with this page. We vow to work on how we address our opponents in the future." The Facebook page has since been scrubbed, and the site's blog now has a message reading, "Down for maintenance. We'll be back up soon. Thank you."
Romney has long had ties to NOM. In 2008, his political action committee made a $10,000 donation to NOM at a time when the anti-gay rights organization was seeking repeal of a California law legalizing marriage equality.
Popular in the Community