 LITTLE ROCK, Ark., Aug 23 (Reuters) - Republican presidential candidate Mitt Romney will lay out policies on Thursday aimed at achieving North American energy independence by 2020 by pursuing a sharp increase in production of oil and natural gas on federal lands and off the U.S. coast.
Romney is to unveil his plan at a truck and supply business in Hobbs, New Mexico, as he seeks to draw a sharp contrast between his energy policies and those of President Barack Obama and detail in part how he would rekindle job growth in the United States.
His emphasis on the economy amounts to an effort to return the campaign to the central issue Romney believes is most critical in the Nov. 6 election and the key to a victory for him.
The economic debate has to a certain extent been sidelined in recent days by controversial remarks about rape by a Senate Republican candidate in Missouri, Todd Akin, who Romney has denounced.
Romney's energy policies are heavily tilted toward increased production of carbon-based resources, oil, gas and coal, that environmentalists blame for global warming. He is outlining the policy two days after going over some of the details with executives from the oil industry who contributed to his campaign at fund-raising events in Texas.
Republicans are eager to make greater use of the U.S. energy supply to increase jobs for Americans suffering amid an 8.3 percent unemployment rate. They would curtail some federal regulations to permit more production.
Romney is to predict that a full-blown energy plan will create 3 million jobs in energy sectors and other areas, part of an ambitious effort to create 12 million jobs during a Romney presidency.
"I want every American who wants a good job to be able to have one," Romney told Republicans at a fund-raising event in Little Rock on Wednesday.
The centerpiece of Romney's energy plan is to permit individual states to manage energy development on federal lands within their borders, according to a "white paper" released by the campaign and a briefing for reporters by senior aides in advance of the speech.
Currently the federal government controls development on these lands, and Romney's aides said that under Obama, this has led to a sharp reduction in exploration over the past year.
Letting states issue permits for exploration on federal lands would speed up the process, Romney will argue.
Romney would also open up areas off the East Coast to oil exploration, and in particular would reverse Obama's decision to suspend development off the coast of Virginia following the 2010 BP oil spill in the Gulf of Mexico.
He would establish a five-year offshore leasing plan that would open new areas for development beginning with those off the coast of Virginia and the Carolinas.
A North American energy partnership with Canada and Mexico would also be sought and Romney would allow construction of the Keystone XL pipeline from Canada to Texas, which has been delayed by the Obama administration.
"I'm going to take advantage of our energy resources: Oil, coal, gas, nuclear, renewables, wind, solar. North America will be energy independent by the last year of my second term," he said.
The plan makes little mention of climate change or greenhouse gases. Romney policy adviser Oren Cass said Romney supports green energy and government spending on energy research, but opposes loan guarantees for green companies.
A tax credit for the wind industry expires at the end of this year. Obama supports an extension of it while Romney opposes it even though it could hurt him with voters in Iowa and Colorado. Cass said the wind industry has lost 10,000 jobs and growth has slowed.
"Gov. Romney is focused on actually setting the wind industry up to be a competitive, innovative industry that can succeed on its own two feet, like so many other successful and profitable industries in the country," he said.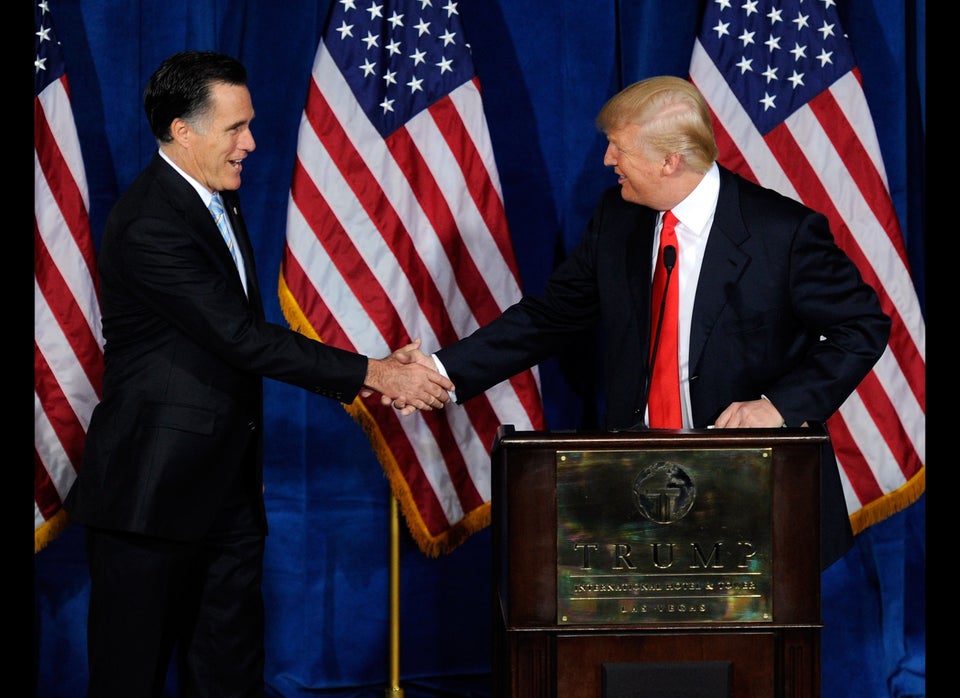 Mitt Romney's Greatest Hits
Popular in the Community