The plan underlines the fact that the Republican Party and the oil, gas and coal industries, long in agreement on policy and ideology, have grown closer than ever before. Romney, whose top energy adviser is the wealthiest oilman in the country, is on pace to raise more money from these industries than either George W. Bush or Sen. John McCain (R-Ariz.) did when he ran for president. The industries are also pumping millions into the new unlimited money vehicles, super PACs and dark money nonprofits, that are spending tens of millions of dollars per month to influence the election.
"This is an industry that has a close affinity with the Republican Party and I would expect that this would be an industry that is not just giving through the contributions of individual executives [to the campaign and to super PACs], but also to 501c organizations," which do not disclose their donors, says Sheila Krumholz, executive director of the Center for Responsive Politics.
According to data analyzed by the Center for Responsive Politics, Romney has raised $2.2 million from the oil and gas industry, on pace to exceed the amounts raised by both McCain and Bush in the past two elections, and more than $600,000 from mining interests, already more than what McCain or Bush raised for his entire campaign. The Republican National Committee has pulled in $4 million from oil and gas, likely on pace to pass the $5.9 million they raised in 2008.
One thing aiding Romney's fundraising from the oil, gas and coal industries is his decision to forgo public funds for the general election, which will begin at the end of both parties' conventions. This will allow him to raise far more money than either Bush or McCain could after he entered into the public fund system.
This says nothing about the millions going to super PACs and nonprofits, which have been empowered -- or in the case of super PACS, created -- by two 2010 court decisions that enable them to raise and spend unlimited sums from corporations, individuals and unions for the first time. The top two super PACs supporting Romney's campaign, Restore Our Future and American Crossroads, have raised more than $8 million from the extractive industries.
The billionaire energy titans, David and Charles Koch, plan to spend more than $100 million through their nonprofit Americans for Prosperity and other groups, none of which will disclose their donors, to defeat President Barack Obama. The Kochs are opposed to climate science that says that fossil fuel use by humans is to blame for the rise in global temperatures and have spent millions to convince politicians and the public that climate science is false. David Koch hosted a fundraiser for Romney in the Hamptons back in June that brought in millions for the presidential hopeful's campaign.
"The Koch brothers must just be doing a dance," says Natural Resources Defense Council Action Fund director Heather Taylor-Miesle.
The absence of climate change in Romney's energy plan comes four years after McCain ran with a platform both acknowledging human involvement in the warming planet and also in favor of a cap and trade system to reduce carbon emissions. The Republican Party platform adopted at the 2008 GOP convention announced the following: "The same human economic activity that has brought freedom and opportunity to billions has also increased the amount of carbon in the atmosphere. While the scope and longterm consequences of this are the subject of ongoing scientific research, common sense dictates that the United States should take measured and reasonable steps today to reduce any impact on the environment."
As governor of Massachusetts Romney worked to reduce carbon emissions in his state and in the entire Northeast when he worked to create a cap-and-trade system for the states in the region, called the Regional Greenhouse Gas Initiative (REGGI).
"This is a guy who a few short years ago helped with REGGI up in the Northeast; helped us to create a functional program to address climate pollution," Taylor-Miesle says. "He was one of the reasonable voices in the room. It's alarming that in such a short amount of time he goes from leading to backtracking in every way possible."
The climate-denying Koch brothers are not the only donors getting what they want out of Romney's energy plan.
A central part of the plan is taking the power to permit and license new onshore drilling on federal lands out of the hands of the federal government and putting it into the hands of the states. That means that states like Alaska or North Dakota, which is enjoying a massive oil boom under the current regulatory regime, would be able to allow drilling on federal lands with no oversight from Washington.
North Dakota stands out, in particular, as it is where Romney's top energy adviser, oil billionaire Harold Hamm, is making his fortune. Hamm, whose stump speech is only three words, "Beat Barack Obama," has given $985,000 to Restore Our Future and raised money for the Romney campaign. He would profit greatly from this change in policy as his company, Continental Resources, would be freed to drill beyond the Bakken fields in North Dakota using techniques including hydraulic fracking and horizontal drilling.
"It's the most comprehensive and bold energy plan ever," Hamm said in a statement about Romney's energy plan. "Such a dynamic plan -- embracing oil, natural gas and other forms of domestic energy production -- will be good for the energy industry, but, more importantly, a huge boost for the overall economy of the country." The Romney campaign was not immediately available for comment.
In a recent op-ed, Hamm stated that the Obama administration will "drive us headlong into the magical fantasy of 'alternative and renewable energy.'" While Hamm has not always been so negative on alternative energy, the op-ed presaged the Romney energy plan's limited details on alternative energy, which include eliminating alternative energy government loans.
Despite stating in its call to eliminate alternative energy subsidies that the government should not be "distorting the playing field," the plan also preserves oil and gas industry tax breaks, which the Obama administration has called for repealing. Hamm defended those tax breaks during Senate testimony, "If we do away with these [tax breaks], we'll stop the march to energy independence we've begun."
At a fundraiser at the Wyoming home of former Vice President Dick Cheney, Romney acknowledged his adviser and his great wealth, "Harold's doing just fine, by the way ... Forbes publishes his net worth on a regular basis."
The coal industry also gets a big boost from Romney's energy plan. Among many other policies supporting the industry, Romney calls for a repeal of regulations limiting the amount of mercury, a hazardous pollutant, that can be emitted from coal and oil power plants. The plan headlines one section, "The Obama Administration Has Imposed Regulations That Ensure A Coal Power Plant Will Never Again Be Built In The United States."
Joseph Craft, the head of Alliance Resource Partners, a major coal company, is not only Romney's top fundraiser in Kentucky -- he's the campaign's state finance director -- but he is also a major donor to both of the super PACs supporting Romney's bid. Through both contributions from his own pocket and those from the corporate treasury of Alliance Resource Partners, Craft has given $2.1 million to American Crossroads and $500,000 to Restore Our Future.
Romney and the super PACs supporting him have not only received contributions from climate deniers and oil, gas and coal executives, but also from supporters of climate science and alternative energy innovation. A Politico article in March noted that these donors, including Trammel Crow, the founder of Earth Day Dallas, and hedge funder Julian Robertson, a major funder of the Environmental Defense Fund, hope that Romney will flip-flop back to his previously held positions after being elected to office.
For now though, all the public has to go on is the plan put forward by the Romney campaign.

Before You Go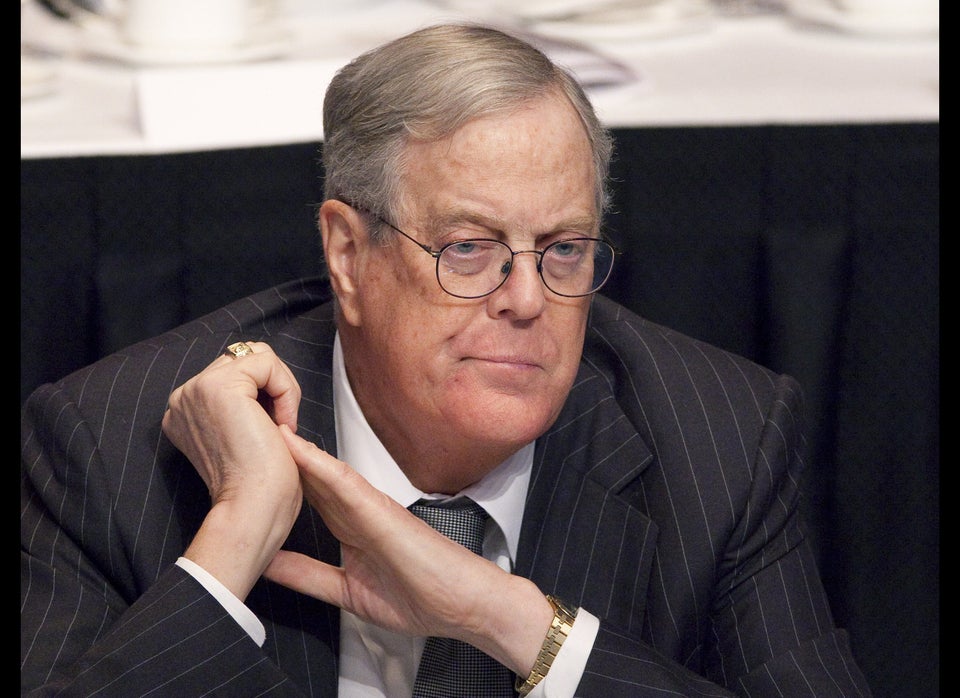 What Do Top Super PAC Donors Want?
Popular in the Community