 WASHINGTON -- In the spring of 2004, Peabody, Mass., got drenched with rain, which flooded the downtown area. After the storm, then-Gov. Mitt Romney asked President George W. Bush to declare Essex, Middlesex and Suffolk Counties federal disaster areas, according to the Boston Globe.
That fall, the state legislature proposed spending $5.7 million on a flood prevention project to protect against future floods. Those funds would be matched by $22 million in federal money.
Romney vetoed it. This week, Romney has come under fire for suggesting that the federal government get out of the business of disaster relief. But his record in Massachusetts doesn't lend much support to the suggestion that states can handle it alone.
During the time of the Peabody fight, John Barrett, then the Democratic mayor of North Adams, was the vice president of the Massachusetts Mayors Association. He said the issue of flooding in Peabody was critical and that local officials had reached out to the legislature for help. "Every time it rained, it wiped out their downtown," Barrett told HuffPost.
Barrett chalked Romney's veto of the Peabody project up to a lack of familiarity with infrastructure in the state.
"This was not unusual for him. He didn't understand infrastructure improvements. It was just the bottom line. He never visited communities. He never understood the issues. He never sat down with mayors or city managers. He never understood why those things were in the budget," Barrett said. "That money was requested by locals. It was a major league problem."
Dan Bosley, a former Democratic state representative in Western Massachusetts, agreed. "I think it was just the fact that Romney didn't understand these issues." He said he never saw Romney out with a rain slicker checking on towns like current Gov. Deval Patrick has done.
"I don't think it was because he was heartless, he just didn't know. That's how he ran his state," Bosley said. "His understanding of why you have government, I don't think he ever had it."
The Boston Globe reported that September that local officials were outraged, and doubly insulted that Romney claimed to have vetoed the money due to a lack of sufficient information.
Peabody officials yesterday lashed out at Governor Mitt Romney's decision to block $5.7 million to pay for a flood control project in downtown Peabody. Romney blocked the money as part of $76 million in election-year spending he vetoed last week. At a State House press conference Friday, Romney said he had tried to contact Peabody officials to obtain more information about the funding, but was unable to reach anyone. Yesterday, state Senator Frederick E. Berry said ... "We hand-delivered all kinds of information. They had all the information they needed ... I don't want to use the word 'lie,' but ... how he could say he didn't get the information? That's not true." Yesterday, Romney's communications director, Eric Ferhnstrom, said the governor stands by his statement. "Governor Romney is not a rubber stamp for the expenditure of taxpayer funds. If there is no information to support a particular expenditure, our inclination is to be cautious and to wait until a rationale is put forward," Ferhnstrom said. "In this case, we endeavored to get answers to our questions but none were forthcoming. We would be happy to take another look and if it appears to be a necessary and worthwhile expense we will include it in the next" spending bill the administration proposes.
In May 2006, Peabody flooded again, and local officials quickly blamed Romney, and slammed him for doing a tour of the disaster area. As the Associated Press reported:
Romney's critics saw more than a little political hype in the media blitz. "The first thing I wouldn't do is showboat for the national cameras and say I was going to prevent looting on the North Shore," Democratic candidate for governor Chris Gabrieli said ... Critics also faulted Romney's 2004 veto of a $5.7 million flood control project in Peabody, hit hard by the rains, and his request for just half a million dollars for the state's dam safety office. Senate Ways and Means Chairwoman Therese Murray, D-Plymouth said, "Peabody today is under water" because of Romney's action. Romney defended the veto, saying he wasn't given a full explanation of how the money would be spent.
Before You Go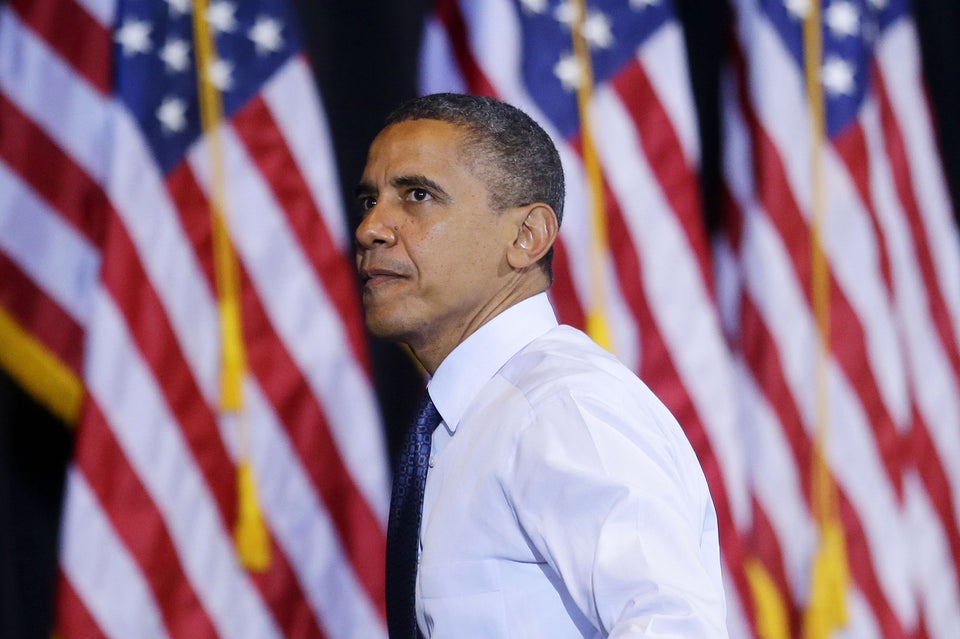 Politicians React To Sandy
Popular in the Community