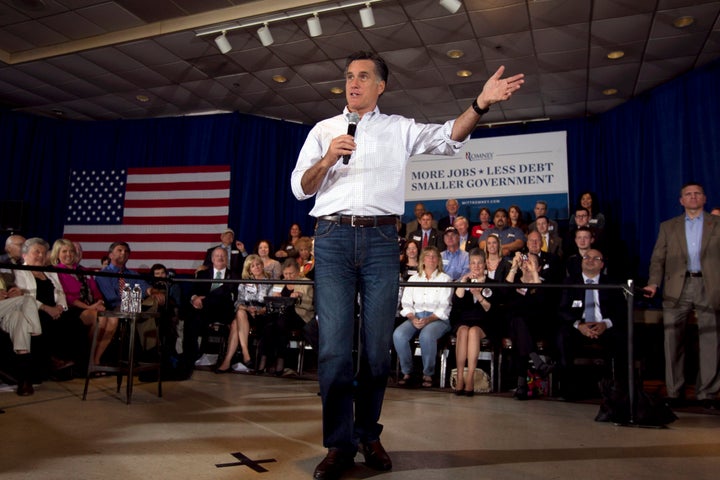 NEW YORK -- In 2008, Mitt Romney's political action committee made a $10,000 donation to the National Organization of Marriage at a time when the anti-gay rights organization was seeking repeal of a California law legalizing marriage equality.
While neither the donation nor Romney's opposition to same-sex marriage were a secret, the precise way in which he contributed to NOM remained under tight wraps until Friday. One of the only public comments on the matter came when the former Massachusetts governor's top spokesman, Eric Fehrnstrom, told the Deseret News that Romney supported California's Proposition 8, which would reverse the state law allowing for same-sex marriage, and that he would be writing a check to NOM.
"The governor feels strongly that marriage is an institution between a man and a woman, and one of the most high-profile fights on this subject is happening in California," Fehrnstrom said at the time.
But when Romney eventually made his donation, he did so quietly, and through an unusual channel. Records filed by Romney's Free and Strong America PAC with the Federal Election Commission did not include details of that $10,000 donation. Nor did NOM's public 990 form. In fact, record of the payment was only uncovered Friday when the pro-gay rights Human Rights Campaign was sent a private IRS filing from NOM via a whistleblower. The Human Rights Campaign shared the filing with The Huffington Post.
Asked for comment, an aide to Romney said that the donation was made through the Alabama chapter of the Free and Strong America PAC. State records confirm this. However, the 990 NOM filed lists the donation as having come from PO Box 79226 in Belmont, Massachusetts.
Romney is far from the only national politician to take advantage of Alabama's lax campaign finance and disclosure laws. Several others have set up PACs in the state, for the purposes of raising money. Alabama does not put a limit on the individual amount that a donor can give to a PAC.
But the secretive nature of the donation raised the eyebrows of Human Rights Campaign officials. Romney, after all, didn't have to send his check to NOM through the Alabama chapter of his PAC.
"It's clear now that Romney was a major financial donor to Prop. 8," said Fred Sainz, HRC's vice president for communications. "But it's also clear that his campaign very cleverly hid this contribution in an obscure Alabama PAC."

"His spokesperson said that Romney had financially supported Prop 8 but there's no disclosure of a contribution to any Prop. 8 effort, personal or through the national or Alabama PAC," Sainz added. "He instead chose to give to NOM, an organization that has a history of shielding its donors. For what other purpose would you contribute $10,000 to NOM three weeks before the election other than Prop 8?"
Free and Strong America's donation to NOM takes on a bit of additional significance this week after it was revealed that the organization has plotted ways to turn blacks and gays against one another. As BuzzFeed reported:
The leading opponents of same-sex marriage planned to defeat campaigns for gay marriage by "fanning the hostility" between black voters from gay voters and by casting President Obama as a radical foe of marriage, according to confidential documents made public in a Maine court today.

The documents, circulated by the gay rights group Human Rights Campaign, are marked "confidential" and detail the internal strategy of the National Organization for Marriage.

"The strategic goal of this project is to drive a wedge between gays and blacks—two key Democratic constituencies," says an internal report on 2008 and 2009 campaigns, in a section titled the "Not A Civil Right Project."

"Find, equip, energize and connect African American spokespeople for marriage, develop a media campaign around their objections to gay marriage as a civil right; provoke the gay marriage base into responding by denouncing these spokesmen and women as bigots," advises the document, which is a road map to the successful campaign against same-sex marriage in California.

The document also targets Hispanic voters, whom conservatives have long hoped would join the backlash against gay rights.
Support HuffPost
The Stakes Have Never Been Higher
Popular in the Community