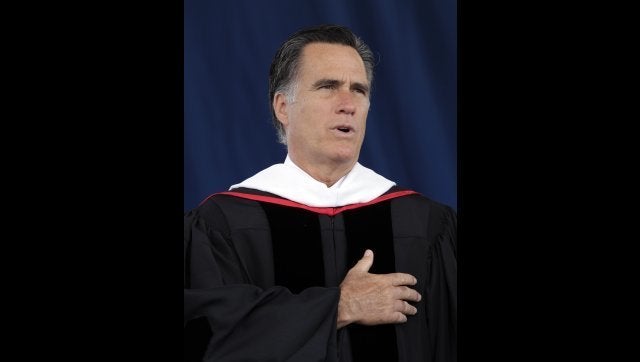 GOP presidential candidate Mitt Romney managed to avoid mentioning George W. Bush's name during a speech Wednesday, instead referring to his recently announced supporter and former commander-in-chief as President Barack Obama's "predecessor."
"[Obama] was very critical of his predecessor for the debts his predecessor put in place," Romney said at a campaign event in St. Petersburg, Fla. "He was very critical of his predecessor because the predecessor put together $4 trillion of debt over eight years."
CNN reports that Romney used the word "predecessor" in place of Bush's name five times during the address.
On Tuesday, former president Bush gave the Massachusetts Republican a lukewarm stamp of approval, telling ABC News from behind closing elevator doors that he was "for Mitt Romney."
The Associated Press reports that the Romney camp is already handling the endorsement with kid gloves.
Romney's campaign doesn't foresee the 43rd president playing a substantive role in the race. Aides are carefully weighing how much the former president should be involved in the GOP convention -- and for good reason. The Bush fatigue that was a drag on GOP nominee John McCain four years ago, and on the country, still lingers, including among Republicans.
But that might not mean a concerted effort to remove Bush's name from Romney's vocabulary entirely. According to a later pool report, Romney referenced "President Bush" directly when using the "predecessor" line in Tampa.