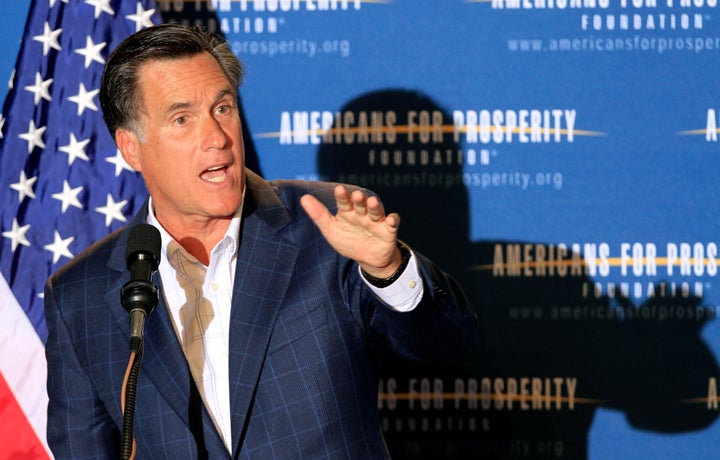 Mitt Romney's camp is attempting to do damage control after the presidential aspirant made controversial remarks in criticizing President Barack Obama during a stop in New Hampshire on Friday night.
Speaking at a dinner hosted by Americans for Prosperity, the former Massachusetts governor said, "Reagan came up with this great thing about the 'misery index' and he hung that around Jimmy Carter's neck and that had a lot to do with Jimmy Carter losing." He added, "Well, we're going to have to hang the 'Obama Misery Index' around his neck."
Romney went on to say, "I'll tell you, the fact that you've got people in this country really squeezed, with gasoline getting so expensive, with commodities getting so expensive, families are having a hard time making ends meet. So, we're going to have to talk about that, and housing foreclosures and bankruptcies and higher taxation. We're going to hang him with that, so to speak, metaphorically."
Romney almost immediately caught himself, with the English major declaring "metaphorically" speaking, but the mix of nervous laughter with applause indicated at least some in the audience realized its potency.
On the heels of the potential presidential candidate raising eyebrows with the remarks, Romney spokeswoman Andrea Saul addressed the questionable choice of words. She told ABC News, "It is not what the governor meant and that was very clear in what he actually said." According to CNN, Romney's camp called initial reports on his remarks "a ridiculous exaggeration of his actual comments."
Popular in the Community