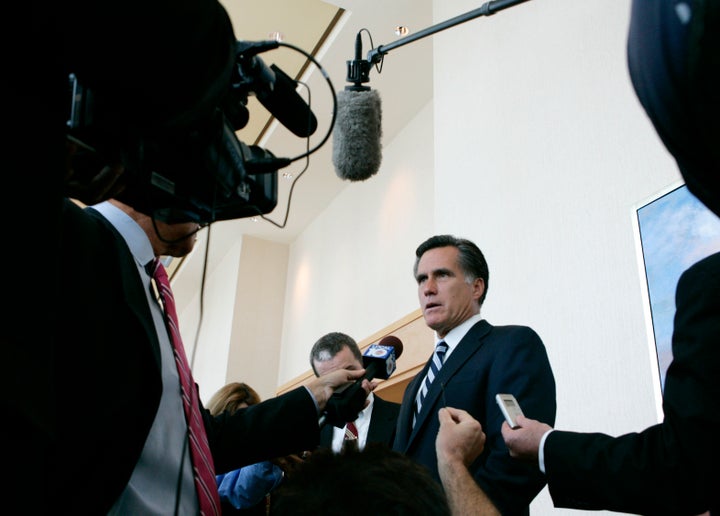 WASHINGTON -- With former Massachusetts Governor Mitt Romney set to formally announce his presidential campaign this week and with several publications using the occasion to revisit the health reform plan he authored, it's worth recalling exactly why the policy has proved problematic in Republican circles.
In his first run for the White House in 2008, Romney received a fair amount of pushback for the individual mandate included in his plan, which required Massachusetts's residents of a certain income to purchase insurance. But the fact that his health care law covered elective abortions caused him equally painful headaches.
Among social conservatives, this was an impossible hurdle to overcome, largely because it confirmed notions that Romney's 2008 pro-life platform was merely masking a long history of support for abortion rights. American Right to Life ran a cartoonish ad accusing him of a willingness "to sacrifice children" while "lying for your vote."
Flash forward four years and the issue seems likely to be even more damaging to Romney's campaign prospects. The White House has hailed Romney's health care law as the philosophical foundation for the president's own stab at reform. The biggest difference between the two (beyond the state v. national approach) is that Obama's law maintains the Hyde Amendment, which bans federal money from being used on abortions.
Abortion coverage wasn't some insignificant feature of the Affordable Care Act. It was, next to the mandate, the key fault line upon which the bill seemed likely to be derailed. When it was signed into law, then-Rep. Bart Stupak (D-Mich.), who had pushed for the strictest anti-abortion language possible, was called a "baby killer" by a colleague for not going far enough.
That Romney is already facing critical coverage on this front is entirely expected, given what he experienced the last time he ran for president. What seems different this time is the way in which he and his supporters are electing to push back. In 2008, the former governor chose to insist that his preference was for a federal approach: in which state governments outline their own abortion laws while he, as president, would seek to overturn Roe V. Wade.
This time around, defenders of the Massachusetts health care plan are basing their argument on policy grounds, insisting that Romney had no say over whether or not abortion ended up covered under the plan.
"The health care bill signed by Mitt Romney didn't mention abortion," said one Massachusetts Republican who asked not to be identified because he considered the issue settled and did not want to be seen as re-litigating it. "Established court precedent in Massachusetts is that if the state is going to subsidize health care services, they must offer abortion services. That is why Massachusett's Medicaid program (50% funded by state) includes abortion services, irrespective of the federal Hyde amendment."
Other officials, including Democrats, concurred that it was, for the most part, the courts, not the governor, that had determined that abortion would be covered under Massachusetts' health care law. Even if there were no legal requirements, they added, Romney had little power to intervene. The Connector Authority, an independent public authority created under the law, was responsible for administering the Commonwealth Care package. Choices of what was covered were left to that ten-person board.
"On this one, I think Romney is exactly right," said Jonathan Gruber, a liberal-leaning MIT economics professor who worked with the former governor on his reform law. "The bill and his plan were very vague about what was to be covered. The bill did not specify what was to be included. That was the board's decision. He didn't put in the law that it couldn't cover abortion. There was a minimum benefits package to be decided by the board."
Romney did have say over who was on the board. He appointed four of the ten members, but by the time the decision to cover health care was made, those members "had been replaced by then," according to Gruber.
Whether that distance is enough to absolve or clear Romney in the eyes of social conservatives remains to be seen. A call to Right to Life to see how closely they would track this issue in 2012 wasn't returned. But it does seem likely that the political press, not to mention the wider public, has gained a much more technical understanding of health care policy -- owing to the copious amount of articles written on reform during the past two years -- and will be more inclined to write substantively about it during this presidential campaign cycle.

REAL LIFE. REAL NEWS. REAL VOICES.
Help us tell more of the stories that matter from voices that too often remain unheard.