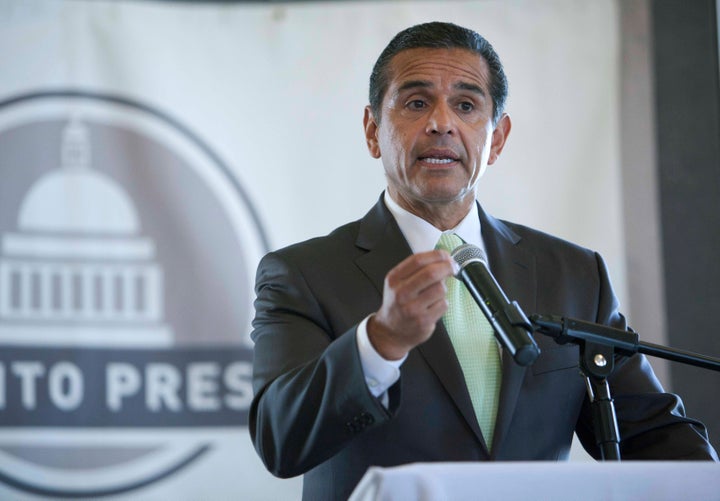 WASHINGTON -- Los Angeles Mayor Antonio Villaraigosa, a Democrat, plans to dig into Mitt Romney in a speech on immigration reform Wednesday, when he will call the candidate's rhetoric and anti-immigrant endorsers "beyond the pale."
"For the first time in modern memory, a major political party is poised to nominate a presidential candidate who has abandoned immigration reform and instead advocates self-deportation," Villaraigosa will say in a speech to the National Association of Latino Elected Officials, according to prepared remarks. The speech also includes pressing for immigration reform and a second term for President Barack Obama.
Villaraigosa, like Obama, supports comprehensive immigration reform that would allow some of the estimated 11 million undocumented immigrants currently in the country to stay. Former Massachusetts Gov. Romney, although never mentioned in the speech by name, does not favor such reform, and instead favors something he calls "self-deportation." As the Latino vote grows in importance, Democrats are emphasizing how far to the right the current field of GOP presidential candidates are on immigration, an issue near to the heart of many Hispanics.
Romney could be vulnerable there, and Villaraigosa's speech is a preview of some of the strikes that will be launched Romney's way by Democrats during the lead-up to the November election.
Many of the attacks write themselves, to a degree. In trying to appeal to Republicans with a strong opposition to immigration reform, the GOP candidates have attempted to one-up each other on their methods to drive undocumented immigrants out of the country.
Obama told Hispanic media outlets in November that his campaign won't need to run negative "character assassinations" to win among Latinos, as he did handily in 2008. "We may just run clips of the Republican debates verbatim," he said.
Romney has taken a tough tack on immigration, even compared to former House Speaker Newt Gingrich (R-Ga.), who is hardly liberal on the issue. Romney said in December that he would veto the Dream Act, a bill that would aid some undocumented young people and that receives high support from the public.
Romney later said undocumented immigrants should be encouraged to "self-deport" by being squeezed out of work and services until they were no longer able to live in the United States.
Sen. John McCain (R-Ariz.), a Romney endorser, told Univision on Sunday that the idea of "self-deportation" is not a humane approach to dealing with the undocumented population.
Some of Romney's other endorsements could also be a target for Democrats hoping to clinch the Latino vote in November. Two politicians who have pushed hard-line immigration bills are backing Romney: Kansas Secretary of State Kris Kobach and former California Gov. Pete Wilson. Kobach is an architect of Arizona immigration law SB 1070, and then-governor Wilson pushed for denying public benefits to undocumented immigrants with California Proposition 187 -- both of which were blocked by federal courts.
Villaraigosa plans to touch on Romney's endorsement by Kobach, if not by name, during the Wednesday speech.
According to the prepared remarks, Villaraigosa will say, "We have a candidate who on Martin Luther King Day, a day celebrating racial reconciliation, had the architect of Arizona and Alabama's draconian anti-immigration laws campaign for him."
Calling all HuffPost superfans!
Sign up for membership to become a founding member and help shape HuffPost's next chapter
BEFORE YOU GO