NORTH LIBERTY, Iowa -- Mitt Romney wrapped up the last of three events in Iowa Wednesday by permitting himself a rare moment of giddiness.
"This is going to be so much fun," he told an audience of roughly 600 Iowans in a warehouse. "Why don't we just caucus right now?"
Wednesday was a very good day for Romney, and his comment reflected both excitement about a growing sense of enthusiasm for his candidacy as well as potential anxiety about whether there is enough time between now and Jan. 3 for Iowa Republicans to change their minds and disappoint him like they did in 2008.
It appears, however, that the former Massachusetts governor is not likely to be embarrassed here the way he was four years ago. Instead, the state may be a major stepping stone to Romney clinching the Republican nomination. A CNN/Time poll out Wednesday afternoon showed Romney leading the field with 25 percent in Iowa, up from 20 percent a month ago.
The primary process has chewed up Romney's rivals one by one, leaving him perched at the head of the pack with Rep. Ron Paul (R-Texas), who may still do very well in Iowa but who will likely never be accepted by the majority of Republicans because of his views on foreign policy. Paul has also come under fire recently for racist comments that appeared in newsletters that bore his name in the '80s and '90s.
Romney was greeted by large crowds at his stops on Wednesday. Romney aides said they expected 150 people at an event on Tuesday night in Davenport only to see 500 people show up, and that each event has been bigger than they expected. A 7 a.m. breakfast in Muscatine was attended by roughly 300 people, a lunch time visit to Clinton had to be split into two venues because 400 people came to see Romney and his wife Ann, and then his evening town hall was standing-room only.
"We can feel the enthusiasm," Ann Romney said in Clinton.
After Romney's appearance in a North Liberty plastics molding factory, Pat Novak, a 56-year-old process engineer, said he was going to caucus for Romney after going back and forth between him and Texas Gov. Rick Perry.
"I'm a big Perry fan," Novak said. "But I think Mitt is now ready to be president and Mr. Perry needs a little more time."
Novak said he was "confident now that [Romney] is a conservative."
Doug Vincent, a 57-year-old logistics manager, said he also had been on the fence, but that seeing Romney in person "pushed it over the edge."
"I feel much better about him. I can get behind him now," Vincent said. "I just feel like when he speaks he's speaking from the heart. It's not BS."
Romney was originally scheduled to leave Iowa before the weekend, and it was thought he might not return even for the caucuses. But now he will go to New Hampshire on Friday and return to Iowa on Saturday, and then stay in the state all the way through Tuesday.
Romney was asked Wednesday whether he felt there was any danger in allowing expectations to grow for him to win Iowa. He dismissed the thought.
"We're pretty late in the process," Romney said, appearing to argue that there is not much time for Iowans to turn on him.
"I'm not predicting a win here," he said. "I feel like it's going to be a good strong showing."
Romney adviser Eric Fehrnstrom echoed his boss, and reminded of the continued possibility of a drawn-out primary lasting all the way to the GOP convention in Tampa, Florida, next August.
"We hope to do well in Iowa but we are not projecting how we're going to finish," Fehrnstrom told The Huffington Post. "We understand the road to Tampa is a long one. We will win some contests, and lose some. At the end of the day, we expect to have the 1,144 delegates we need to win the nomination."
Romney has waited until very late in the process to go all-out for a win in Iowa. If he were not leading in the polls, and if former House Speaker Newt Gingrich (R-Ga.) was still surging, then Romney would not be spending much time here. The Romney campaign has never seen Iowa as a likely success for them given the state's very conservative base, made up in large part by evangelical Christians who have shown some uneasiness with Romney's Mormon faith in the past.
Romney is expected to win New Hampshire on Jan. 10, and his campaign has prepared to make that their firewall in the event that Romney was eclipsed in Iowa by a surging conservative. But as of now, the candidate surging from the right flank is former Sen. Rick Santorum (R-Pa.), who could do very well here in Iowa but would have a very long way to go to convince most Republicans he is ready for a showdown with President Obama.
As Iowa is now within reach, however, Romney could end the presidential primary election quickly with back-to-back wins, provided he does very well in South Carolina on Jan. 21, or wins it outright.
Romney tried to keep himself in reserve, calling the idea of successive Iowa and New Hampshire wins "delightful but not necessarily realistic."
"I can't possibly allow myself to think in such optimistic terms," he said.
Quite soon, he may not have to use such self-restraint.

Before You Go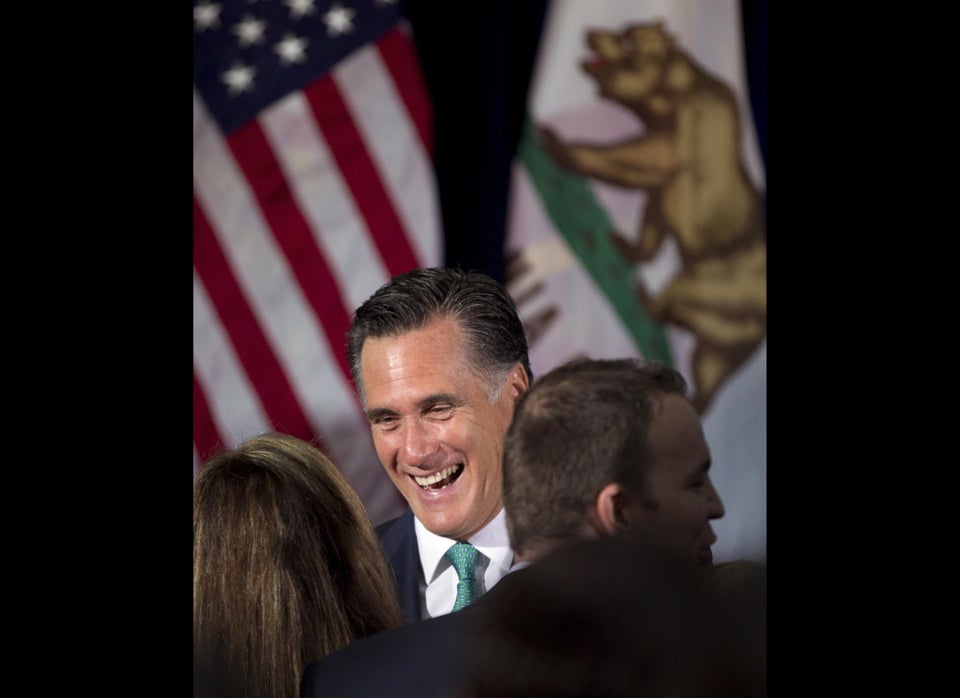 Mitt Romney 2012
Popular in the Community