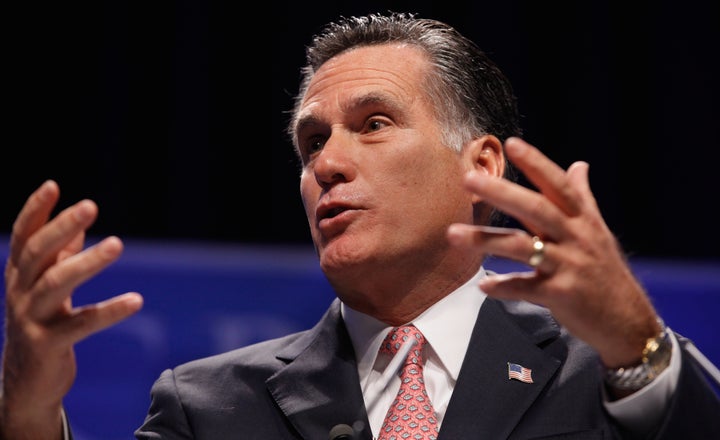 BOSTON (Reuters) - Republican heavyweight Mitt Romney, in a second bid for the White House, is promoting his private-sector business experience to show he could do better than President Barack Obama in creating jobs.
But opponents will find fault in his record as a corporate raider in the 1980s and as Massachusetts governor when his performance on employment was mixed at best.
Romney stressed his experience as head of private equity firm Bain Capital when he announced on Monday he was forming an exploratory committee on seeking the Republican 2012 nomination to challenge Obama, a Democrat.
He made a fortune wheeling and dealing in companies, some of which endured big job cuts as part of restructuring. Some ultimately went bankrupt.
"He was a corporate raider who often made companies profitable, not by helping them perform better -- but by simply laying off employees and killing jobs," said Ray Buckley, Democratic Party chairman of New Hampshire.
Bain Capital, which Romney headed for more than a decade, specialized in leveraged buyouts: buying companies with money borrowed against their assets, grooming them to be sold off, and in the interim collecting huge management fees.
Later, as Massachusetts governor from January 2003 to January 2007, Romney presided over one of the puniest rates of employment growth among the 50 U.S. states, at a time the nation's economy was booming.
Labor Department figures showed Massachusetts ranked 47th among the states in the rate of jobs growth in those four years -- ahead of only Ohio, Michigan and Louisiana.
The Democratic party will attempt to pick holes in Romney's jobs record if he wins the Republican nomination, a party strategist said. Romney is an early front-runner to win the nomination and some polls even show him ahead of Obama in states such as Florida, Georgia and New Hampshire.
He has high name recognition and a powerful fund-raising machine.
Romney announced his first formal step for a presidential run on Monday in a short video shot at the University of New Hampshire, in which he drew a line between himself and Obama, criticizing the president for surrounding himself with people who "have never worked in the real economy."
That could be a persuasive argument at a time the world's largest economy is not growing quickly enough to make a sizable dent in the jobless rate, still at 8.8 percent, after a recession that ended in 2009.
To bolster his image as a job creator, Romney, 64, said in his video that Bain Capital started with just 10 employees and grew to hundreds of workers.
While the firm certainly grew, the impact on Bain's targets was often different. "Sometimes I was successful and help create jobs, other times I was not," Romney said in the video.
Romney faces several hurdles to win the Republican nomination and get a shot at Obama: his Mormon faith, his ideological makeover since leaving the Massachusetts governor's post, and the Massachusetts healthcare reform program that became the basis for Obama's national policy.
Still, Romney does have attributes that could appeal to traditional Republicans and independent voters.
The fiscal conservative has the looks and clean-cut image of a 1950s matinee idol. He and wife Ann have been married since 1969, and have five sons and 16 grandchildren.
"Romney would be Obama's toughest challenge. Romney looks presidential -- teeth gleaming white, jaw perfectly sculpted," Robert Reich, labor secretary under President Bill Clinton, said of Romney.
In a Wall Street Journal/NBC News poll last week, Romney came out on top, supported by 21 percent in a nine-candidate field.
Many voters also warm up to Romney's unbridled optimism about the United States.
The title of his 2009 book/policy manifesto, "No Apology: The Case for American Greatness" (the subtitle was revised to "Believe in America" for the paperback edition) was in part a dig at Obama's habit of showing humility on the world stage.
(Editing by Mohammad Zargham)
Popular in the Community