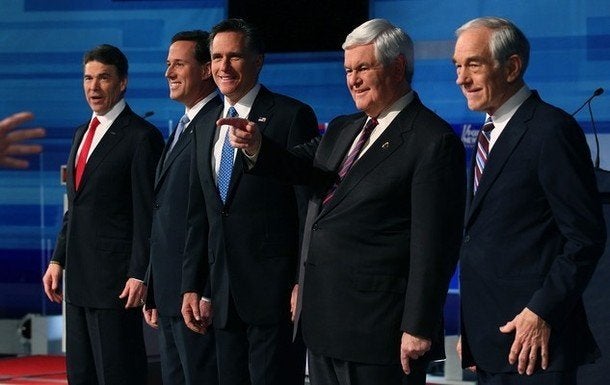 WASHINGTON -- Nearly 250 of the nation's mayors will be in Washington, D.C., this week to discuss some of America's most pressing issues, including jobs and the economy. These men and women are on the front lines of figuring out how to encourage job creation with limited resources.
"Mayors have an interesting outlook because one thing that is true is that at our level of government, you cannot kick the problem down road," said Scott Smith, the Republican mayor of Mesa, Ariz., and second vice president of the U.S. Conference of Mayors, which represents cities with populations exceeding 30,000. "Mayors have to act, we have to deliver services and we have to do it within a budget."
Yet at the 80th Winter Meeting of the Conference of Mayors this week, none of the Republican presidential candidates -- all of whom are going around the country and talking about how they would create jobs -- will be there to share ideas and listen to the mayors' advice. Neither, for that matter, will the House GOP leadership be in attendance.
On Dec. 6, the Conference of Mayors sent invitations to GOP presidential candidates Newt Gingrich, Rick Perry and Mitt Romney -- reflecting their frontrunner status at the time. Romney said he had a scheduling conflict. Neither of the other two responded. The campaigns also did not return an inquiry from The Huffington Post. The candidates, to be fair, are just days from the crucial South Carolina primary and are busy campaigning in the state.
House Speaker John Boehner (R-Ohio) and House Majority Leader Eric Cantor (R-Va.) were also invited. Boehner regretted that he could not attend because of his schedule, while Cantor did not respond.
The mayors will also hear from Obama administration officials, including Labor Secretary Hilda Solis, Education Secretary Arne Duncan, Health and Human Services Secretary Kathleen Sebelius and the new Consumer Financial Protection Bureau Director Richard Cordray. On Thursday, they will head to the White House for a meeting with President Obama.
This inability of the two parties in Washington to figure out measures to create jobs is endlessly frustrating to Los Angeles Mayor Antonio Villaraigosa (D), the conference president.
"They have almost nothing in the way of accomplishments," Villaraigosa said of Congress. "I mean, if you were to give the 112th Congress a midterm report card, the grade would be 'F,' for failure. ... They've got to pass legislation that are going to help put people back to work."
When asked how Congress and the Obama administration are doing on job creation, Smith laughed and said, "Are they doing anything?"
"I think one of the things that we're still wondering is whether the administration and Congress truly understand what makes this economy go," Smith added, noting the frustration among the U.S. mayors is bipartisan -- as is the blame.
The Conference of Mayors has unveiled its own Common-Sense Jobs Agenda, which focuses on investing in infrastructure, stimulating manufacturing, expanding unemployment benefits and extending payroll tax cuts.
Scott decried the all-or-nothing approach in Washington, arguing it was getting in the way of each side working together and adopting the most productive solutions.
"We tend to think that the economic growth only comes from tax policy -- which it doesn't -- or only comes from stimulus -- which it doesn't. There are a lot of things that we can do policy-wise, regulation-wise, that will have big impacts on the economic growth. Those are the kinds of things we would like to see happen. It seems like the political rhetoric becomes obsessed with only tax policy or only stimulus," he said.
Smith pointed to some issues that aren't political footballs and should be easy to fix, such as creating a streamlined visa process to promote U.S. tourism and encouraging more exports
In his speech on Wednesday afternoon, Villaraigosa will call on the federal government to pass a jobs bill that "looks to the future and helps American workers get the training and skills they need to compete for the global economy's good-paying jobs."
According to his prepared remarks, he will ask Congress to end threats to the Community Development Block Grant program, which has helped rebuild communities during the foreclosure crisis. He also wants Congress to stop cuts to critical public safety programs and to allow Cordray's Consumer Financial Protection Bureau to do its job.
The mayors' winter meeting coincides with the release of the group's U.S. Metro Economies Report, which shows that last year, the nation's 363 metropolitan areas led the country's economic growth, gaining 2.2 percent to boost national growth to 1.8 percent. The report projects that these cities contributed 90.4 percent of the nation's Gross Domestic Product, up from 90 percent in 2010.
"If cities are leading this fragile recovery, the least they could do is work with us to make the investments that will put people back to work," said Villaraigosa of the federal government, adding, "When I say, 'As America's cities go, so goes the nation,' that's not hyperbole. It's a fact."
Calling all HuffPost superfans!
Sign up for membership to become a founding member and help shape HuffPost's next chapter