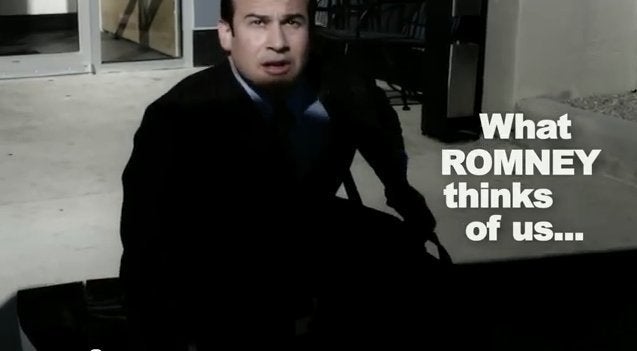 A left-leaning super PAC is aiming to broaden Mitt Romney's struggle with Latino voters in a television ad buy in Arizona that ties the candidate to Sheriff Joe Arpaio and Gov. Jan Brewer (R), who are widely disliked in the Arizona Latino community.
"We want to draw attention to the political significance of the state," Julie Martinez Ortega, president of PAC+, told the Los Angeles Times. Arizona "has taken on a level of symbolic importance for a lot of people, whether they're Latino or not, who see the protection of civil rights as an important part of an inclusive America."
In the ad, the group's first in Arizona, a Latino man in a suit walks out of a building holding a box of work supplies -- presumably after losing his job -- and watches a clip of Romney saying "no skill, no education, and are looking for a free meal," with text that reads "What Romney thinks of us." It then shows Arpaio and Brewer praising the former Massachusetts governor.
Watch the English-language ad below or the Spanish-language ad on the group's website.
The ad doesn't specifically say what makes Arpaio and Brewer troubling allies for Romney, but the two politicians are hated enough in the Arizona Latino community for residents to know. Arpaio, who calls himself "America's toughest sheriff," was sued by the Justice Department earlier this month for alleged civil rights violations.
He also devoted significant time and resources to a search for President Barack Obama's birth certificate, even though the White House and others have debunked the claim that the president was born outside of the United States.
Brewer is infamous for signing S.B. 1070, the state's anti-unauthorized immigration law aimed at driving the undocumented out of the state. Critics of the law say it could lead to racial profiling of Latinos and anyone else deemed to look like an undocumented immigrant, and a majority of Hispanics in the state opposed it when it was signed into law in 2010. The Supreme Court heard a Department of Justice challenge of the law in April, but has not yet ruled on whether certain provisions are unconstitutional.
The Romney campaign has seemed to keep its distance from Arpaio, despite seeking and receiving his endorsement in 2008. This time around, the sheriff has not issued an endorsement. Brewer endorsed Romney just ahead of the Arizona Republican primary.
According to a poll out Wednesday, Romney currently lags among Latino voters, which the Obama campaign hopes will help put Arizona in play despite its tendency to go to Republicans. Although Romney's campaign and the Republican National Committee are upping efforts to reach out to Latinos, the candidate skipped over Hispanic-specific issues entirely in a speech on education to a Latino business group on Wednesday.
The Romney campaign did not respond to a request for comment on the ad. PAC+ did not immediately respond to an inquiry about the ad buy.
Calling all HuffPost superfans!
Sign up for membership to become a founding member and help shape HuffPost's next chapter