Sen. Mitt Romney (R-Utah) said Monday that it's "increasingly likely" there will be enough Republicans in the Senate to vote in favor of calling former national security adviser John Bolton as a witness in President Donald Trump's impeachment trial.
"I think it's important for us to hear from John Bolton for us to be able to make an impartial judgment," Romney told reporters. He also said he had spoken to other GOP senators about the subject, but declined to say whom.
In a surprising development Sunday, The New York Times shared drafts from Bolton's book outline stating Trump did in fact tie withholding Ukraine aid to the country's announcement that it would investigate former Vice President Joe Biden and his son Hunter.
Trump denied Bolton's reported account later that day on Twitter, insisting he "never" told Bolton the Ukraine aid was tied to "investigations into Democrats."
Sen. Susan Collins (R-Maine) issued a statement shortly after Romney's remarks saying she "always ... was likely to vote to call witnesses" in the impeachment trial.
"The reports about John Bolton's book strengthen the case for witnesses and have prompted a number of conversations among my colleagues," she said.
And Sen. Lisa Murkowski (R-Alaska), another key moderate, reiterated Monday she was "curious" to hear what Bolton had to say. But proponents for calling witnesses remain one vote shy of succeeding in an initial vote expected in the Senate trial later this week.
Senate Minority Leader Chuck Schumer (D-N.Y.) told reporters on Monday that he's always considered the witness vote to be "an uphill fight" because of pressure from Trump and Senate Majority Leader Mitch McConnell (R-Ky.). But he said they "hope and pray" that at least four Republicans will join Democrats in voting to call witnesses and receive more documents.
"We know the pressure they're under. President Trump does not brook criticism, dissent kindly among Republicans," Schumer said at a press conference. "But we're hoping in this kind of solemn, serious, historic and constitutional proceeding that the weight of doing what's right, the weight of getting all of the facts, will weigh heavily on the shoulders of enough Republicans so we can get a fair trial."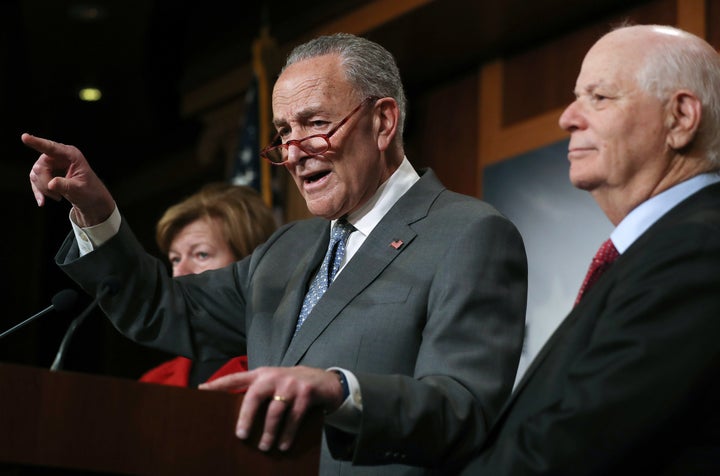 Other Republicans sought to dismiss the development and its potential impact on the length and scope of the trial by claiming it offered "nothing new" to the case ― even though Bolton is claiming he directly heard Trump admit to what he's accused of by the House impeachment managers.
"Truly, there's nothing new here. It does seem to be an effort to sell books," Sen. John Barrasso (R-Wyo.) told reporters on Monday, suggesting Bolton's credibility was also at issue.
Sen. Roy Blunt (R-Mo.) said he didn't think Bolton's book "changes any fundamental information of the basic case." He reiterated that the notion of calling witnesses "could be a monthslong effort that it's hard to imagine would change the final outcome" of the Senate trial.
Asked about the Bolton book and whether it affected his desire to call witnesses, Sen. Steve Daines (R-Mont.) said, "I still don't see an impeachable offense committed."
But Sen. Lindsey Graham (R-S.C.), a top ally of Trump, suggested he wanted to see a manuscript of Bolton's book before deciding on whether to call him as a witness.
"I want to see the manuscript ... or have somebody tell us what's in the manuscript," he said at a press conference, noting he believes he can ask the White House for it.
The prospect of subpoenaing witnesses like Bolton and Mick Mulvaney, the director of the Office of Management and Budget, may hinge on Republicans who have been tight-lipped so far about their support on an initial witness vote later this week. Sen. Lamar Alexander (R-Tenn.), one of those senators who is being closely watched as a possible vote to include witnesses and other evidence, reiterated Monday he would make a decision on calling witnesses after opening arguments by Trump's defense team and a period of questioning of both parties by all senators.
Still, it's clear the Bolton bombshell set the party back on its heels after Saturday's beginning of opening arguments by Trump's lawyers, which left Republicans confident about wrapping up the trial by the end of this week.
"This sort of caught everybody by surprise," Senate Majority Whip John Thune (R-S.D.) told reporters on Monday.
Popular in the Community