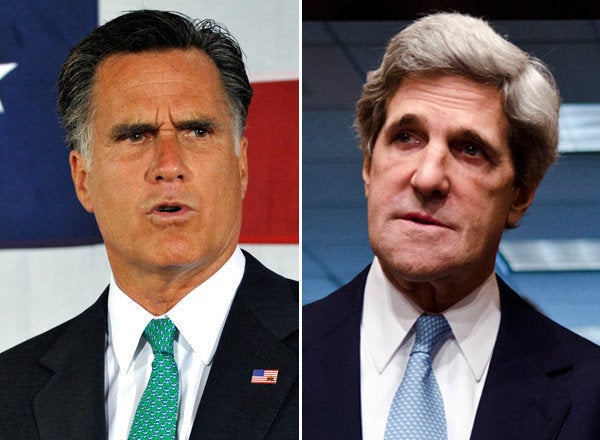 WASHINGTON -- Mitt Romney and his presidential campaign have offered a misleading explanation for why the likely Republican presidential nominee will only release one additional year of tax return data during the rest of this campaign.
The topic of additional disclosure has come up in various interviews and press events during the past few days, as President Barack Obama's campaign has demanded that Romney release more than his 2010 and 2011 tax returns, the latter of which will become public sometime in the next six months. At each interval the Romney camp has had a ready answer: He's meeting the same standard prior candidates, including Democrats, have met.
"John Kerry released two years of taxes," Romney recently told CNBC's Larry Kudlow. "I've released one already, put the estimate out for the next year. We'll have two years of taxes."
It's a convenient rejoinder. But it's also inaccurate. When Kerry ran for president in 2004, he had released 20 years' worth of tax returns. The extent of that disclosure was first reported by Think Progress Tuesday, but even after the site published its report, there were lingering questions. It was impossible to find copies of Kerry's tax returns on the web. And if he released them during the '04 campaign, he did so without much fanfare.
According to several veterans of the Kerry campaign, that's because the senator made it standard practice to release five or six years worth of tax returns during each of his Senate campaigns, meaning that when he launched his 2004 presidential bid, 18 years of tax returns had already been made public. (He then released an additional two years' worth during the campaign.) Those returns were sent to local Massachusetts reporters covering his Senate races, rather than the national press corps. A newspaper archive search confirmed their disclosure.
On April 19, 1997, the Boston Globe reported that Kerry had paid nearly $40,000 in federal and state income taxes on an income of $143,795 "according to income tax returns he released yesterday." Most of the senator's reported income came from his $126,920 salary.
One year earlier, the Globe reported that, "Kerry's six-year total income is $724,042; according to his federal tax returns, he earmarked just under seven-10ths of 1 percent for charitable contributions."
On October 29, 1990, the Globe reported that Kerry was badgering his Republican opponent -- real estate developer Jim Rappaport -- "by demanding that Rappaport release five years of federal and state tax returns, as Kerry has done."
But while Kerry was forthcoming when it came to releasing personal tax returns, the same couldn't be said of his wife. In fact, Teresa Heinz Kerry's unwillingness to provide her personal tax return data during the 2004 campaign became a point of friction on par with Romney's own refusal in 2012. The heiress to the Heinz ketchup fortune would eventually relent, but not fully. She released two pages of her 1040 form, arguing that she had already provided plenty of relevant information through the financial disclosure reports that she and her husband filed as part of the ethics requirements for a U.S. senator.
Financial disclosure reports are less comprehensive than tax returns, explained Stan Brand, a prominent ethics lawyer in Washington, D.C.
"They show categories of value, earned income, transactions, sales and purchases. They show income from investment profit, but they are not tax returns," said Brand. "A tax return would show income, it would show deductions, it would show the actual amount of money returned via dividend, distributions from partnerships. It would show all of those things instead of broad categories of value."
And if credit is given to politicians who release personal financial disclosure reports, than Romney deserves some as well. During his previous presidential bid, in 2008, he released a personal financial disclosure form for the fiscal year of 2006.
The Romney campaign refused requests for comment for this article.
It should be noted that on areas other than tax returns, Kerry was transparent as well. His campaign released all of his military records after conservative critics questioned stories related to his time in service. He also released 15 years worth of meetings he had with more than 300 lobbyists while serving as a U.S. senator. As The New York Times reported on April 23, 2004:
The list, detailing meetings between 1989 and late last year that were often held over lunch, dinner or cocktails, identifies many participants who have contributed to his campaigns and, in some cases, become fund-raisers for his presidential run.

The Kerry organization produced the list after President Bush's campaign asserted that the senator had not been forthcoming in disclosing information like his military records.

The release Thursday was intended as a contrast to the position of the Bush administration, which has not made public a similar list of meetings with lobbyists.
Romney has released the names of lobbyists who have bundled money for his presidential campaign, but only because he is required to under law. He has declined to release the names of his bundlers who are not lobbyists.
Popular in the Community