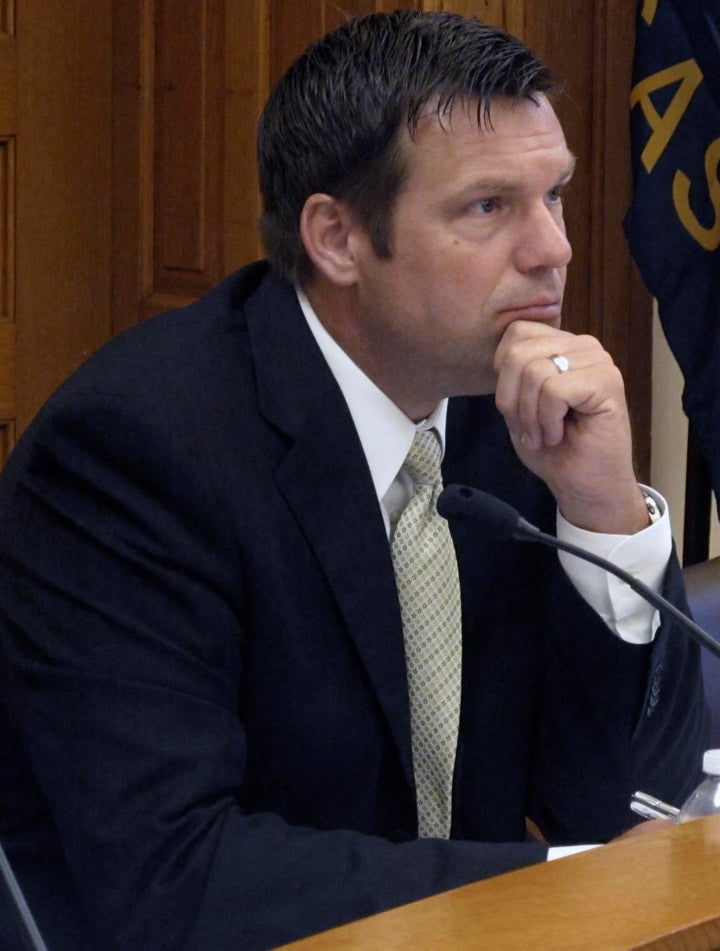 WASHINGTON -- Kansas secretary of state and anti-undocumented immigration hawk Kris Kobach has said he's an adviser for the Mitt Romney campaign.
The Romney campaign apparently now disagrees.
On Tuesday, the campaign told Politico that Kobach is a "supporter," not an adviser. This contradicts both Kobach's previous statements and his seemingly larger role in the campaign -- a bigger part than the campaign is letting on.
Kobach appeared in the spin room for Romney after a January debate in South Carolina. Romney's remarks on immigration often echo Kobach's arguments, although he does not specifically reference them. The idea of self-deportation is one Kobach touts frequently, and Romney called Arizona immigration law SB 1070, which Kobach helped to write, a model for the nation.
And the campaign, when announcing Kobach's endorsement on Jan. 11, said he would have a role "on the team."
"We need more conservative leaders like Kris willing to stand up for the rule of law," Romney said in a statement in January. "With Kris on the team, I look forward to working with him to take forceful steps to curtail illegal immigration and to support states like South Carolina and Arizona that are stepping forward to address this problem."
Kobach did not immediately respond to a request for comment, but told ThinkProgress that his relationship to Romney has not changed and he is "still doing the same thing [he] was doing before" by "providing advice on immigration policy." Kobach also said he is in regular communication with the campaign.
He began serving as an unpaid adviser at the beginning of 2012, even before he announced his endorsement, Kobach said on Feb. 1. He has also said he advised Romney on his 2008 campaign, but that he is more involved this time around.
Kobach told Fox News in January that Romney held the most far-right views on immigration of any of the GOP presidential candidates -- perhaps not the message the candidate wants to put forward for a general election in which many Latino voters disagree with those ideas.
At the time, that may have seemed useful. Romney was starting to campaign in South Carolina, a state that adopted an anti-unauthorized immigration law that was similar to Arizona's SB 1070. Two days after that primary, Romney adopted Kobach's plan of "attrition through enforcement" -- making it difficult for undocumented immigrants to live in the United States so they would leave -- and called it "self-deportation."
Now, though, Romney is the presumptive GOP nominee and needs to attract Latino voters, a majority of whom oppose SB 1070. Many groups have also condemned Romney for touting Kobach's support, and it could make for campaign fodder for Democrats eager to paint Republicans as anti-immigrant.
A source familiar with the Romney campaign's Latino vote efforts said in January the campaign would attempt to focus less on immigration and more on the economy to reach out to voters.
Romney said Sunday he would like to see a Dream Act-style bill to help undocumented immigrants who entered the United States as children -- even though he said in January he would veto the bill in its current form. More than 90 percent of Latino voters support the Dream Act -- referring to the current version.
The campaign did not respond to a request for comment on Kobach's role.
Kobach told National Review Online later on Tuesday that he believes the Obama campaign "purposely fabricated" a story about his role because they want to accuse Romney of changing positions.
"Nothing's changed," Kobach says. "I just got off the phone with the senior officials in the Romney campaign and they confirmed nothing's changed, I'm still an informal adviser in the sense that I regularly provide policy advice to the Romney team. The governor takes my advice, and does what he wants with it."

"This is probably an interesting little example of the kind of the games that the Obama team will play," he added, "that is, they'll try to goad someone on the Romney team into saying something that semantically can be twisted into a change of position, and then they'll accuse the candidate of changing position, when in fact nothing's changed."
This article has been updated to reflect later comments from Kris Kobach.
Support HuffPost
The Stakes Have Never Been Higher
Popular in the Community