 Last week, Republican presidential nominee Mitt Romney's aggressive pursuit of Latino voters kicked into a higher gear.
After taking his standard message of smaller government, less regulation and lower taxes along with general support for immigration reform to a lukewarm audience at the U.S. Hispanic Chamber of Commerce in Los Angles, getting caught on a secret tape appealing to wealthy donors with a speech about the leech-like "47 percent" of Americans who don't pay income taxes, and reportedly having an off-camera temper tantrum before a Univision candidate forum, few would argue that the last seven days have been good for Romney.
While Romney says his campaign is not in crisis, in need of an overhaul or even an intervention, the situation raises a question. Just what is the Romney campaign doing to appeal to Latino voters?
"Our campaign has focused more time, energy and resources on Hispanic outreach than any Republican presidential campaign in recent history," said Alberto Martinez, a Romney campaign spokesman.
Romney campaign volunteers and staff are operating phone banks in the swing state quad where Latino voters could play a deciding role -- Florida, Colorado, New Mexico and Nevada. Campaign crews are also targeting, identifying and then visiting Hispanic voters in those states that lean or vote right with the help of detailed precinct data and iPads, according to the campaign.
The core strategy: a combination of what the campaign calls big and small conversations with Latino voters, Martinez said.
On the big side of the ledger sit Romney's speeches -- including the Latino Coalition's Economic Summit in May, the National Association of Latino Elected and Appointed Officials (NALEO) in June, and the Hispanic Chamber of Commerce and the Univision candidate forum this month. The campaign has denied reports that Romney refused to begin taping last week's Univision forum until a reference to the limited time the campaign scheduled for the event was stripped out of a taped intro. Univision did not respond to requests for comment by deadline.
On the small side are the intimate chats scheduled for Craig Romney, the elder Romney's Spanish-fluent son, dubbed "Conversemos con Craig Romney" (Conversations with Craig Romney). Some of the conversations have included 20 to 30 people invited by the campaign to come share ideas with Craig Romney and listen to him pitch his father's ideas. Others, such as an event in Las Vegas, have grown to include as many as 200 real estate industry workers, Martinez said.
The campaign has also put 13 full-time Latino outreach campaign workers on the ground in Florida. Juntos Con Romney (Together with Romney) North Carolina has dropped in on festivals and organized Hispanic business round tables, community dialogues, and House Parties where the campaign has recruited what officials describe as hundreds of bilingual volunteers for phone banks and other voter contact initiatives. And in Nevada, the campaign claims it has made contact with more bilingual Hispanic voters via the telephone or an old-fashioned knock on the door than the total number of Hispanics who voted in 2008.
But Jennifer Korn, the executive director of the Hispanic Leadership Network, a conservative political organization, said Latino voters are still not clear on where Romney stands on some issues. In 2004, Korn ran George W. Bush's precedent-setting Latino voter outreach initiative. Bush won 44 percent of the Latino vote.
Less than two months before the election, it does not seem that many Latino voters know what Romey's positions are on key issues such as immigration, Korn said. Latino voters may have other political priorities, but immigration is the "earmuff issue," the one that has to be addressed before anything else Romney has to say will be heard, she said.
"They have offices open, precinct walks, phone banks the normal things that you would do in a campaign," said Korn. But the real question is do they have the ears of Hispanic voters. Truthfully, that will be easier to judge afterward. Right now, it's certainly not clear that they do," said Korn.
The Romney campaign and the leaders of two evangelical Latino organizations told The Huffington Post that the campaign has also dispatched surrogates –- usually Latino political appointees who served during the George W. Bush or George H.W. Bush administrations –- to address groups of Hispanic evangelical ministers. At these gatherings, Romney is presented as the candidate who opposes abortion and gay marriage and, therefore, is the man that Latino evangelicals should back.
Romney has a message that should gain traction with Latinos who are concerned about elevated Hispanic unemployment and want to protect what Jose Hernandez, who oversaw Latino voter outreach for Sen. John McCain (R-Ariz.) in 2008, calls "traditional values." But the Romney campaign seemed to go silent this summer, ceding space and attention to the Obama campaign, he said.
McCain won 31 percent of the Latino vote, and his outreach efforts have been characterized by outsiders as disjointed and ineffective. But Hernandez says the real reason that McCain did poorly with Latino voters was simply that in 2008, Obama was unbeatable. Obama in 2012 is quite vulnerable, he said.
"The Obama campaign is running around saying, 'Well, we have 70 percent of the Hispanic vote,'" said Hernandez. "But what they don't say is that 80 percent of the Hispanic population is also disappointed with you." There is an opening for Romney. He has to be the guy who is everywhere, saying, 'It's my turn and I will fix it.'"
Nearly 70 percent of Latino voters are planning to cast ballots for Obama, up from 63 percent in mid-September, according to the Latino Decisions poll. The share planning to do the same for Romney fell to 22 percent from 26 percent over the same time period.
Martinez dismissed the poll, saying national surveys don't capture what's happening in key swing states such as Florida. About 48 percent of the state's Hispanic voters support Obama and 47 percent back Romney, a Public Policy Polling survey released earlier this month found.
As Romney's campaign sees it, there's been only one weak spot in the team's pursuit of Latino voters: advertising. A long and hotly-contested primary season ate up resources the campaign could have used to reach Latino voters in Spanish-language ads, Martinez said. The situation allowed Barack Obama, an incumbent with no challenger, to run a $6 million series of Spanish- and English-language ads targeting Latino voters all year, Martinez said. The Obama campaign has refused to make public the price of it's Latino-targeted advertising.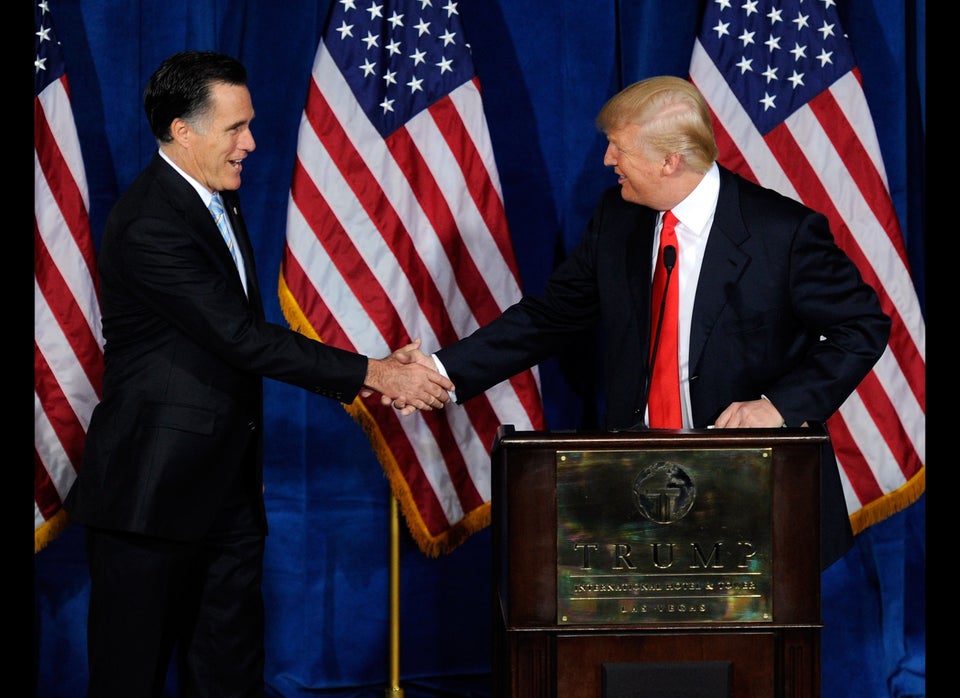 Mitt Romney's Greatest Hits
Popular in the Community