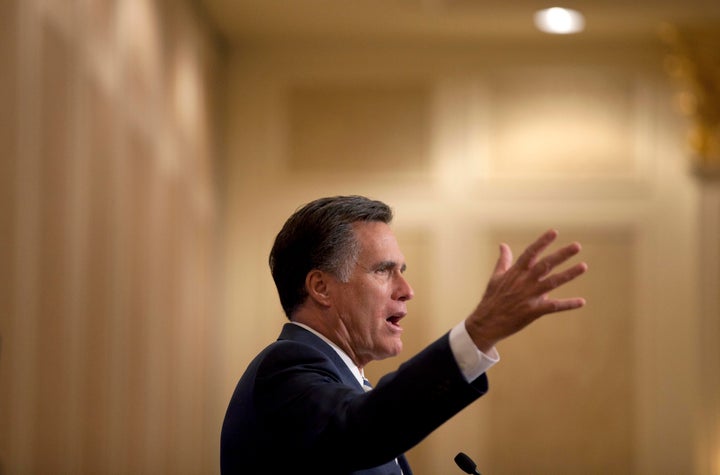 The well-deserved rap on Mitt Romney is that he is a political opportunist who lacks core principles. No wonder. We're seeing a blatant example of that right now with the Romney campaign's efforts to simultaneously run two very different campaigns in South Carolina and Florida. This duplicity only confirms Romney's shape-shifting ways.
Meanwhile, in Florida Romney is running Spanish-language television ads and touting the endorsement of a trio of Cuban-American policymakers. All three are prominent supporters of comprehensive immigration reform and champions of the DREAM Act -- a measure Romney recently pledged to veto as president.
Frank Sharry, executive director of America's Voice, calls Governor Romney out:
"In South Carolina, he campaigns with the architect of the Arizona and Alabama anti-immigrant law and pledges to slam the doors of opportunity on Latino immigrants. In Florida he campaigns with the Hispanic lawmakers who support immigration reform and promises to open the doors of opportunity in Spanish language ads. Who does he think he is fooling? Certainly not Latino voters who care about immigration reform. His radical views in favor of mass deportation and his promise to veto the DREAM Act have already branded him as anti-immigrant and anti-Latino. Given that the GOP nominee will need at least 40% of the Hispanic vote to win in key swing states, that brand arguably represents the biggest threat on the horizon to his presidential aspirations."

Romney's two-faced approach to South Carolina and Florida and his overall embrace of hardline immigration positions have been condemned by voices across the political spectrum, including:
Eliseo Medina: Appearing on MSNBC yesterday, Medina, the international secretary treasurer of SEIU, said:
"Latinos are bilingual. We speak English and we speak Spanish, and we're paying very close attention... Mitt Romney has said he is enthusiastic and he is very proud to have Kris Kobach's support. On the same day he did this, he released his first Spanish-speaking commercial in Florida. He's talking one thing in English and saying another thing in Spanish. I think that people are paying attention. They know that anti-immigrant record speaks to who he is and what he stands for. And I think Latino voters are too smart to be fooled."
Conservative columnist Ruben Navarette: Highlighting the revelations that Romney has family roots in Mexico, the syndicated columnist wrote:
"So the candidate who winds up vilifying Mexico is the same one whose father was born in Mexico? Who can make sense of this? Listen up, Primo Mitt. You've made your bed. You're persona non grata with Latino voters, and it's your own fault. You can't win without them, but they can help make sure you lose. We don't care where your family's from. What matters is where your heart is."
Newt Gingrich: During an appearance in Miami yesterday, fellow GOP presidential contender Newt Gingrich blasted the Romney approach to immigration that he has trumpeted in South Carolina and avoided highlighting in Florida, stating:
"I don't understand his position unless he was just pandering to hardliners...I was very surprised when Gov. Romney indicated he would deport everybody. I hope somebody down here would ask him: Is he envisioning breaking up families? Is he envisioning that it doesn't matter that someone's been here 25 years and has grandchildren?"
"We are asking our members to call Representatives Ros-Lehtinen and Diaz-Balart to express Latino Republican outrage at their betrayal of the Latino community at large, by their support of Mitt Romney, the most anti-immigrant Republican presidential candidate. Latinos are solidarian with Cuban Americans and the Amnesty policy towards them, and we expect reciprocity in their support for a reasonable and decent treatment of the current wave of immigrants. The current state of affairs denigrates all Latinos, including Cuban-Americans. Mitt Romney is on record for wanting to deport our equivalents of "Elian Gonzalez" and he stated he would veto the DREAM Act."
Ambassador Luis Lauredo (former U.S. Ambassador to the Organization of American States):
"Mitt Romney's last-ditch attempt to win over Latinos is a deplorable effort to cover up the assault he has mounted on Hispanic families during his campaign. Just days ago, Mitt Romney promised to veto the DREAM Act if he were president, and said DREAM Act students are merely looking for a handout. Today, Romney flaunted the support of the architect of the most extreme, anti-immigrant state immigration laws, further proving he just does not understand Hispanic families and the plight that some of our relatives endure. This ad is clearly intended to misguide our community. If the South Florida representatives in the video expect to preserve any credibility with the Latino community and immigrant families, they will call on Romney to renounce Kobach's support, and to embrace an agenda that is right for our families."
Again, as Frank asked: Who does Romney think he's fooling? Lest he forget, we Latinos speak English too.
Related
Popular in the Community