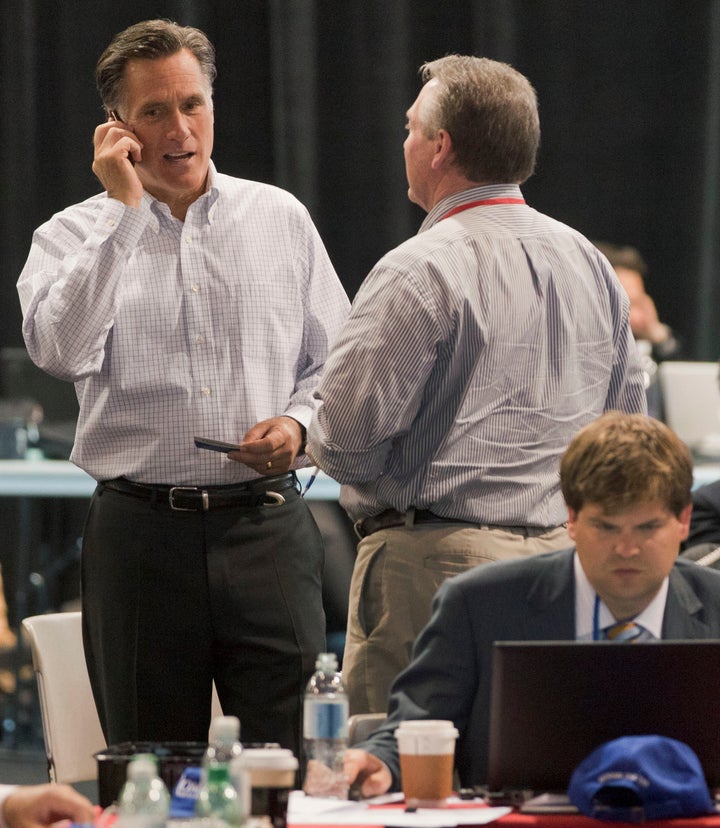 According to disclosure reports filed at the end of July, 61 registered lobbyists and five lobbyist-linked political action committees contributed $137,650 to Romney's campaign between Jan. 1 and June 30, 2011. The former Massachusetts governor raised more money from lobbyists during this period than all of his competitors combined.
The other Republican candidates who received contributions from lobbyists in the first half of 2011 were, in order of most money received, former Minnesota Governor Tim Pawlenty ($63,204), former Utah Governor Jon Huntsman ($31,600), former Speaker of the House Newt Gingrich (R-Ga.) ($25,500), former Pennsylvania Senator Rick Santorum ($8,800), and Rep. Michele Bachmann (R-Minn) ($125). The Obama campaign and the Democratic National Committee (DNC) do not accept contributions from registered lobbyists.
Craig Holman, legislative representative for the watchdog group Public Citizen, told HuffPost that Romney's lead in lobbyist cash "strongly suggests that Romney is the favored candidate for wealthy special interest groups, especially K Street. They clearly think that they can get their foot in the door with Mitt Romney."
Among Romney's supporters are some of the biggest Republican lobbyists in Washington, including Ogilvy Government Relations' Wayne Berman and Drew Maloney and seven lobbyists working for Dutko Worldwide. Berman and Maloney contributed a combined $14,500 to Romney's campaign and his political action committees. They are also helping to raise money for Romney's campaign; Berman and Maloney have reported bundling more than $100,000 and $50,000, respectively. Berman previously raised hundreds of thousands of dollars as a bundler for both the Bush and McCain campaigns.
Ogilvy is one of Washington's largest lobbying firms with the seventh-highest revenue among firms so far in 2011. They also boast the largest lobbying contract currently held by a Washington lobbying firm. The massive private equity investment firm The Blackstone Group paid $2.5 to Ogilvy, a sum that accounts for more than a quarter of the total lobbying revenue reported by the firm. Both Berman and Maloney are listed as lobbyists on the Blackstone lobbying disclosures.
Recently, Ogilvy's lobbying for Blackstone has focused on the Dodd-Frank financial reform regulation writing process. Ogilvy reports lobbying the Treasury Department, the Securities Exchange Commission, and the Commodity Futures Trading Commission on the regulation of derivatives, private equity, and FDIC financial institution rules.
Additionally, Ogilvy reported lobbying for Blackstone on the taxation of carried interest, an issue about which Blackstone head Stephen Schwartzman has made pointed comments. In 2010, Schwarzman, a supporter of McCain in 2008, compared President Barack Obama's proposal to tax carried interest at the personal income tax rate to Hitler's invasion of Poland. "It's a war," Schwarzman said. "It's like when Hitler invaded Poland in 1939."
Romney, who has received a portion of his fortune from the lower-taxed carried interest, has long opposed taxing carried interest at the personal income rate.
The Blackstone Group is not the only one of Ogilvy's clients in the financial sector. The lobbying firm, and its two Romney supporters, also lobby for CME Group, Investment Company Institute, MBIA, and Visa.
Many of the lobbyists backing Romney's candidacy also lobby for the financial services industry. They include JPMorgan Chase lobbyist Nathan Gatten, Barclay's lobbyist Patrick Durkin, Credit Suisse lobbyist Joseph Seidel, and Goldman Sachs lobbyist Joseph Wall. Durkin is also bundling money for Romney's campaign and has already raised over $160,000. All of these financial firms have focused their lobbying efforts over the past year on the financial reform bill and resulting regulatory process.
Romney has toed both the Republican Party line and the line pushed by financial sector lobbyists on the Dodd-Frank financial reform law. "It's 2,000 pages," Romney said about the Dodd-Frank bill. "I'm sure there's something in there that's good. I'll be happy to take a look and perhaps line-by-line at some point lay out the provisions that I think are unfortunate. But it is so massive that many of the people in the financial industry simply don't know what it will entail when all the regulation is completed."
Another major lobbying firm providing prominent support to Romney's bid is Dutko Worldwide. Seven currently registered Dutko lobbyists are supporting Romney's campaign and have contributed $14,750 so far this year.
Dutko Chairman Ron Kaufman, who has not registered to lobby in 2011 despite registering every year for the past twelve years, contributed $2,500 to Romney's campaign. In 2008, Kaufman's work as an unpaid advisor to Romney's campaign became a point of controversy after Romney declared, "I don't have lobbyists running my campaign."
Clients for Dutko include a number of organizations that conservative activists may not look too kindly upon. These include General Motors, the recipient of a government bailout derided by conservatives; Google, one of Obama's biggest donors and supporter of the net neutrality policy pushed by the White House; US-Japan High Speed Rail, a seller of high-speed rail in the United States, viewed as a boondoggle by many Republicans; and CITGO, the state-owned oil and gas company of Venezuela, headed by the leftist firebrand Hugo Chavez.
Popular in the Community