 On Monday, Republican presidential candidate Mitt Romney's campaign sent Wisconsin officials a letter expressing concern that the state is not doing enough to make sure that military members serving overseas will have their votes counted.
"I am writing to express my concern regarding your office's attention to the voting rights of men and women in uniform, and to urge you to take immediate action to correct recent violations of military voting rights," wrote former Veterans Affairs Secretary Anthony Principi, who is the national chair of the Veterans and Military Families for Romney Coalition. The letter was sent to David Deininger, chair of the Wisconsin Government Accountability Board (GAB).
At issue is a federal law -- the Uniformed and Overseas Citizens Absentee Voter Act (UOCAVA) -- that requires election officials to send absentee ballots to military voters at least 45 days before a federal election.
"In this election cycle, your office was required to ensure the transmission of absentee ballots to military voters no later than September 22, 2012. According to your office's records, however, at least 30 Wisconsin municipalities under your supervision failed to transmit ballots to UOCAVA voters by the 45-day deadline," Principi wrote in the letter, which was obtained by WisPolitics.com.
Sending ballots to overseas citizens and giving them time to vote and mail back their ballots takes time, hence the 45-day period. The Romney campaign is worried that without that full window, military members may not have their votes counted in time.
"It takes a long time to get the ballots overseas," Romney campaign spokesman Ryan Williams told The Huffington Post. "Many times, members of our armed forces are on a mission that would require them to be away from their mail facility for several days. Sometimes they move around from different bases or different facilities. Of course, the ballot would have to catch up with them. So that 45-day window is critical."
In his letter, Principi requested that the Wisconsin GAB immediately make sure servicemembers receive their ballots and extend the deadline by which election officials must receive the completed ballots.
Williams said the campaign has not yet received a response to the letter.
GAB spokesman Reid Magney disputed that the problem was as serious as Principi's letter made it seem. He told HuffPost that, of the 4,288 military and overseas Wisconsin voters who requested absentee ballots, only 44 were not sent their ballots on time.
"Of the 44 sent late, all but six ballots were sent out in time for there to be 45 days of transit time (from the day sent to the last day for return the Friday after the election)," he added. "Of the six, five were emailed to the voters, so they received them immediately. The sixth voter is in basic training in Georgia, and his ballot was sent to him by mail on October 1. He did not have an email address. He also received information about how to use the new MyVote.WI.gov site to receive an absentee ballot immediately online."
Regarding the Romney campaign's request to extend the deadline, Magney said that would need to be done through a court order.
When asked for comment on the situation in Wisconsin, an Obama campaign spokesman said, "We absolutely support extensions that will allow our men and women serving this country to exercise the freedoms they protect and ensure their vote counts. We believe that everyone eligible to vote should be able to vote."
The need to ensure that military members serving overseas get their ballots is one of the few issues that Democrats and Republicans seem to agree on these days.
But what concerns some progressives is that the Romney campaign doesn't seem to be working as hard to ensure that veterans -- in addition to students, minorities, and low-income individuals who would be disproportionately affected by GOP-backed voter ID bills and, unlike active-duty military members, tend to vote Democratic -- will be protected.
In August, Iraq war veteran Jon Soltz, who is the chairman of the progressive group VoteVets.org, criticized the Romney campaign for supporting an Ohio law that would do away with three days of early voting for residents, including veterans. According to Soltz, as many as 913,000 Ohio veterans would have seen their voting rights restricted.
"Once you leave the military, you are no longer covered by UOCAVA. Your voting rights are the same as any civilian," Soltz wrote on ThinkProgress. "That means the early voting law which Mitt Romney wants to undo, provided hundreds of thousands of Ohio veterans with more of an opportunity to vote."
Wisconsin isn't the only state that the Romney campaign is scrutinizing for the handling of absentee ballots. Williams said the campaign filed requests with all states for information on whether absentee ballots were sent to overseas voters on time.
So far, the requests have raised concerns in Vermont, Mississippi, Michigan and Colorado.
"We're doing this across the country in red states, in blue states, in battleground states, to ensure that every one of our fighting men and women have the right to vote and have their vote counted," Williams said.
Vermont Secretary of State Jim Condos accused the Romney campaign of political posturing on the issue, telling Vermont Public Radio that, of the 834 ballot requests from active-duty military members in Vermont, 788 were sent out and the state was working to get ballots to the remaining troops.
Before You Go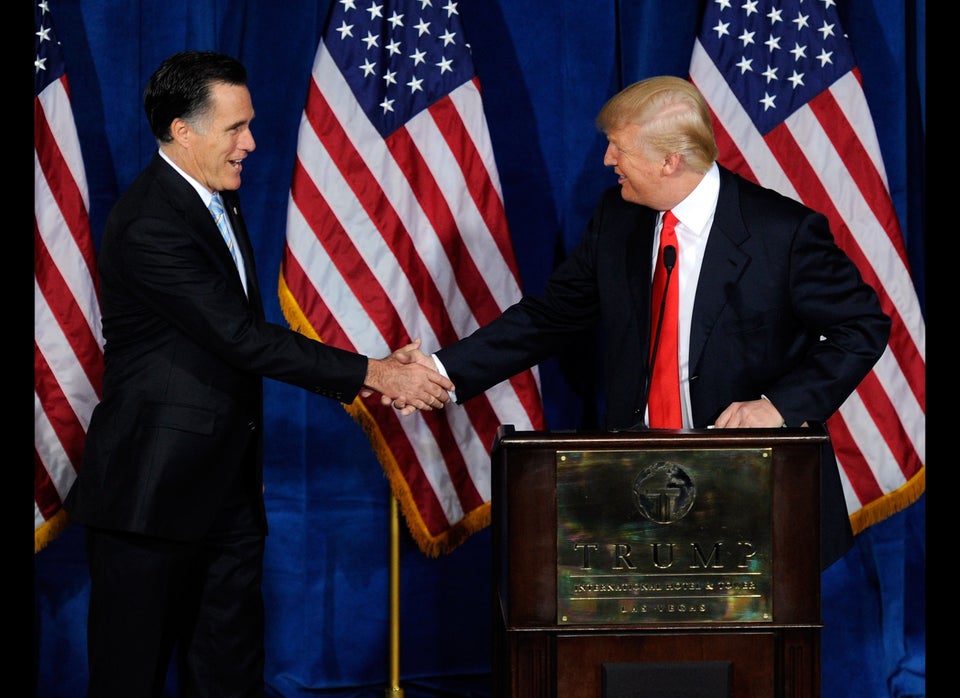 Mitt Romney's Greatest Hits
Popular in the Community