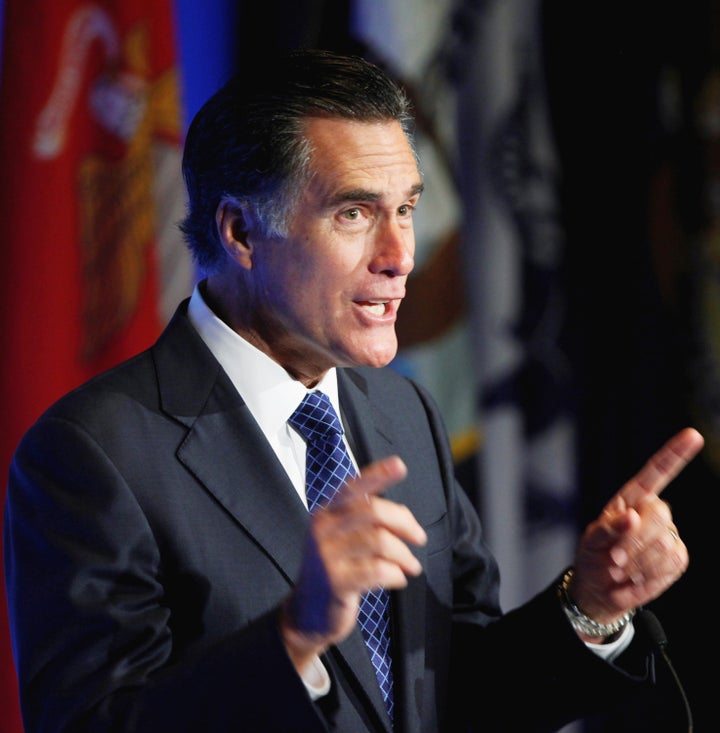 WASHINGTON -- In an interview that aired Wednesday night on NBC News, Mitt Romney definitively answered one of the lingering questions surrounding his presidential ambitions, saying he had no plans to release his tax returns should he win the Republican presidential nomination.
"Never say never, but I don't intend to do so," Romney said.
The statement marks an interesting point in the continuous frictions between political expedience and demands for transparency, as well as the benefits and downsides of both. Releasing his tax returns would have allowed voters to better judge Romney's financial history, as well as his potential conflicts of interest. It stands to reason that he would have gotten some credit for the disclosure, or at least less criticism for his pattern of non-disclosure.
But the tax returns would have also brought political headaches by displaying specific information about the former governor's immense wealth. They also would have likely disclosed the fact that he pays a lower tax rate than middle class voters (it is widely believed that Romney earns a good chunk of his money through capital gains).
"I think the implications are that he is afraid of what this says about who he is and who he will represent if he is in the White House," said David Donnelly, the national campaigns director of the Public Campaign Action Fund, a group that tries to limit the influence of money in politics.
Romney's advisers clearly calculated that releasing the tax returns wasn't worth the pain. And judging by the limited outrage in the press over the candidate's announcement, they are right. But it's also worth noting that Romney is starting to cement a legacy as one of the most secretive presidential candidates in the modern era. Several good government advocates expressed serious concern with what has become a pattern of non-disclosure.
Already, Romney has declined to name the individuals who have bundled money on his behalf. He is also known to have destroyed records from his time as governor -- an act that last week was revealed to have been much more extensive than buying and wiping government hard drives. Reuters reported that in the final weeks of his term as governor, Romney "sought and received permission to destroy 150 boxes of paper records of his tenure."
And now, should he win the Republican nomination, he will be alone among recent party presidential nominees who have declined to release tax returns.
"Romney ought to be releasing his tax returns and the names of his bundlers," said Fred Wertheimer, president and founder of Democracy 21. "There is no understandable reason why he isn't doing that except for the fact that he wants to keep secret from the public information that other candidates in his situation have made public and that, for some reason, he doesn't want voters to know."
A spokesman for the Romney campaign said that the candidate had addressed the tax return issue during a media availability on Thursday morning.
"I can tell you we follow the tax laws. And if there's an opportunity to save taxes we, like anybody else in this country, will follow that opportunity. But we don't have any current plans to release tax returns -- but never say never. We'll see what the future holds. We've released, of course, all the information required by law—which is a pretty extensive release. But down the road, we'll see what happens if I'm the nominee," Romney said Thursday. "I don't have any immediate plans to reduce—or excuse me—release tax returns but that may change in the future."
Wertheimer predicted that should Romney end up the nominee, he would feel intense pressure over time to reverse course. Previously, Rick Perry's presidential campaign had tried to apply such pressure. But on Thursday morning, following Romney's most recent comments, Perry's campaign was silent. President Barack Obama's reelection campaign, however, was not.
"By declaring that, if nominated, he would not release his income tax returns, Mitt Romney is defying a practice to which every party nominee, Republican and Democrat, has adhered for decades," said Ben LaBolt, the Obama campaign's press secretary. "Even his father, George Romney, disclosed his tax returns when he ran for President in 1968. Why does Governor Romney feel like he can play by a different set of rules? What is it that he doesn't want the American people to see?"
"Previous candidates have disclosed their returns so Americans could be aware of potential conflicts of interest and gauge whether a candidate had gamed the tax system to their advantage," LaBolt continued. "Governor Romney, who has favored secrecy over openness time after time, should live up to the same standard of disclosure his father and others set."
Popular in the Community