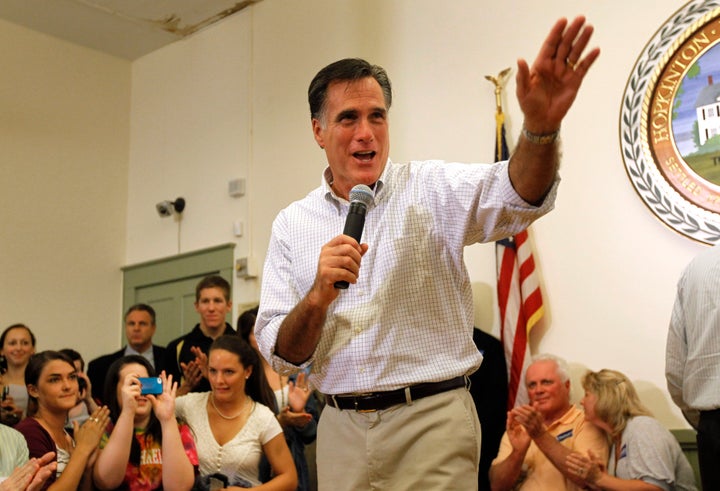 Mitt Romney doesn't want to talk about religion.
In New Hampshire on Monday, the Republican candidate studiously avoided reporters' questions about his Mormon faith, CNN reports. As reporters shouted questions, Romney remained silent as his aides responded with, "No questions."
Romney's silence comes on the heels of controversial comments about Mormonism made by a pastor linked to Rick Perry, Romney's central rival for the GOP nomination.
After introducing Perry at Friday's Values Voter Summit, Robert Jeffress, pastor of the First Baptist Church of Dallas, warned against voting for Romney and claimed that "Mormonism is not Christianity. The decision for evangelical Christians right now is going to be do we prefer someone who is truly a believer in Jesus Christ or someone…who is a part of a cult."
On Monday's 'Hardball with Chris Matthews', Jeffress defended his comments, clarifying that he views Mormonism as a "theological cult." (See video below.)
While Romney's Mormon faith was a big issue during his 2008 presidential campaign, it had taken a backseat during the election cycle until this week's brouhaha.
According to CNN, Romney began to lose patience with the persistent questioning by the end of Monday:
"I do press avails and then I answer questions that are important questions in the length that I want to do but what I don't do is in a group like this is stop and rattle off questions to people just as we walk along," Romney said.

"So that way you don't get the chance to hear the full answer that I'd like to give," he continued. "So those are important questions. I'll be happy to address them in a press avail or the town meeting. But in events like this I don't take press questions because it doesn't give you or me the chance to have a full discussion of the topic."
Watch Jeffress' controversial remarks:
Calling all HuffPost superfans!
Sign up for membership to become a founding member and help shape HuffPost's next chapter