 Mitt Romney has largely shied away from discussing his Mormon faith on the campaign trail, choosing instead to make his record as a businessman the central focus of his bid for president. That may change Thursday, as Romney accepts his party's nomination at the Republican National Convention in Tampa, Fla.
Along with emphasizing economic issues, the convention will prominently display Romney's experiences as a Mormon church leader to help package him as a down-to-earth and empathetic candidate, and to counter criticism that he is privileged and out of touch with ordinary Americans. A member of Romney's former church near Boston is scheduled to speak Thursday. Biographical films emphasizing Romney's work as a ward bishop -- akin to a church pastor -- counseling the poor, the sick, immigrants, troubled couples and wayward kids, will play on the big screens.
By highlighting his religion, however, Romney also risks alienating voters. A Gallup poll this summer found that 18 percent of Americans would not vote for a Mormon for president, and more than 40 percent of Americans did not know Romney was a Mormon.
While the Church of Jesus Christ of Latter-day Saints banned polygamy in the late-19th century, the church has come under fire recently for other controversial practices, such as "proxy baptisms" of dead Holocaust victims, and its financial support for a measure in California banning same-sex marriage. Its unique theology, such as the belief in the Christian Trinity as three distinct physical beings (most Christians believe in a single God manifested as Father, Son and Holy Spirit), brings pause to many evangelicals.
Romney's campaign did not reply to a request to discuss the candidate's religion. Mormons make up less than 2 percent of the nation's population, but are one of America's fastest-growing religious groups. While Romney has opened up more about his faith in recent weeks, including taking reporters to a Mormon church in New Hampshire with his family, he has not fully embraced it publicly.
NBC, for example, aired a largely positive special last week on Mormonism that spotlighted the church's charity work, but was denied an interview with the candidate. And in an interview with Parade magazine that appeared Sunday, Romney explained that his controversial refusal to release more tax returns stems from a desire to keep his religious life private.
"One of the downsides of releasing one's financial information is that this is now all public, but we had never intended our contributions to be known," Romney told Parade. "It's a very personal thing between ourselves and our commitment to our God and to our church."
According to the Mitt and Ann Romney's 2010 income tax return and an estimate of their 2011 return, the couple gave the Mormon church a tax-deductible $4.13 million, in accordance with the church's requirement that Mormons tithe 10 percent of their income. Over the last decade, they also have given $4.7 million to the church through the Tyler Charitable Foundation, a trust they operate. In addition, they have donated generously to church-owned Brigham Young University.
In more than a dozen interviews, former congregants, neighbors, friends and business associates describe Romney as deeply committed to his faith and its traditions. Those who worshipped and led Mormon communities alongside Romney said his character and political views, in many ways, stem not only from his experiences as a businessman, but also from his life as a religious leader.
Many of Romney's positions, such as his opposition to abortion and same-sex marriage and his belief in self-reliance and industriousness, can be tied directly to his faith, according to those who know Romney through the church.
But his time as a religious leader was not always free of controversy. Romney's commitment to conservative Mormon traditions reportedly led to rifts with church members over the role of women in the church and accusations that, as bishop, he pressured women not to have abortions.
"Not since Brigham Young has any living Mormon faced the kind of scrutiny that
Mitt Romney is now being subjected to," said Douglas D. Anderson, the dean of Utah State University's business school and a longtime friend, in an April speech at Claremont Graduate University. "The Romney family tradition, as passed on from George to Mitt, is certainly in keeping with Mormon doctrine," he added.

'THE CHURCH IS TRUE'
Romney was raised the posh suburbs of Detroit, where his father, George Romney, served as the first president of the Michigan stake, akin to leading a sprawling Catholic diocese for the state's 2,500 Mormons. Parley Parker Pratt, Romney's great-great grandfather, was an early church leader and has been called the "Apostle Paul of Mormonism." From 1941 to 1987, Marion G. Romney, a cousin of Romney's father, was an influential apostle in the church and a member of its First Presidency, the group of "prophets, seers and revelators" who lead Mormons worldwide from Salt Lake City.
Romney attended Stanford University for one year and then, in 1966, at age 19, left to work as a missionary in France. It was during those 30 months that he cemented his Mormon faith.
"On a mission, your faith in Jesus Christ either evaporates or it becomes much deeper. ... For me, it became much deeper," he told reporters in 2007.
When his mission ended, Romney transferred to Brigham Young University in February 1969. Counter-cultural social upheavals spreading across America's universities also made their mark on campus life in Provo, Utah, including protests against the school's all-white sports teams. But Romney reportedly steered clear of such endeavors. Instead, he steeped himself in family and study. He married Ann shortly after enrolling in BYU, and the couple had their first of five children, Tagg, in 1970.
After graduating from BYU in 1971, Romney moved to the Boston area to study at Harvard, where he earned law and business degrees in a joint JD-MBA program. He quickly joined the Mormon community at Longfellow Park Chapel near campus. The church membership was much more diverse than in Michigan and Utah, according to those who worshiped there and knew Romney at the time. In Cambridge, the group included liberal and conservative academics, pro-war and anti-war protesters and aspiring CEOs seated next to blossoming philosophers and novelists.
At the time, an increasing number of Mormons across the nation were challenging church traditions -- particularly its ban on black men in the priesthood. In an interview during his 2008 presidential run, Romney said he was "anxious to see a change in my church" and cried with joy when the church lifted the ban on black priests in 1978.
But people who knew Romney at the time said he shied away from trends among younger and more liberal Mormons to question the church's history and theology, and did not speak out for or against the ban. Instead, they said, he focused on traditional efforts in church and on developing his own faith.
To protect the church's image, leaders in Salt Lake City kept some embarrassing history, such as an 1857 massacre by Mormons settlers in Utah, out of their textbooks. Romney, who taught religion classes to young boys, also likely kept the story out of his lessons, according to Tony Kimball, a professor emeritus at Bentley University, a private university in Waltham, Mass., who first met Romney at Longfellow chapel.
Romney was known for his powerful testimonies during church services. "I know that Joseph Smith was a prophet and that the church is true," Romney would often begin his testimonies, with tears welling in his eyes, according to several people who worshipped with him.
Though many of his fellow parishioners also came from families that were well known within the Mormon community and outside of it, Romney seemed especially primed for a prominent role in the church.
"He was an impressive person," said Phil Barlow, a professor of Mormon history and culture at Utah State University who got to know Romney while attending Mormon services as a graduate student at Harvard.
"He didn't talk about it or wear on it on his sleeve, but there was something of a buzz about him."

AN AWAKENING
From his early days in Boston, Romney's stature within the church rose rapidly. After graduating from Harvard law and business schools in 1975, he became a counselor to the stake president in 1977 at the age of 30 -- unusual for someone so young. In 1981, the church appointed him to be bishop of his own ward in Cambridge, and in 1984 he became bishop of Belmont, the town northwest of Boston where he lived. His career at Bain & Co. also was soaring, and he left to start the private equity firm Bain Capital in 1984.
While Romney had generally been able to avoid the seething cultural and social conflicts in the church prior to becoming a bishop, the position now required him to pastor members from social and political backgrounds far different than his own, and to confront these issues directly.
Once, after a few stressful months on the job, he came into a meeting with his advisers in the church ward, shaking his head. "I can't believe people live like this," he said, according to Barlow, who worked as a counselor to Romney when he was a bishop. The church, in relatively affluent Belmont, did not have many financially struggling members. But behind closed doors, Romney heard stories of marriages falling apart, teenage alcoholics, depression and drug abuse.
For a man whose experiences up until then had been shaped by family, missionary work, education at elite schools and a job in a highly successful management consulting firm, the experience as bishop seemed to open Romney's horizon.
"He was having the same sort of experience that I or anybody who had served as bishop would have had. People seem prosperous and happy, but everybody comes with baggage. To see everyone with their problems is different," said Barlow.
Mormons who knew Romney in Massachusetts said the most difficult social and church movements for him were those dealing with women's rights. In two stories that have haunted the candidate in recent decades as he has run for public office, women have accused him of ignoring their plight in favor of strict interpretations of church doctrine.
Exponent II, a Mormon feminist magazine, published an article in 1990 by an anonymous married mother of four, who told the story of risky pregnancy a few years earlier. Doctors discovered that the woman had a dangerous blood clot, but advised that the solution -- blood-thinners -- would endanger the baby. They suggested an abortion.
Her bishop found out and showed up at hospital, she said, warning her to not proceed -- despite the church allowing for abortion when a mother's health is gravely at risk. One of the magazine's founders later identified the bishop as Romney.
When asked about the accusation in 1994, Romney told the Boston Globe that he did not remember the incident, but "certainly can't say it could not have been me." He said the bishop who was described sounded "pretty cold and heartless" and reiterated that the church allows for abortions in "in cases of rape, incest, the life of the mother, or severe abnormality."
The woman, Carrel Hilton Sheldon, had the abortion, and identified herself earlier this year in Ronald B. Scott's book "Mitt Romney: An Inside Look at the Man and His Politics."
"Mitt has many, many winning qualities, but at the time he was blind to me as a human being," Sheldon said in the book. She has declined interviews since the book publication and did not reply to a request.
In another case, Peggie Hayes, a divorced single mother, was a member of Romney's Harvard-area ward when she got pregnant in 1983 at age 23 with a second child. Knowing she needed financial help, the Romneys arranged for her to do odd jobs for church members. But Hayes has said Romney threatened her with excommunication if she did not give the baby up for adoption.
"Well, this is what the church wants you to do, and if you don't, then you could be excommunicated for failing to follow the leadership of the church," Romney said, according to an account Hayes gave the Boston Globe in 1994.
Romney was running for Senate against Massachusetts Democrat Ted Kennedy when the charges came out. He denied threatening excommunication. The church holds that children should be raised within marriage and prefers adoption to single-parenting. But declining to give up a child for adoption is not considered a sin, and church policy generally does not allow members to be excommunicated in such situations. As a bishop, Romney also would not have had the sole power to excommunicate Hayes.
Helen Claire Sievers, a former member of Romney's stake, recalled hearing descriptions in the early 1990s of husbands who were emotionally abusing their wives in her ward. She taught a class on abuse and raised the issue with Romney, who was reluctant to believe there was a problem, Sievers said.
"Women would tell me they could not move furniture without their husband's approval, or that they could not go out with friends without his OK," said Sievers, who directs WorldTeach, a nonprofit that sends volunteers to developing countries.
"I went to him to tell him to alert the bishops that this was coming. That's when he told me that he didn't think there was any abuse in any but two of the wards. … I have to say that I thought the same thing. It never occurred to me that there was abuse in my congregation. Mitt was with the majority in not being aware of the problem."
There are also more generous descriptions of how Romney counseled women.
Two decades ago, a married couple reportedly approached Romney asking for help navigating the church's complex rules on adoption. Randy and Janna Sorensen could not have a child on their own and wanted to adopt, but could not do so through the church because it did not assist in adoptions for women who had jobs outside the home. The couple told Romney the rule was unfair and that they couldn't afford to live in Boston on one income.
Romney said he would help them, but not by challenging the church. Instead, he went to the Sorensens' home with a calculator and showed them how the family could save enough money to allow Janna to quit her job and adopt through the church. (The church later loosened its restrictions on adoption by women with outside jobs.)
Friends of the Sorensens confirmed the story. Through their daughter and son-in-law, the couple declined to be interviewed.
Romney is also still known among Boston-area Mormons for an unusual meeting he held as a stake president, a position he assumed in 1986, at age 39, and held until 1994. It required him to oversee a dozen Boston-area congregations totaling about 4,000 Mormons. He called the meeting, in the spring of 1993, to confront rising complaints among women about their role in the church.
One by one, more than 250 women criticized the church's treatment of them, while Romney took notes on three pads of paper, according to people who attended the meeting. He labeled the pads "policies we can't change," "practices we can change" and "things we can consider."
The nearly 70 ideas put forth at that meeting included converting chapels into day-care centers when they were not used for worship, putting changing tables in men's bathrooms, and allowing women more prominent roles within church services.
One change Romney reportedly sanctioned was to allow women who led auxiliaries -- such as the Relief Society, a philanthropic and educational group within the church -- to give monthly talks representing the stake presidency. In a church with strict gender roles, such an opportunity was typically reserved for male members of the 12-person High Council that helps run the stake.
It's unclear whether any of the changes still stand, but many women who attended the meeting said they left with the impression that Romney was open to some degree of change.
"I was really surprised. He implemented every single suggestion that I would have," said Sievers, who had asked Romney to call the meeting. "He told me he thought he would get in trouble with the hierarchy in Salt Lake. Afterwards, I talked talked to him and he said he had been called on the carpet a bit for it, but he really took his calling seriously."
Kimball, who had become a bishop within Romney's stake, described Romney in similar terms.
"He stuck within the rules, but looked for creative ways to achieve good results without creating an uproar," said Kimball.
"I remember a couple of times, we would do something and Mitt would say, 'I hope nobody told Salt Lake about this so I don't get any phone calls.'"

'WE WEREN'T WANTED'
As a church leader in Massachusetts, Romney worked hard to promote Mormonism to the wider community. Scott, the Romney biographer who worshipped with him in Massachusetts and worked for a short time as the Mormon church director of public affairs in the region, recalled Romney having a distinct interest in the church growing and maintaining a positive image.
In one instance, Scott said, Romney directed him to use Mormon athletes on local sports teams to attract media attention. Danny Ainge, a Mormon Boston Celtics player and current general manager for the team, would often come to watch pickup games at the Stake Center, where many of the Boston-area wards held events together.
When the chapel of Romney's Belmont ward burned down in a suspicious fire 1984, Romney gave an interview to Ensign, an official Mormon magazine, suggesting anti-Mormonism was to blame.
"We weren't wanted. Some people in Belmont thought of Latter-day Saints as bizarre, and we were not part of the church community," Romney said. The Belmont Mormons found temporary homes in a Catholic school, a Protestant Armenian Church and the Congregational Church. None had enough space for the growing Mormon congregation, but Romney told the magazine that he wanted to get the people of Belmont to know and accept Mormons as regular people.
Romney may have faced his biggest challenge during a conflict over the construction of a new Mormon temple in Belmont in the late 1990s. While chapels are used for weekly worship, Mormons would travel far for marriage and baptism ceremonies that required entering sacred temples, and the closest at the time was near Washington, D.C. Some citizens in Belmont protested the proposed temple over the height of its steeple at zoning board meetings and in court. Many of the area's Mormons, including Romney, saw it as an example of anti-Mormonism.
"For Romney, who could see the temple from his house -- that was really symbolic -- it was really important that it would go through to completion," said Scott Ferson, a Unitarian-Universalist and public relations specialist who offered his services for free to Romney and other Mormons behind the effort.
The public relations messaging on religious freedom included ads in newspapers alluding to New England being founded by colonists seeking haven from religious persecution. At one point, a reporter from the Boston Globe was invited to Salt Lake City so church officials could teach him about Mormon temples.
"The church, including Romney, were very sensitive about not just trying to spin the church in a particular way, but to make sure inaccuracies were addressed and that accurate information was put out," said Ferson.
As Romney has moved into more public roles outside of the church, however, he has increasingly downplayed his Mormonism, and even broken with some church teachings.
Running for Senate in 1994, Romney ruffled feathers with Mormon authorities in Salt Lake City when he said he was personally opposed to abortion, but would support pro-choice laws. And as governor of Massachusetts, he supported initiatives allowing gambling and the sale of alcohol (church doctrine forbids both).
When he was tapped to be the president and CEO of the organizing committee for the 2002 Olympics, Romney used his connections to leading church officials to help secure loans on expensive church property in Salt Lake City to use for Olympic events. And he spoke about his faith in a guide to Mormonism that the church distributed to the influx of visitors in town.
But Romney did not make it a point to spotlight his religion, according to associates.
Steve Coltrin, whose New York-based public relations firm worked with Romney to promote the games, said that while the church promoted itself during the games, Romney had little interest in doing so and was focused on delivering a successful Olympics.
"I'm sure there was small talk here or there [on the church making use of the games to publicize itself], but we did not have long conversations about that," said Coltrin.

RISKS OF FAITH
When Romney pivoted from business and church leadership to run for Senate against incumbent Ted Kennedy, he turned to Scott, the biographer and former stake communications director, for advice.
"The issue will be religion," Scott recalled telling Romney.
"I don't understand why," Romney said, according to Scott.
"You didn't ask me why, you asked me what it will be," said Scott, before sending Romney a "lengthy memorandum about questions that would come up about his family and faith," from his church positions to the faith's history of polygamy, its conservative values and former ban on black priests.
"You need to get out there and tell your story so you don't have people defining who you are," Scott told the novice politician.
As the Romney campaign prepares to highlight his Mormonism at the Republican convention in Tampa, questions still remain about the candidate's faith.
"Most Americans genuinely believe this country was founded on religious pluralism and diversity, and they see it as a positive good," said Patrick Q. Mason, a professor of Mormon studies at Claremont University outside Los Angeles, who said he believes Romney opening up about his faith will help him connect with voters.
"On the other hand, we have this long tradition of religious chauvinism," said Mason.
Even people who knew Romney as a church leader and have praised his work in New England said they see a different man on the trail today.
In an email, Sievers said Romney was "a wonderful person when I worked him," but she is "shocked at the person I see on TV now."
Romney's hard-line stance on immigration is particularly baffling to many Mormons, according to Kimball. The church teaches that immigrants should be treated as "children of God" and "supports an approach where undocumented immigrants are allowed to square themselves with the law and continue to work without this necessarily leading to citizenship," according to the church's website.
In a GOP primary debate in January, however, Romney proposed a policy of "self-deportation," suggesting that denying undocumented immigrants a path to citizenship would encourage them to leave the U.S. More recently, Romney has softened his tone somewhat, telling a Latino audience in Central Florida in June that undocumented immigrants who serve in the military should be given a chance at legal residency. But it's still a far cry from the church's stance on the issue.
"The people I know around here who are strong supporters of Mitt say that he is doing what he needs to do to win the presidency," said Kimball, who was an executive secretary to Romney when he was a stake president, "while those who don't support him are bewildered."
When he first ran for his party's presidential nomination in 2008, Romney hoped to quiet questions about his Mormonism by giving a detailed speech called "Faith in America." The speech had echoes of one John F. Kennedy gave in 1960 in which he said he would not let his Catholic beliefs or his church determine governmental policy.
"I believe in my Mormon faith and endeavor to live by it. My faith is the faith of my fathers. I will be true to them and to my beliefs," Romney said.
But he drew the line between faith and government policy. "I will put no doctrine of any church above the plain duties of the office and the sovereign authority of the law," he said.
There are no plans for Romney to give a similar speech this year, though it's likely that his convention remarks will echo the same values he highlighted in 2008: religious freedom, tolerance and patriotism.
And he could inevitably gamble with the same risks he took then by expressing his faith.
"Some people believe such a confession of faith will sink my candidacy," Romney said in his 2008 speech. "If they are right, so be it."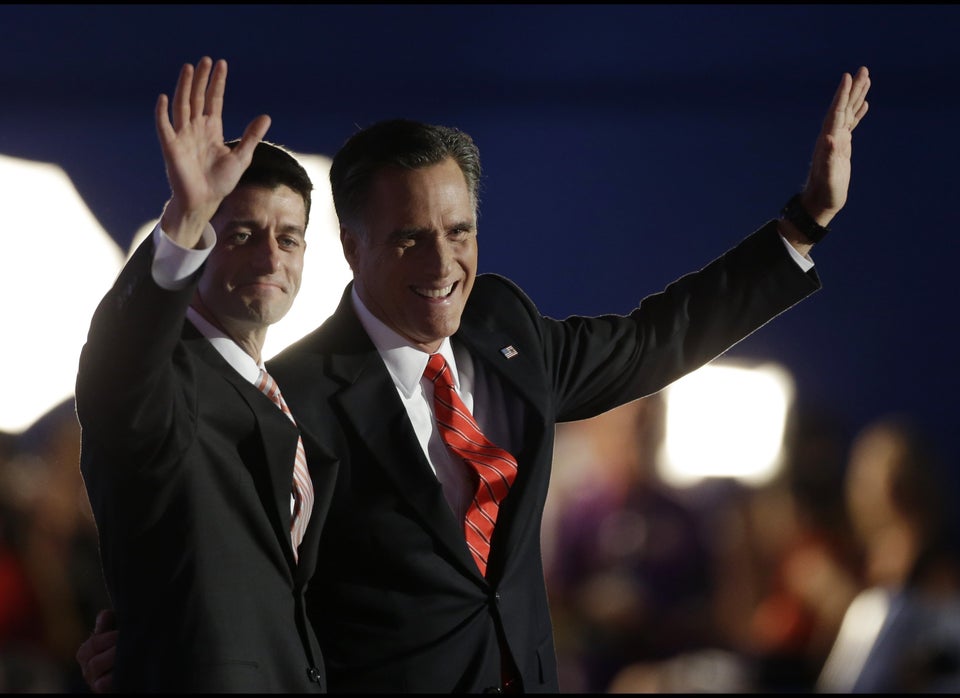 Republican National Convention 2012
Popular in the Community