 As Mitt Romney tries to redraw himself as a moderate in the final days of his Etch-A-Sketch candidacy, some troubling stories from his career as a Mormon leader outside of Boston can't be erased. In this excerpt from an investigative report for Metro Silicon Valley, award-winning journalist Geoffrey Dunn chronicles Romney's treatment of Mormon women while he served as a bishop and "stake president" in the Church of Jesus Christ of Latter-day Saints in Massachusetts.
It was in the summer of 1983 that a pregnant woman in her late thirties--Carrel Hilton Sheldon--was informed by her doctor that she had a life-threatening blood clot lodged in her pelvic region. In treating the clot, Sheldon was administered an overdose of the blood thinner Heparin, an overdose that not only resulted in significant internal bleeding, but also extensive damage to her kidneys, to the point where she was on the verge of needing a transplant. Her life was clearly in peril.
Sheldon's doctor advised her that the overdose of Heparin might have also harmed her eight-week-old fetus and, given the possible fatal repercussions to her, he recommended that she abort her pregnancy.
Sheldon, a mother of four at the time (a fifth child had died as an infant), was then a practicing member of the Church of Jesus Christ of Latter-day Saints (LDS), outside of Boston. The LDS leader in Massachusetts, called the "stake president," was a Harvard-trained physician, Dr. Gordon Williams, and he counseled Sheldon to follow her doctor's advice to terminate the pregnancy and protect her own life, so that she could continue caring for her four living children. "Of course you should have the abortion," she recalled him saying.
According to an account later written anonymously by Sheldon for the LDS women's journal, Exponent II, it was after receiving this counsel from Williams supporting the potentially life-saving procedure that she experienced an uninvited visit in her hospital room from her Mormon bishop at the time, 36-year-old Mitt Romney, who adamantly opposed the abortion.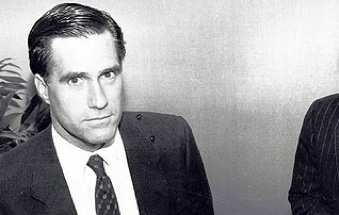 "He regaled me with stories of his sister and her retarded child and what a blessing the child had been to the family," Sheldon wrote of the incident. "He told me that 'as your bishop, my concern is with the child.'"
Mormon congregations are called "wards" or "branches," depending on their size. There are no full-time "priests" or "ministers," as there are in most Protestant and Catholic churches, but rather lay "bishops," chosen to serve as the spiritual leaders of their wards. Larger amalgamations of LDS churches are called "stakes," and their leaders, also lay members of the church, are called "stake presidents," something akin, according to the official LDS website, to the position of a bishop in a Catholic diocese.
By the time of his visit to Sheldon's hospital room, Romney was a rising star in Mormon circles. In the early 1970s, while completing both his MBA and his law degree at Harvard, he served in his LDS ward as a bishop's assistant, a religious instructor for teens, and as a "church elder." In 1981, when he was only 34-years-old, he was named bishop of a ward just outside of Boston and was serving in that capacity when he confronted Sheldon about her pending abortion.
There was no empathy forthcoming from Romney, according to Sheldon, no warmth or sympathy. Moreover, Sheldon contends, Romney cast doubt on her story about the stake president's approval. He simply didn't believe her. He threatened to call him and track him down. "At a time when I would have appreciated nurturing and support from spiritual leaders and friends," Sheldon wrote, "I got judgment, criticism, prejudicial advice, and rejection."
Indeed, Romney was so agitated about the matter that he confronted Sheldon's parents about her decision as well. According to R. B. Scott, author of the insightful Mitt Romney: An Inside Look at the Man and His Politics, Romney's only concern was for the unborn fetus. Last year, Scott, who is also a Mormon, interviewed Sheldon's 90-year-old father, Phil Hilton, who remembered the incident quite vividly. "I have never been so upset about anything in my life," he told Scott. "[Romney] is an authoritative type fellow who thinks he is in charge of the world."
Back at the hospital, a distraught Carrel Hilton Sheldon assented to her doctor's advice and terminated her life-threatening pregnancy. She recovered from her medical crisis, moved to the West Coast, and continued to raise her four children.
"He can seem very distant, unattached at times, almost heartless," says Judith Dushku, a lifelong Mormon and an associate professor of government at Suffolk University in Boston. Vivacious and energetic, with a wide range of intellectual interests, Dushku has known Mitt Romney since the early 1970s, when they were both active in the LDS. Romney later served as her ward bishop, from 1981 to 1986, and as her stake president from 1986 until 1994, when he ran unsuccessfully for the United States Senate against Edward M. Kennedy.
Dushku was a close friend of Carrel Hilton Sheldon when Sheldon went through her experience with Romney. "We were all terribly worried about her health," she says of Sheldon's close circle of women friends. "She had had severe medical difficulties, and the idea that she would carry the child to birth was terrifying to us. We loved her. We all expected that Mitt would support the decision of his ecclesiastical superior [the stake president] and when he denounced her and essentially shouted at her that she was wrong--that she was immoral and selfish--I thought, are you kidding me? I couldn't imagine that he would do that. I couldn't imagine anyone doing that."
Dushku sees a disturbing pattern in the Romney resume, one that can be traced as far back as his two-year missionary work in France, during the late 1960s. "I don't have a sense that Mitt went on his mission to understand people, to engage them as human beings, but rather to excel in the eyes of the church," says Dushku. "It was about fulfilling an assignment, not about compassion. And that has been his modus operandi his entire life."
Raised in a Navy family that moved around the country, and a 1964 graduate of Brigham Young University, Dushku identifies herself as a "social democrat," so she and Romney have often found themselves on opposite sides of the fence when it comes to politics. That said, she describes the two of them as being "friends" in those early years in Boston, along with being Mormon brethren, although never seemingly on the same plane.
Dushku was a single mother at the time and, she says, Romney never seemed to be particularly comfortable in the company of unmarried Mormon mothers. "I mean, if you were seated at a table with him and other Mormon men," she says, "you weren't likely to be included in the conversation. [Romney] thought that any woman that wasn't married to someone who can support them, who wasn't following church tradition in that respect, was just almost too unusual to consider in any collegial way."
There was yet another problematic incident that took place during Romney's tenure as ward bishop, in 1984, involving another Mormon woman, Peggie Hayes. This story also first came to light a decade later during Romney's run for the Senate, when it was first reported in the Boston Globe.
Then 24 and active in the LDS church where Romney served as ward bishop, Hayes was a divorced, single mother of a three-year-old daughter, living in the Boston area after having bounced around from Salt Lake City to Los Angeles and then back to New England. Her family had been close to the Romneys--she says that she served as a babysitter for the Romney children when she was a teenager--and she trusted Mitt Romney as a friend and mentor, even as a "father figure."
In the spring of 1984, Hayes had recently given birth to a son, Dane, when Romney visited her home in the blue-collar neighborhood of Sommerville. The Romneys had been good to Hayes, she says, hiring her to help clean their basement and then urging other friends to help her find odd jobs. She was expecting more of the same type of support during Romney's visit.
Instead she was "shocked" by what she heard. According to Hayes, Romney "pressured" her to give her son up for adoption through an LDS agency. At first she thought she had misunderstood him, but much to her horror, she hadn't. "[Romney] told me it was really important to give the baby up," Hayes said in her original interview with Globe reporters Frank Phillips and Scot Lehigh nearly two decades ago. "He told me he was a representative of the church and by refusing, I was failing to comply with the church's wishes and I could be excommunicated."
Hayes took Romney's admonition as a threat. She felt attacked, even intimidated. Moreover, it was insulting: "He was saying that because Dane [her son] didn't have a Mormon father in the home and because of the circumstances of his birth--being born to a single mother--then the expectation of the church was that I give him up for adoption to the church agency so he could be raised by a Mormon couple in good standing."
There was an additional, racial component to the story that has never been reported. Hayes' first child, a girl, was African-American on her father's side. "No one ever asked me to give her up for adoption," Hayes said in an interview this week. "They wanted my son because he was a white male who could grow up and be a member of the Mormon priesthood." It wasn't until 1978 that the LDS Church finally lifted its ban on black men from serving in the Mormon priesthood, although more than three decades later, its leadership (called prophets and aposles) remains all-white and all-male. "I want to make it clear that I don't think Mitt was a racist," Hayes said. "But the Church was, and remains, a racist institution. And had my son been black, like my daughter, there wouldn't have been this push for adoption."
Hayes, who eventually completed her master's degree at Emerson College and today serves as Coordinator of Volunteers for a library outside of Boston, says that "I made absolutely the best decision for that kid. He is a wonderful kid, and he loves being with me. If there is a God, I think the last thing he would have wanted is for me to give my son away just on somebody else's decision."
Hayes says that she and her son, now working as an electrician in Salt Lake City (and not a member of the LDS Church), have "an extremely close" bond. "When I'm with my son," she says, "I know who I am. He didn't belong anywhere but with me."
These stories involving Mormon women of different age and different status in the church community--and all taking place when Romney was in a hierarchical (and, indeed, patriarchal) position of power over them--form an alarming, composite pattern of Romney's leadership career for more than a decade in the LDS Church. Dushku dubbed them "horror stories."
"Romney just doesn't have any sensitivity to women's issues in general," says Dushku. "But even more than that, he genuinely believes he's always right, that he's never made a mistake. He can never say, 'I might have made a mistake, I didn't understand that.' In Mitt's view, no one else has anything else to offer. He's always right."
When Romney uttered his now-immortal comments at a Republican fundraiser in Boca Raton, Florida, about 47 percent of Americans being "victims" who think "that government has the responsibility to care for them," Dushku says that we were seeing the "real Romney."
"He sees other people in need as lazy and slackers," Dushku notes. "He doesn't acknowledge that the path he took was a privileged path, from his parents, that gave him distinct advantages."
Last week, as Dushku watched the first of the presidential debates, she saw a competent, even "slick" politician sparring with President Obama, but she also witnessed someone who is a political chameleon.
"He's not a man who has anything like a moral core," she says. "He's very loyal to the Mormon church, pays his tithing, is faithful to his wife, and so on, but he doesn't have a set of core values you can count on. I've known him for nearly 40 years. He may have a different suit on, but he hasn't changed. His experience hasn't changed. His performance was very consistent with the Mitt I knew back then. He can't relate to average working women--teachers and nurses and care givers. He's still coming from a place of privilege and entitlement."
Peggie Hayes--who doesn't know Dushku--concurs with her assessment. The prospect of Romney becoming president, she says, "is a horrible idea. It would be terrible." She says Romney's recent positioning as a moderate "is a mask."
"I've known him since I was 13," she says. The Mormon leader who tried to impose church doctrine on her when she was experiencing some difficult challenges in her life hasn't changed. "Not a bit. That's exactly who he was," she declared. "And that's exactly who he is."

Popular in the Community