 WASHINGTON -- Prominent members of the Congressional Black Caucus gave Mitt Romney points for speaking to the NAACP Wednesday -- but said he clearly didn't learn whatever lessons his father taught him about civil rights and the right to vote.
Romney, the presumptive Republican presidential nominee, addressed the venerable civil rights organization in Houston at its annual convention, the day after Attorney General Eric Holder spoke there and slammed the state of Texas for trying to enforce a voter identification law that has been blocked by the Justice Department on grounds that it would deny deserving people the right to vote. The case is being litigated this week in federal court.
Holder said the ID law amounted to a poll tax because it would be too costly for many poorer voters -- including African Americans and Latinos -- to obtain the documents the law requires. Holder said about 25 percent of black people do not posses the required ID, and his office would not let such laws roll back voting rights that have only expanded in America's history.
"We will simply not allow this era to be the beginning of the reversal of that historic progress," Holder said.
But Romney backs laws like the one in Texas, and made no comments about it, even as he invoked his father, former Michigan Gov. George Romney, as a model Romney looks to because of his support for civil rights in the '60s and '70s.
"Always in both parties there have been men and women of integrity, decency and humility who have called injustice by its name," Romney said. "For every one of us, a particular person comes to mind. Someone who set a standard of conduct and made us better by their example. For me that man is my father," citing the elder Romney's faith in God, his role writing civil rights legislation in Michigan, and his participation in rights marches in Detroit.
But Democrats, themselves veterans of the civil rights movement, said they didn't think Romney had learned well enough from his father's example.
"A lot of children are very selective about what they listen to from their parents, and Romney is very selective about that," said Rep. James Clyburn (S.C.), the chairman of the House Democratic Caucus.
Congressional Black Caucus Chairman Rep. Emanuel Cleaver (D-Mo.) praised Romney for addressing the NAACP, but also said he thought Romney missed a chance to deal with an issue that has personal relevance for many black Americans, including Cleaver, who was born in Texas.
"My grandfather ... lived to be 103 and never voted," Cleaver said. "In Texas, you had to pay a poll tax. Even if the poll tax was $1.50, and if you were born in 1852, whatever it was, that's a lot of money.
"In America, we ought to be encouraging people, and I don't think that that's where Gov. Romney is, unfortunately," Cleaver added. "I think in Texas, it would have been good for him to talk about his strong and unbending support for access to the ballot box by all. But if he had said that, he would have lost support" in the GOP base.
Conservatives have been pushing for voter ID laws across the nation. Their opponents say the movement is an attempt to disenfranchise minorities and poorer voters who tend to vote Democratic.
Julian Bond, the noted civil rights leader and former head of the NAACP, echoed the legislators, telling HuffPost, "He is definitely not his father."
Bond said he did not see Romney's appearance as genuine outreach to the African American community.
"He went there to bait us," Bond said. He argued that Romney deliberately sparked boos by referring to "Obamacare," which Bond said many African Americans regard as pejorative.
"He wanted to be able to go to some of the independents he needs to get elected and tell them, 'See? I stood up to the Negroes,'" Bond said. He noted that Romney later said on Fox News that he knew he'd be booed for the Obamacare remark.
Some of the laws, like Texas', have been blocked by the Department of Justice, and are being contested in courts.
Michael McAuliff covers Congress and politics for The Huffington Post. Talk to him on Facebook.
Before You Go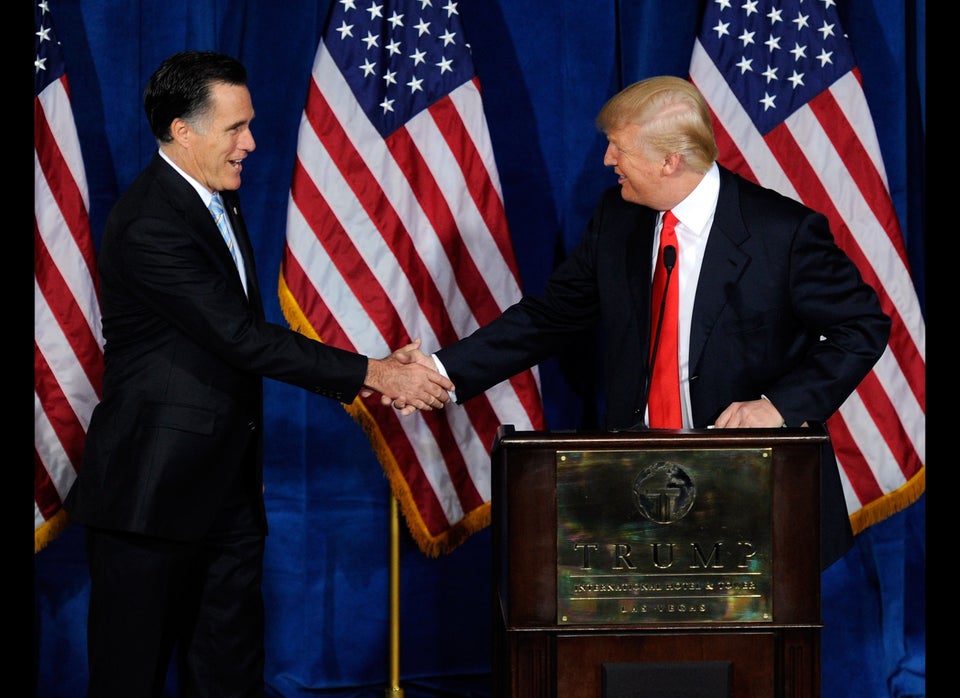 Mitt Romney's Greatest Hits
Popular in the Community