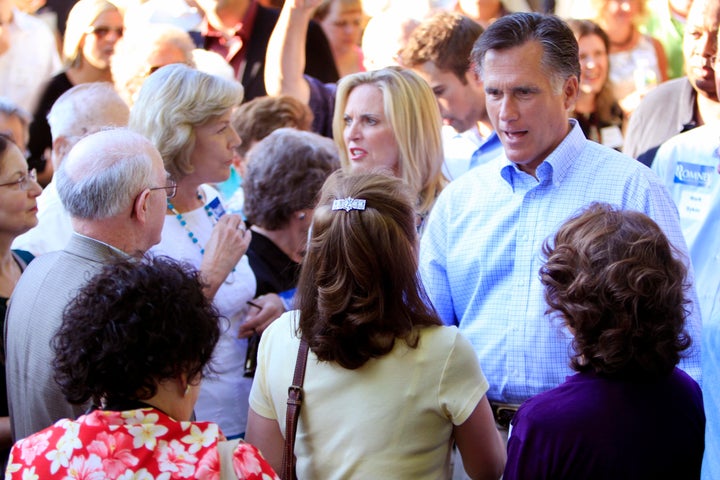 WASHINGTON -- Criss-crossing from early primary state to early primary state can get tiring. After awhile, it probably gets hard to tell Nashua from Des Moines.
Former Massachusetts governor Mitt Romney ran into this problem when campaigning in Manchester on Friday, speaking at a town hall sponsored by the Granite Oath PAC. A tracker for the Democratic independent expenditure group American Bridge 21st Century caught Romney confusing the Granite State with the Hawkeye State (emphasis added):
I had Arnold Schwarzenegger come to my state and try to poach jobs from my state. I thought, "How in the world could he do this to a fellow Republican?" He put billboards up! With him on the billboard. And it said, you know, he was in a T-shirt there and it says "Come to California." So what do you think, I put billboards up in his state. And, uh, it had me in a T-shirt, flexing my muscles. And it said, "Smaller muscles, but much lower taxes. Come to Massachusetts." You guys are supposed to do that here in Iowa. I wouldn't be able to compete in that case. Zero tax rate is pretty darn good.
Manchester is in New Hampshire, not Iowa.
Romney's campaign didn't immediately return a request for comment.
American Bridge 21st Century is what is known as a "super PAC," meaning it's allowed to raise and spend unlimited amounts of money but must operate independently of candidates. All donors must be disclosed to the Federal Elections Commission. The newly formed group has hired a team of 20 researchers and a dozen professional trackers, political operatives who go to campaign events and videotape candidates in hopes of catching interesting -- and potentially embarrassing -- moments.
While it's unlikely this small gaffe will cost Romney many votes, it shows that candidates have to be very careful what they say, since trackers for opposition groups are watching closely.
The Huffington Post wants to know about the campaign ads, town halls, robocalls, mailings and other election news happening where you live. Email us your tips, videos and photos to offthebus@huffingtonpost.com.
If you want to be even more involved with our election coverage, please sign up here.
Popular in the Community