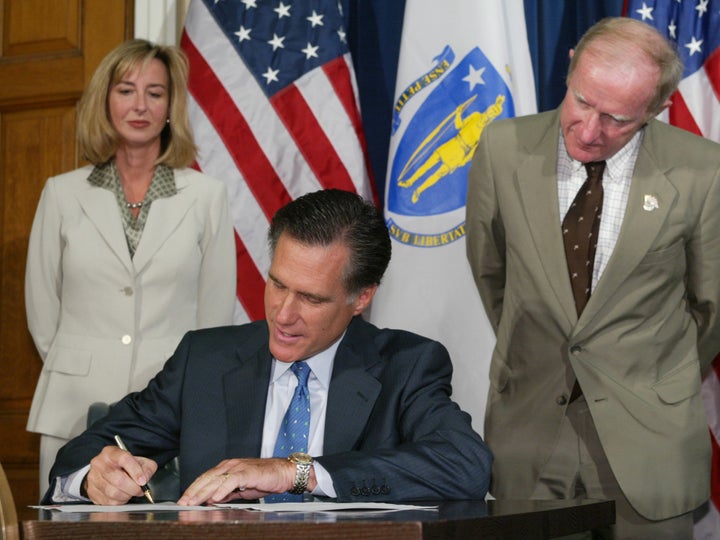 WASHINGTON -- Two hours before then-Gov. Mitt Romney was to sign a bill outlawing assault weapons and small handguns in Massachusetts, John Rosenthal, a leading gun control advocate, received an unexpected phone call.
Rosenthal had worked with statehouse leaders on the legislation, which would replace the expiring federal assault weapons ban. Through all that time, he had never had a conversation with the governor. He wasn't even sure if Romney would sign the bill into law. Now, without warning, Rosenthal had the governor's spokesman Eric Ferhnstrom on the phone asking if he'd attend the signing ceremony.
Rosenthal scrambled. He arrived at the statehouse 30 minutes before the ceremony, met with Ferhnstrom -- who remains Romney's top communications hand -- and was notified that he would be standing behind the governor on the podium and allowed to speak. What happened next remains a subject of contention for those in attendance.
Minutes before the bill signing, Romney's staff tore down a sign listing the name of Jim Wallace, an official with the National Rifle Association-affiliated Gun Owners' Action League and the top gun rights advocate in the state. In its place, they installed a Rosenthal placard.
"The National Rifle Association and Jim Wallace were completely dissed," Rosenthal told The Huffington Post." Romney "shook my hand, thanked me for being there and for my leadership, and he listened to my remarks in which, frankly, I applauded him for signing the bill."
The moment would mark a high point in the relationship between Romney and gun control advocates. Within a year, Romney would designate May 7 "Rights To Bear Arms" day in Massachusetts. A year after that, he became a lifetime member of the NRA. Around that time, he began plotting a presidential campaign that required him to bolster his support among Second Amendment enthusiasts. From there, the schism grew wider.
On Friday, Romney will appear as the de-facto Republican presidential nominee before the NRA annual convention in St. Louis, delivering what's expected to be a full-throated endorsement for the organization's objectives. He will get a strong reception. The NRA has no alternative candidate to back.
Still, the speech will not be without underlying tension. More than any other constituency, save the anti-abortion crowd, gun owners have proved difficult for Romney to court.
The trajectory of that courtship provides as clear an example as any into Romney's own evolution -- from a professed moderate to a self-described "severely" conservative lawmaker. It also underscores the difficulties that the Massachusetts Republican continues to face among key portions of the GOP political base. After all, the ideological distance Romney travelled was fairly vast.
During his failed Senate campaign in 1994, Romney came out in favor of the Brady Bill, a Clinton-era touchstone for gun-control advocates, and a ban on specific assault weapons. To the chagrin of gun owners, he bluntly declared, "I don't line up with the NRA."
In his second run for office, the framing was similar. On his 2002, gubernatorial campaign website, Romney declared his support for "the strict enforcement of gun laws" as well as "the federal assault weapons ban." The website covered all bases, noting that "Mitt also believes in the rights of those who hunt to responsibly own and use firearms." But the campaign left the impression that Romney appreciated Massachusetts' famously tight gun laws.
"I won't chip away at them," he said. "I believe they protect us and provide for our safety."
The candidate who exhibited no fear in standing up to the gun lobby quickly showed those same traits in office. In his 2003 budget, Romney proposed tripling fees for gun owners to obtain ID cards for firearms and to obtain a license to carry a firearm. The legislature went further, quadrupling them. That same budget proposed eliminating "minor funds" in the state accounting system, including the Inland Fisheries and Game fund, a near-and-dear agency for hunters and fishermen.
It wouldn't take long for Romney and the gun rights lobby to clash. Gun owners quickly formed a group to protect the Fisheries and Game fund and ultimately won its reinstatement. They also complained loudly about the increased fees.
"It's not a service," Jim Wallace told the Boston Globe in February 2003. "It's a tax on your rights. We're not getting anything."
The frictions continued. With the federal assault weapons ban set to expire in 2004, members of the legislature pushed a copy of the ban in Massachusetts. No other state had enacted its own ban. And while Romney, according to Rosenthal, wasn't active in shepherding it through the statehouse, he was perfectly comfortable cheering its passage.
"I believe the people should have the right to bear arms, but I don't believe that we have to have assault weapons as part of our personal arsenal," Romney told Sean Hannity and Alan Colmes during an August 2004 taping of their Fox News show.
The law included provisions designed to appeal to Massachusetts gun owners. But it received a tough reception nationally and, to this day, the signing ceremony snafu with Wallace remains a sore spot for those involved. A spokesman for the Gun Owners' Action League refused to answer questions about the law, referring The Huffington Post to the group's website. That site, included a defense of the bill -- insisting that it was "completely wrong" to call it an extension of the assault weapons ban -- along with an oddly-phrased excuse for Romney's past statements.
"Unfortunately for the governor, someone had also wrongly briefed him about the bill," the Gun Owners' Action League site reads. "As a result the Lt. Governor and the Governor made statements at the bill signing ceremony that angered GOAL members."
As Romney embarked on his first run in the GOP presidential primary, it became clear just how enraged those advocates were. Romney struggled to sell himself either as a born-again Second Amendment champion or an authentic gun-rights advocate. But it wasn't for lack of trying. Romney declined to stand by his support for the Brady Bill. He joined the NRA in 2006 and began talking about his own hunting exploits, often awkwardly. In 2007, he appeared at the Shooting, Hunting and Outdoor Trade Show with Wayne LaPierre, the NRA leader. Around that time, Romney bought two shotguns, his campaign said in February.
During a January 2008 debate at Florida Atlantic University, Romney declared there was no need for new legislation "of an assault weapon-ban nature" or dealing with "semiautomatic weapons." He's continued his courtship of gun owners since then. In 2011, he delivered a video address to the NRA's annual conference.
This year, the NRA address will be in person.
"It is no more complicated than the fact that he is untrustworthy," Rosenthal said of Romney, who he praised in 2004. "His positions on any issue are going to change according to his audience. That's his history."
Ferhnstrom did not return a request for comment on that 2004 bill-signing. But in a statement to the Associated Press, Romney spokesman Ryan Williams declared that Romney has "always supported the Second Amendment and as president would continue to support the Second Amendment."
In the end, the most effective move Romney made to dispense with the skepticism was locking up the Republican presidential nomination. Few figures in politics engender as much paranoia from the gun rights lobby as President Barack Obama, whose administration has made minimal attempts to tinker with gun laws, even after gun-related violence that includes the maiming of former Arizona congresswoman Gabrielle Giffords in a mass killing. Faced with a choice, even those chaffed by Romney during his time as governor are willing to let bygones be just that.
"I'm willing to give him a chance on these issues because I think his heart is much closer to being in the right place then the other guy," Henry Dane, president of the Concord Rod & Gun Club in Massachusetts, said with respect to a Romney vs. Obama match-up.
Do you trust him? That's what HuffPost asked Donald Christie, a firearms instructor in West Springfield, Mass.
"I trust him a lot more than Obama," Christie replied. "From what I've gathered ... I think he's going to go with the flow -- with what's popular. He's going to go where the votes are."
Popular in the Community