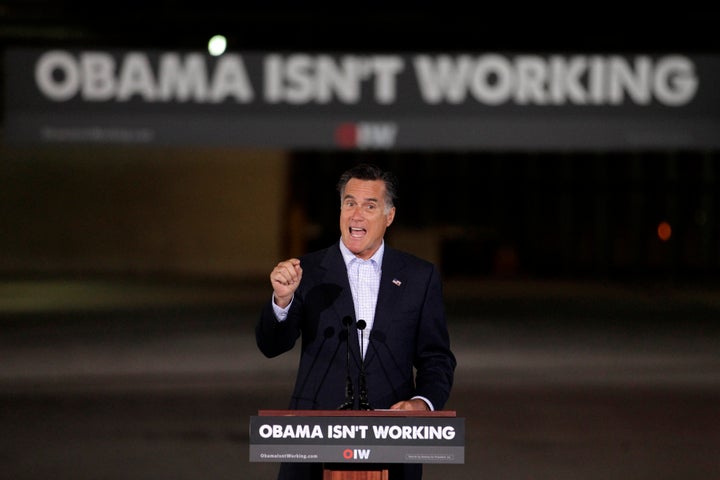 Mitt Romney said on Thursday that President Barack Obama is partially to blame for a recent scandal over excessive spending at the General Services Administration because he takes "elaborate vacations."
"I think the example starts at the top," Romney told National Review Online in an interview published Friday. "People have to see that the president is not taking elaborate vacations and spending in a way that is inconsistent with the state of the overall economy and the state of the American family."
The GSA spent $820,000 on a 2010 conference in Las Vegas, which Republicans seized on as an example of out-of-control government spending -- a point Romney also made to the National Review Online.
Lavish spending on GSA conferences predates the Obama administration, with a 100-plus percent increase between the 2006 event and the 2008 event, Politico reported earlier this month.
Top GSA officials resigned or were fired or put on administrative leave in the wake of the recent scandal, and White House Chief of Staff Jacob Lew told the Washington Post earlier this month that the president "was outraged by the excessive spending, questionable dealings with contractors, and disregard for taxpayer dollars."
Romney has repeatedly attacked Obama for taking breaks from the job, even for four hours to play golf.
"I must say I scratch my head at the capacity of the president to take four hours off on such a regular basis to go golfing," Romney told conservative radio host Bill Cunningham on Wednesday. "I would think you could kind of suck it up for four years, particularly when the American people are out of work."
In that interview, he also said the president was wrong to take annual trips to his home state of Hawaii rather than going to presidential retreat Camp David.
"I would not be jetting around the world and using four years in office to see the world, but instead I would consider the four to eight years in office as a time to get America back on track," Romney told Cunningham.
Most of any president's vacations are working ones, with daily intelligence and national security briefings and a large staff, CBS News's Mark Knoller reported in 2010. He found that other presidents, including Presidents George W. Bush and Ronald Reagan, had taken more vacation than Obama did during the first year of his presidency.
Calling all HuffPost superfans!
Sign up for membership to become a founding member and help shape HuffPost's next chapter