 WASHINGTON -- In April of this year, Mitt Romney's presidential campaign had a devil of a time explaining what exactly the presumptive Republican nominee's position was on the Lilly Ledbetter Act, the first bill signed into law by President Obama.
At first, aides to the Massachusetts Republican said they'd get back to reporters with respect to the bill, which expanded the timeframe to bring forward equal pay lawsuits. Eventually, the campaign clarified that Romney was "not looking to change current law" -- a line that suggested he supported it now but didn't explain whether he would have signed it to begin with.
The Lilly Ledbetter Act has since receded as a campaign issue. But with the selection of Rep. Paul Ryan as Romney's vice presidential nominee, it has the potential to once again resurface. The Wisconsin Republican's position on the bill isn't vague. He voted against the measure when it came to the House floor in January 2009.
A Lexis-Nexis search of statements Ryan might have made on the bill came up blank. And an email request for comment to Ryan's current (deluged) campaign press secretary wasn't immediately returned. But at least several Democrats independently told The Huffington Post that they planned to hammer this vote in the days and weeks of campaigning ahead.
The policy disagreements between Romney and Ryan are mostly defined in shades of gray, rather than black and white. The two find symmetry on the broad issues: a desire to slash government spending, revamp entitlements, keep defense spending high and pursue tax cuts that would disproportionately help the rich. But there are some areas -- beyond their current take on the Lilly Ledbetter Act -- in which they've found themselves in opposition.
Take for instance the subject of prevailing wage law -- a pet peeve of many conservatives.
Established by the Davis-Bacon Act during the Great Depression, prevailing wage laws require that companies bidding to work on public projects pay certain minimum wages to the workers they will employ. Unions argue that prevailing wage laws assure that companies won't take public money and then pay below-market rates or use cheaper labor from outside the area; conservatives tend to argue that prevailing wage laws inflate the costs of public projects and merely benefit unions.
Republicans have long sought to repeal Davis-Bacon, and it was Romney himself who tried to make a campaign issue out of the law earlier in the campaign season. The former Massachusetts governor lambasted former Sen. Rick Santorum for voting in support of Davis-Bacon, claiming the law was costing American taxpayers "$100 billion over 10 years." Romney also told a crowd of Michigan voters in February that one of his first orders of business on "day one" of his presidency would be to "fight to repeal Davis-Bacon."
If Romney wants to do that, he may have to persuade his new running mate. In what was something of a coup for construction unions, Ryan was one of 48 Republicans who joined House Democrats last year in voting to uphold Davis-Bacon, defeating a GOP attack on what labor activists consider bedrock legislation. The vote burnished Ryan's reputation among unions back in Wisconsin, with one carpenters' union local saying that Ryan has "supported us on every Davis-Bacon vote that's been held out there."
As Mother Jones noted last year, Ryan's support for Davis-Bacon may have a lot to do with his family construction business, which presumably works closely with local building trade unions. According to James Sherk, a senior labor policy analyst at the conservative Heritage Foundation, the Republicans who vote in favor of Davis-Bacon tend to come from the Midwest, like Ryan, or the Northeast, where there are strong union constituencies. "Obviously, he has taken a number of votes supporting [Davis-Bacon] that we consider bad policy," Sherk told HuffPost in an email.
There may be some dissonance between Romney and Ryan on unions more generally. Whereas Romney has tried to carve out a strong stance against labor on the trail -- even blaming unions for "disappearing industries and disappearing jobs" -- Ryan has spoken more sympathetically of organized labor. "A lot of conservatives just think unions are nothing but bad. That's just not true," Ryan said in 2009, according to the Milwaukee Journal Sentinel. "They're people who are just trying to make their lives better, people trying to collectively negotiate a better standard of living for themselves. What the heck is wrong with that?"
Regional politics have compelled Ryan to take other positions that may not jive with a Romney presidential campaign. Ryan supported the auto-bailout, for instance, at the same time that Romney was writing op-eds calling for Detroit to go bankrupt. Meanwhile, in May 2008, Ryan told a local interviewer that he wanted to take the money that the federal government would gain from taxing expanded oil drilling operations and use it for incentivizing alternative energy production.
"There is a tax break for wind, solar, and biomass, I support those tax incentives," he said.
Ryan may have evolved on that position. His budget calls for "eliminating welfare for energy companies," which has led experts to believe that wind power will lose its tax breaks. But as Ryan has yet to fill in the details, that's just speculation; whereas the Romney campaign has definitively declared it would eliminate the tax incentive.
Similarly, Ryan's budget calls for the elimination of all federal funding for the Corporation for National and Community Service, which funds national service programs like AmeriCorps. But in 1995, as a board member of City Year, Romney joined with President Bill Clinton and condemned GOP lawmakers' proposals to abolish federal funding for AmeriCorps.
Perhaps the biggest disagreement between Romney and Ryan, however, came on one of the biggest legislative issues of the past two years. When Congress and the White House came to an agreement to extend the debt ceiling in exchange for trillions of dollars in current and future cuts, Ryan lent his imprimatur to the final deal.
"This bill is far from perfect," he said. "We still have a long way to go toward getting the key drivers of our debt -- especially federal health-care spending -- under control. But considering that House Republicans control only one-half of one-third of the federal government, I support this reasonable, responsible effort to cut government spending, avoid a default, and help create a better environment for job creation."
In the midst of a Republican presidential primary at the time, Mitt Romney struck a different note.
"While I appreciate the extraordinarily difficult situation President Obama's lack of leadership has placed Republican members of Congress in, I personally cannot support this deal," he said.

Before You Go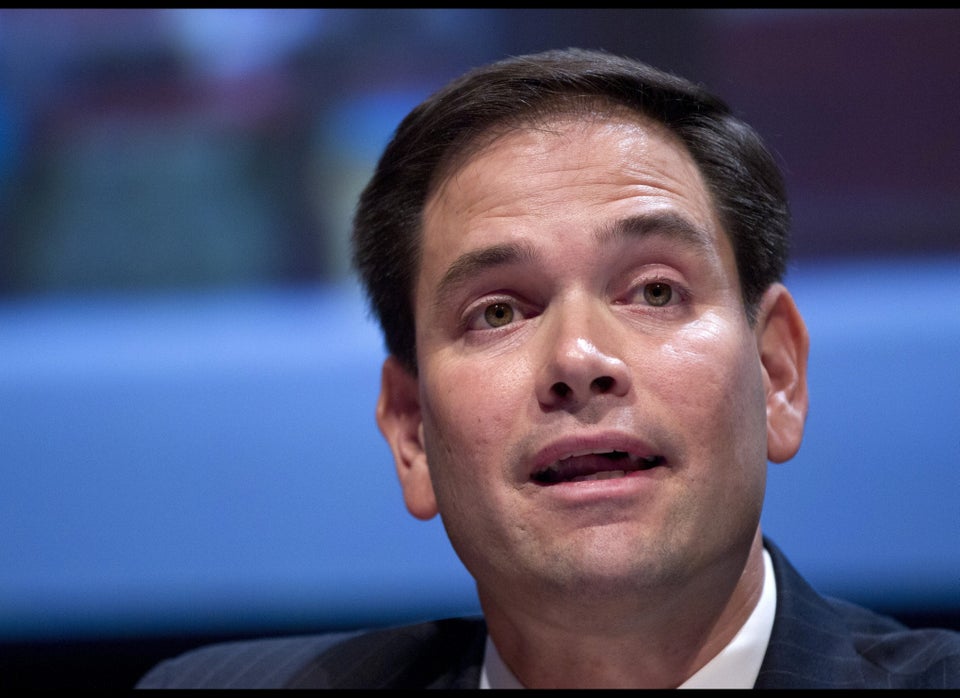 Political Reaction To Mitt's VP Pick
Popular in the Community