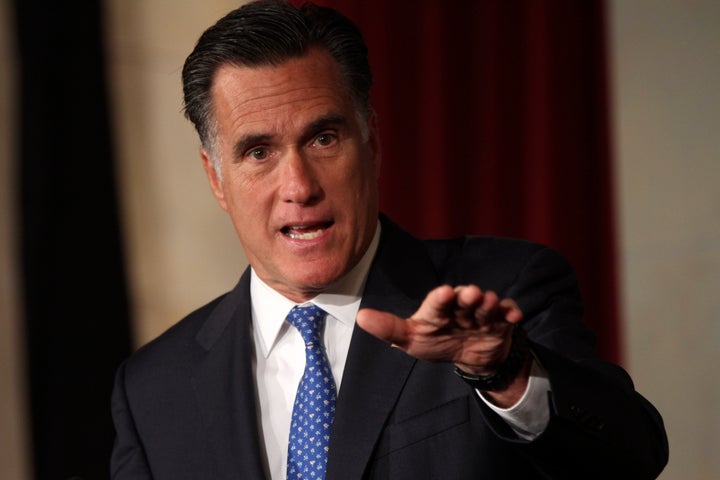 WASHINGTON -- Republican presidential contender Mitt Romney still won't say whether he supports a Senate bill to ensure equal pay for women, despite fresh criticism by Democrats that his silence is hurting the legislation's chance of becoming law.
In separate calls with reporters, Sen. Charles Schumer (D-N.Y.) and Rep. Jan Schakowsky (D-Ill.) on Monday urged Romney to support the Paycheck Fairness Act, a bill that would require employers to demonstrate that any salary differences between men and woman in the same job are not gender-related. The Senate is voting to advance the bill on Tuesday, and Democrats said Romney should endorse it before then to encourage Republican support. Republicans have been quiet on the measure, but are largely expected to vote against it, citing concerns about hampering job growth. Sen. Scott Brown (R-Mass.), for one, signaled Monday night that he won't support it because he thinks it may burden small businesses.
Schakowsky called it "perplexing" that Romney won't weigh in. She and other House Democrats cited numerous instances when Romney and his campaign have dodged questions on equal pay measures for women: an April 11 conference call with reporters, an interview with Diane Sawyer, five requests for comment for a story in the Washington Times.
"It is sensible, commonsense legislation that helps right an awful wrong," Schakowsky said. "That's why it's so perplexing why Mitt Romney has been hiding under his desk on this issue, refusing to take a stand."
Schumer, chairman of the Senate Democratic Policy Committee, said Romney's silence "is hurting our chances" of getting it passed.
"As the [party's] standard bearer, Romney would almost certainly get colleagues to follow his lead," said Schumer. "For the sake of all women still battling discrimination in the workplace, we urge him to speak out ahead of this vote."
The latest push by Democrats for an answer doesn't appear to be paying off. Romney campaign spokeswoman Amanda Henneberg told The Huffington Post that Romney supports equal pay for women, but stopped short of saying whether he backs the Senate bill.
"Of course Governor Romney supports pay equity for women," Henneberg said in an email. "In order to have pay equity, women need to have jobs, and they have been getting crushed in this anemic Obama economy, losing far more jobs than men. As president, Mitt Romney will create a pro-jobs business climate that will put all Americans back to work."
Asked specifically whether Romney supports the the Senate bill, Henneberg simply repeated, "Governor Romney supports pay equity for women."

Erin Mershon contributed to this report.
Popular in the Community