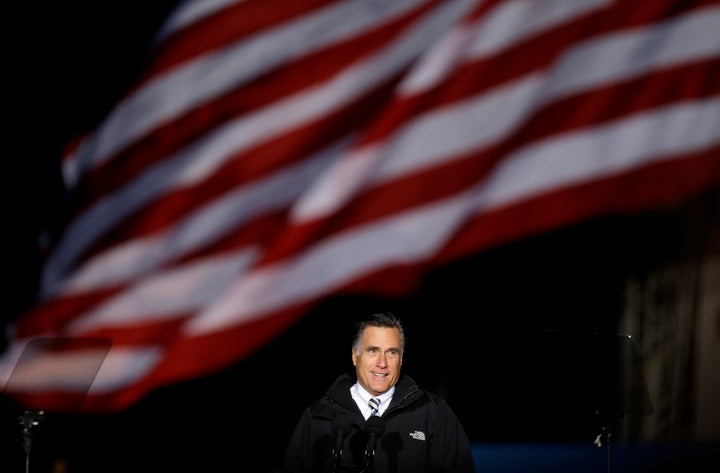 Mitt Romney made his first and final appearance Sunday in Pennsylvania as the GOP presidential nominee, drawing about 25,000 supporters to a cold outdoor event in Morrisville, Pa., according to a pool report and a Secret Service estimate.
Romney expressed confidence in a win there, urging his supporters to talk to their friends and neighbors to encourage them to vote for his ticket.
"We're taking back the White House, because we're going to win Pennsylvania!" Romney said.
The state had received relatively little attention until the final few weeks of the campaign, in what some consider a hail mary pass by the Romney campaign to win there. Obama leads Romney in Pennyslvania by more than 5 points, according to a HuffPost Pollster estimate.
But the Romney campaign added a last-minute stop Sunday to Romney's schedule, and, along with groups supporting the nomiee, has dramatically stepped up advertising. They say the state is still in play. Others say they are just trying to reach voters in nearby Ohio.
The Daily's Dan Hirshorn wrote on Twitter earlier Sunday that a source told him the Republican National Committee was advertising in Pennsylvania because airwaves were full elsewhere. He added that the source said "there's just no more money to be spent in other states."
Romney delivered his usual stump speech, but hit Obama particularly hard on his policies on coal -- an issue close to some Pennsylvanians -- saying he will drill more and embrace "clean coal."
But the speech hit something of a hitch due to the cold, which led some supporters to attempt to leave, only to be delayed for security reasons. Romney was running more than an hour behind schedule due to problems flying in to the state, and most supporters had come well before the set start time. The temperature was in the 40s, but the wind made it feel like the 30s, The Huffington Post's Jon Ward wrote from the rally.
By 20 minutes into the speech, people were "literally streaming through the gates," USA Today's Jackie Kucinich tweeted. The Washington Post's Philip Rucker posted a photo of supporters leaving mid-speech.
The New York Times' Ashley Parker tweeted that many "who left say they're HUGE Romney supporters, just cold and tired, or with sick kids and spouses."
*************************
What's happening in your district? The Huffington Post wants to know about all the campaign ads, mailers, robocalls, candidate appearances and other interesting campaign news happening by you. Email any tips, videos, audio files or photos to openreporting@huffingtonpost.com.
Calling all HuffPost superfans!
Sign up for membership to become a founding member and help shape HuffPost's next chapter
BEFORE YOU GO
PHOTO GALLERY
Romney's Fantasy/Nightmare Cabinet Draft