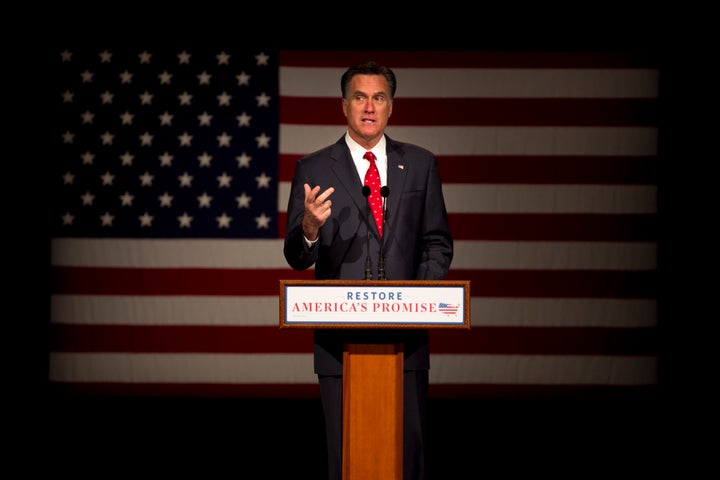 WASHINGTON -- Mitt Romney's increasingly likely victory in the Republican presidential primary is a testament to the value of a well-organized and heavily financed campaign. And while evidence of that could be seen in prompt ballot filings and expensive television ad buys, Romney's infrastructure advantage began to take root a year before the campaign actually started.
The Romney campaign benefited from an intricate network of state-based political action committees that started him down the road toward the nomination sooner and pushed him further than anyone else in the Republican race. The PACs covered the costs of everything from Starbucks coffee and Bed Bath & Beyond purchases to legal bills and consulting fees.
With the help of only a handful of incredibly wealthy donors liberated from federal contribution limits -- several couples donating more than $100,000 on a single day -- Romney was able to pay advisers who would become campaign staff, recruit surrogates, and re-affirm his standing within social conservative circles, going so far as to make a $5,000 donation to help maintain tough criminalization standards for marijuana users. All of it was done months before he had formally announced his second run for the White House.
The money was spent legally and in a way that adhered to disclosure requirements set by individual states. But that hasn't quelled campaign money watchdogs, who warn that the Romney model, which he also followed in the 2008 cycle, is not only inherently secretive but also unfairly benefits candidates with deep-pocketed backers.
"My understanding is it is perfectly legal, but it is definitely exploiting gaps between the federal and state regulations," said Kevin McNellis, a researcher with the National Institute on Money In State Politics. "These PACs were used in 2009 and 2010 to fund normal activities of a presidential campaign. So it was just a way to easily create an organization using a small amount of large donors to lay the groundwork for the presidential race."
As he did in 2006, Romney relied on five state affiliates of his Free and Strong America PAC in the lead-up to launching his current presidential bid. The committees were set up in Iowa, New Hampshire, South Carolina and Michigan, all key primary states, as well as in Alabama, where lax campaign finance laws allow PACs to become free-flowing conduits for donations and contributions. Each affiliate listed as its address the same Lexington, Massachusetts office used by the federal PAC.
Over time, five affiliates proved to be insufficient. Romney would also utilize a Commonwealth PAC, named after his earliest political action committee, based in Alabama, as well as one in Iowa.
The workings of the latter chapter would prove emblematic of the network as a whole. According to a July 2011 filing, Commonwealth PAC-Iowa received two donations. A check for $14,683.73 came from the federal Free and Strong America PAC, and a $45,000 check came from a single donor: Marjorie Fisher, a Palm Beach resident and widow of businessman Max Fisher.
Fisher's interests, of course, lay not in Hawkeye State politics but in Romney's national campaign operations. But since the maximum contribution a person can give to a presidential candidate under federal law is $2,400, Fisher used the Iowa-based Commonwealth PAC as a vehicle to shovel him cash. Between August 2, 2001 and December 8, 2011, that PAC would spend $17,997.21 of her money, most of it on legal services.
This was the norm with respect to all the state-based PACs. A Huffington Post review of all five state disclosure databases reveals that in 2010 and early 2011, Romney's committees paid $41,037.09 in consulting fees to In the Field Consulting and $93,344.36 in legal fees to the firm Patton Boggs.
Romney, as previously reported, circumvented South Carolina campaign finance law by using his state PACs to make $42,000 worth of donations to Gov. Nikki Haley's 2010 campaign. She would go on to be a major Romney endorser, but her support was ultimately not enough to help him win the primary in her home state.
The Michigan affiliate of Romney's Commonwealth PAC gave $6,000 to the campaign committee of former Maryland Gov. Bob Ehrlich, who was attempting to regain the governorship. Ehrlich would become a Romney endorser and surrogate. That same Michigan PAC also had misfires, giving $2,000 to Kansas Gov. Sam Brownback's campaign. Brownback would go on to endorse Texas Gov. Rick Perry in the 2012 election.
The New Hampshire affiliate of Romney's Free and Strong America PAC gave $1,000 to Chris Sununu's Executive Council campaign on July 19, 2010. Sununu is the son of former Bush Chief of Staff and New Hampshire Gov. John Sununu, perhaps Romney's most omnipresent surrogate. That same PAC would give a $500 "contribution" to the New Hampshire Institute of Politics on July 21, 2010. The institute, which is part of St. Anselm college in Manchester, is non-partisan. But it does serve as the academic home to former Sen. Judd Gregg, another Romney surrogate.
All told, Romney's federal and state-based PACs would make 268 contributions to candidates, committees and parties at a total cost of $554,026 between 2008 and 2012, according to data analyzed by the National Institute on Money In State Politics.
The money wasn't just donated to politicians Romney hoped would support him. It was spent on day-to-day operational items necessary to run a nascent presidential campaign. These included expenditures as small as a December 2010 trip to Bed Bath & Beyond, which cost the Commonwealth PAC in Michigan all of 44 cents, and a $4.14 tab at Stetson, the famous D.C. watering hole, which was picked by the same committee. In one telling instance, the cost of a $700 event at The Union Club of Boston was split between three separate Romney state PACs, making it appear -- to those scanning just one state database -- that the event had been less pricey.
Romney also made a series of strategic donations to culturally conservative causes through his PAC network. The Alabama chapter of Free and Strong America gave $10,000 to the National Organization for Marriage at a time when the group was fighting to repeal California's law legalizing same-sex marriage. In October 2008, that same PAC made a $5,000 donation to the Coalition for Safe Streets in Boston, which unsuccessfully fought a state initiative to replace criminal penalties with civil ones for adults who possessed less than an ounce of pot. The Michigan affiliate sent a $5,000 check to Citizens for Traditional Marriage, a pro-life organization promoting Judeo-Christian heritage in the Wolverine State.
Greasing the electoral wheels with targeted donations is something that every political candidate does. And Romney is hardly the only one to use state-based PACs to help facilitate such giving. McNellis, of the National Institute on Money In State Politics, noted that Rick Santorum has used state PACs as well. And as Politico reported in August 2010, former Republican governors Haley Barbour of Mississippi, Tim Pawlenty of Minnesota and Mike Huckabee of Arkansas "have all adapted some form of the Romney model in order to solicit big checks and establish a presence in key primary states."
But none were able to tap into a network of wealthy donors to the extent that Romney was.
Donald G. Marriott and Richard E. Marriott of the Marriott Hotel franchise wrote checks totaling $215,000 that were distributed to various state PACS.
Hushang Ansary, a Houston businessman with heavy ties to the oil industry, gave $91,500 over two days in September 2010.
New York Jets owner Robert "Woody" Johnson and his mother, philanthropist Betty Johnson, gave a combined $84,600.
Regina and Eldon Roth, who run Beef Products Inc., a South Dakota-based company embroiled in the pink slime beef controversy, donated $190,000 in a single day.
Edward Conard, a retired executive from Bain Capital, donated $68,000 on a single day: May 20, 2010.
A Boston Globe investigation into Romney's PAC network revealed that he "raised more than $1.5 million from just 38 individuals in 2009 and 2010."
Asked, in the past, to defend the practice of using a network of state-based PACs to help finance a campaign-in-waiting, Romney aides have noted the legality of the operation.
"Free and Strong America PAC follows both the letter and spirit of the law," Andrea Saul, who has moved from a post at Free and Strong America to one with the campaign, said in 2010. "Our PAC operations have always been totally transparent -- our donors and expenses are all disclosed regularly and in great detail."
The New Hampshire Democratic Party disagreed, filing a complaint with the Federal Election Commission alleging that those PACs were the equivalent of "shell operations." An official with the party was uncertain where that complaint currently stood.
What's clearer, including to those who have openly criticized the group of state affiliates, is that absent any regulatory action, the type of PAC network that has proven so advantageous to Romney will become the new norm.
"There is actually no limit to what you can do to set yourself up for a presidential campaign," said David Donnelly, national campaigns director of the Public Campaign Action Fund. "And Romney's folks have really mastered this and pushed the envelope on this. When we look at those gearing up for the 2016 election, Romney's campaign, from a campaign finance perspective, is what will be studied."
REAL LIFE. REAL NEWS. REAL VOICES.
Help us tell more of the stories that matter from voices that too often remain unheard.
BEFORE YOU GO