 The apparent discrepancy in the Gallup results, which we explore in more detail in a separate article, boils down to differences in when the surveys were conducted. Over the last seven days, Gallup found Obama leading Romney among registered voters by five percentage points (50 percent to 45 percent). For the three days immediately following Wednesday's debate, however, Gallup showed Romney and Obama tied among registered voters.
That last result provides one element of consistency between the Gallup and Pew Research surveys. Both found an even race between Obama and Romney in interviews conducted primarily over the three days following Wednesday's debate. According to Pew Research, 1,046 of its 1,201 interviews were conducted on Thursday through Saturday. Just 155 interviews were conducted on Sunday. The full sample had a margin of error of 2.9 percentage points, with a 3.4 percentage point margin of error among likely voters.
Harder to reconcile is that until this survey, Pew Research had produced results among registered voters that were typically better for Obama than those produced by other pollsters, particularly Gallup.
Unlike Gallup, Pew Research also reported results for the voters most likely to vote, a subgroup that has grown more favorable for Romney since September due to growing Republican enthusiasm. Pew Research showed Romney leading among the most likely voters by a margin of 49 percent to 46 percent.
Whether Romney's gains have been large or small, the Pew Research survey brings to a crazy Monday a detailed assessment of the complex opinions behind them.
Take that rise in enthusiasm for Romney. Pew found that 82 percent of Romney's backers said they'd given a lot of thought to the election, compared with 67 percent of Obama's supporters. In September, the two camps were only four percentage points apart on that measure.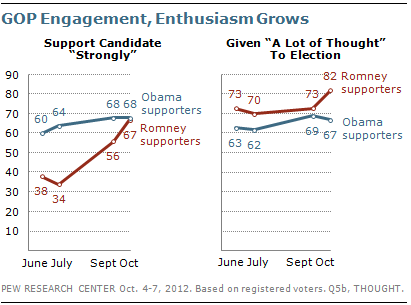 Romney also caught up to the president on a key personal metric, emerging from the debate with newly strengthened favorability numbers. Romney, who for much of the campaign has been underwater on favorability, hit a 50 percent approval rating for the first time in a Pew survey, boosted by rising approval from women and voters younger than 50. Forty-six percent still disapproved of Romney. Obama had a 49 percent favorable rating, and a 48 percent unfavorable rating.
Romney had some success in combatting the view that he's out of touch. Although Obama still leads him by 29 points as better able to connect with ordinary Americans, the gap has narrowed by 14 percentage points since mid-September. Voters gave Romney and Obama equal marks on the ability to be a strong leader and to work across the aisle, measures where Obama previously led by double digits. And while most voters continue to say Romney's economic policies would benefit the wealthy, he's effectively closed the gap with the president on his ability to help the middle class as well.
In less positive news for Romney, six in 10 voters agreed with the criticism that he was promising more than he could deliver and more than half said it was difficult to know what he stood for.
Before You Go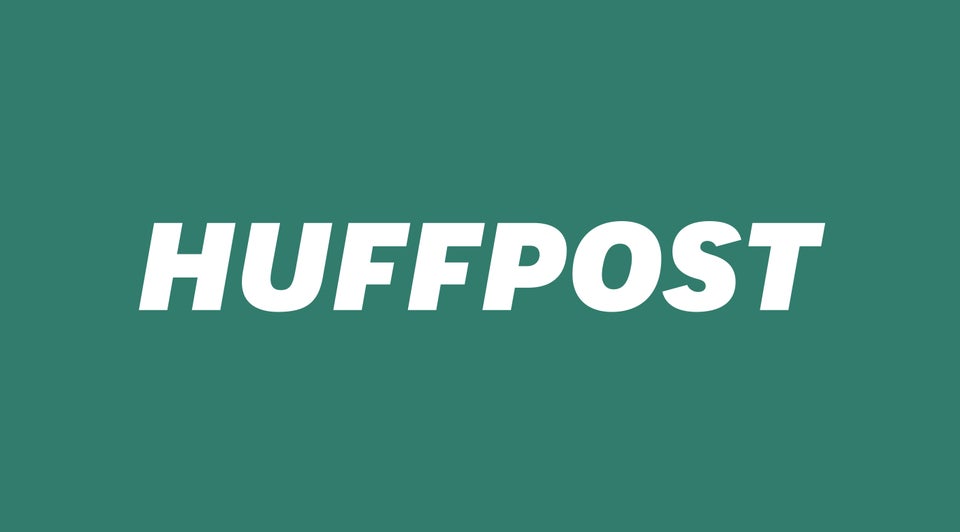 Polls: Obama vs. Romney
Popular in the Community